DOCUMENT DESCRIPTION
This product (
Mobile Home Park Acquisition Model: Up to 40 Parks

) is an Excel workbook (XLSX) with a supplemental Excel document, which you can download immediately upon purchase.

This financial forecasting template is a perfect fit for anyone investing in the mobile home park or RV park business. It doesn't matter if you are a beginner in the space or a seasoned pro looking to acquire 10 to 40 parks all at once. You can strategize and create all kinds of financial plans so you have an idea of costs, returns, and general equity requirements for up to a 16 year period.

Recent Updates:

• Added 3-statement model (IS,BS,CF) and integrated dynamic depreciation.
• Added logic for park-owned homes (PoH) to be accounted for in their own module and this does connect to all financial reports in the model.
• 5 park and 40 park version included in purchase

This is a real estate financial model designed to plan out the acquisition of up to 40 mobile home parks (MHPs) over time, operating them for up to 16 years, and then exiting for a defined exit cap. The exit can be at any month and doesn't have to be 16 years.

Final results flow into three separate joint venture schedules:

• Preferred Equity
• Soft Preferred Equity (IRR Hurdles)
• Preferred Return

The waterfall distributions schedules above are all independent of each other and are designed to easily compare different funding / distribution structures of the entire operation and how returns may differ between the Sponsor (GP) and Investor (LP).

Assumptions were set up so each Mobile Home Park has its own configurations for acquisition cost, development, debt / equity funding, revenue, and expenses.

For each of the 40 parks, build-out assumptions include:

• Park Name
• Start Month
• # of Months Until Rev. Starts
• Operations Begin (formula)
• Annual NOI
• Entry Cap Rate
• Entry Acquisition Cost (formula)
• Construction/Other Cost
• Total Acquisition Cost (formula)
• Debt? (yes/no)
• Debt (per LTV defined on 'Control' tab) (formula)
• Equity (formula)
• Unit Count
• Starting Weighted Avg. Lot Rent
• Lot Rent Growth (year 2-4)
• Stabilized Rent Growth (per year)
• Initial Occupancy
• Vacancy Improvement per Month
• Stabilized Occupancy
• 3rd party contractors
• Turn Over
• Repairs & Maintenance
• Marketing & Advertising
• Management Fee
• Payroll
• Administrative / Other
• Utilities
• Electric
• Gas
• Water Sewer
• RE Taxes
• Property Insurance
• Extra Field 1
• Extra Field 2
• Extra Field 3
• Extra Field 4
• Annual Expense Growth
• Other Income

A monthly and annual pro forma detail show the total initial investment, operating activity (down to Net Operating Income) debt service, and exit value for each of the 40 mobile home parks individually.

This is all aggregated into a final total Net Operating Income and cash flow. Note, for any MHPs that were defined as being financed with debt, there is a global driver for the terms of each loan (defined once and apply to all loans).

Also, you can globally choose the debt configuration life and this includes if there is a refinance event at a certain point in time for each of the parks that had debt funding. The terms of this are defined once and apply to each park individually based on when the park started operations / required an investment.

The dynamic nature of this model is really useful if the user needs to plan out scaling multiple purchases of parks over time and wants to easily apply complex logic to each acquisition in order to see an aggregate result.

Note, a full version (up to 40 MHPs) and a lite version are included. The lite version has up to 5 MHPs and everything else is the same.

To account for construction time, the model does allow for the initial loan to have a defined interest only period as well as a defined monthly # deal regarding when rental revenue starts relative to the purchase date.

Got a question about the product? Email us at [email protected] or ask the author directly by using the "Ask the Author a Question" form. If you cannot view the preview above this document description, go here to view the large preview instead.

Source: Best Practices in Integrated Financial Model, Real Estate Excel: Mobile Home Park Acquisition Model: Up to 40 Parks Excel (XLSX) Spreadsheet, Jason Varner | SmartHelping

ABOUT THE AUTHOR: JASON VARNER | SMARTHELPING

I graduated in 2011 with a Bachelors degree in Accounting. From there, I worked at a few small businesses doing financial reporting and some bookkeeping. After a few years of that, I started doing freelance financial consulting work on Elance and Upwork. [read more]

After over 400 jobs completed with a 100% success rate, I now run my own modeling/consulting practice, conduct live streams on YouTube Monday and Tuesday mornings and continue to build new financial models.

I occasionally take on custom financial modeling work.

Jason Varner | SmartHelping has published 105 additional documents on Flevy.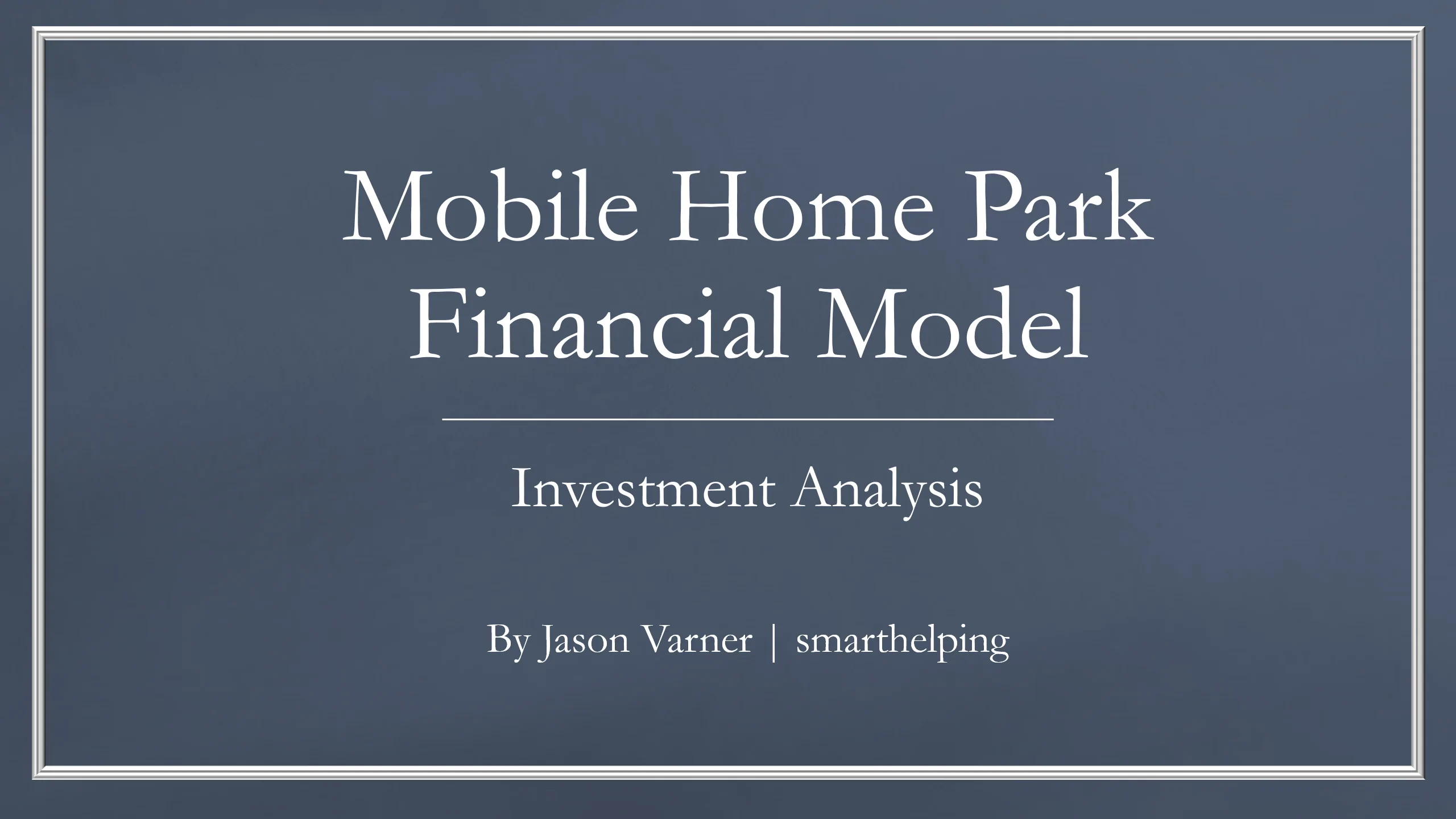 DETAILS
This business document is categorized under the function(s): Corporate Finance
It applies to All Industries
File Size: 1.8 MB
Related Topic(s): Integrated Financial Model Real Estate
Purchase includes lifetime product updates. After your purchase, you will receive an email to download this document.
This product contains a supplemental XLSX document.
Initial upload date (first version): Dec 7, 2022
Most recent version published: Dec 7, 2022