DOCUMENT DESCRIPTION
This product (
Franchisor Licensing Financial Model

) is an Excel workbook (XLSX), which you can download immediately upon purchase.

Starting a franchisor operation can be rewarding if done right and proper financial planning is conducted. You might have a very successful set of locations / operations and are ready to start your own franchisor licensing portion of the business.

Usually this happens when very successful brick-and-mortar businesses do really well and essentially sell their 'business processes / trademarks / proprietary information to those that want to run the same business in exchange for a share of the revenues of each added location.

The added locations are called franchisees and the most common example is McDonalds. If you want to start a McDonalds, you will have to meet some net worth requirements as well as have enough capital to start.

You then apply and sign some contracts, develop some land, and away you go. You will have to pay an up front fee as well as on-going royalties depending on how the deal is structured.

This financial model is designed to model out a franchisor who is expanding over time (adding more franchisees). It is not all flowers and roses though. Oftentimes the brand name alone is not going to drive success so the franchisor needs to provide various supporting tools that make the chances of success higher. This could include one-time training at the start as well as on-going support.

The model goes out for a period of up to 10 years and shows monthly and annual summaries that are driven by the following assumptions:

Up to 3 location types to configure and each type has its own inputs for:
• Start month
• Royalty fee (on revenue / gross profit)
• Ad fee (on revenue / gross profit)
• One-time franchise fee
• Location start count
• Locations added per month
• Growth rate of locations added per month
• Starting revenue
• Annual revenue growth
• Stabilization year
• Retention
• On-boarding costs
• On-going support costs

The following output reports are included:
• Monthly and Annual Financial Statements (Income Statement, Balance Sheet, Cash Flow Statement)
• Monthly and Annual Profit / Loss detail (shows detailed line items instead of aggregate)
• Annual Executive Summary with IRR / ROI / Equity Multiple -DCF Analysis / NPV of Project, Investors, Operators if applicable
• Capitalization Table (cap table)
• Visualizations

At the heart of this model, the final number that is solved for is the minimum amount of equity needed to launch and operate over time. That number flows to the cap table and there are slots for outside investor funding as well as inside funding and the resulting ownership shares (up to 3 share types) and each line item has its own IRR and distribution calculation.

One of the more 'smart' output calculations is the average number of months it takes to break even on a given location. This will be a function of initial franchise fee collected against on-boarding costs divided by the average royalties collected per month against the average support spend per month per location.

There is also a fixed cost schedule to account for general overheads that go into running the Franchisor. This would include things like CEO, CFO, office, legal, and other non location-specific costs.

The start month of each fixed cost can be defined as well as the monthly amount in each of the 10 years. If an exit month is chosen, then the user can define an input for the multiple of annualized sales less any seller fees.

The user can choose 'N/A' for exit month as well and just let the model run through the full 10 years with no terminal value.

Note, this doesn't have to just be for brick-and-mortar operations. There is enough logic here to plan out all kinds of franchising opportunities. As long as it involves making some percentage share of revenues in return for giving IP / trademarks / what have you, then the logic is applicable.

Got a question about the product? Email us at [email protected] or ask the author directly by using the "Ask the Author a Question" form. If you cannot view the preview above this document description, go here to view the large preview instead.

Source: Best Practices in Integrated Financial Model, Franchising Excel: Franchisor Licensing Financial Model Excel (XLSX) Spreadsheet, Jason Varner | SmartHelping

ABOUT THE AUTHOR: JASON VARNER | SMARTHELPING

I graduated in 2011 with a Bachelors degree in Accounting. From there, I worked at a few small businesses doing financial reporting and some bookkeeping. After a few years of that, I started doing freelance financial consulting work on Elance and Upwork. [read more]

After over 400 jobs completed with a 100% success rate, I now run my own modeling/consulting practice, conduct live streams on YouTube Monday and Tuesday mornings and continue to build new financial models.

I occasionally take on custom financial modeling work.

Jason Varner | SmartHelping has published 59 additional documents on Flevy.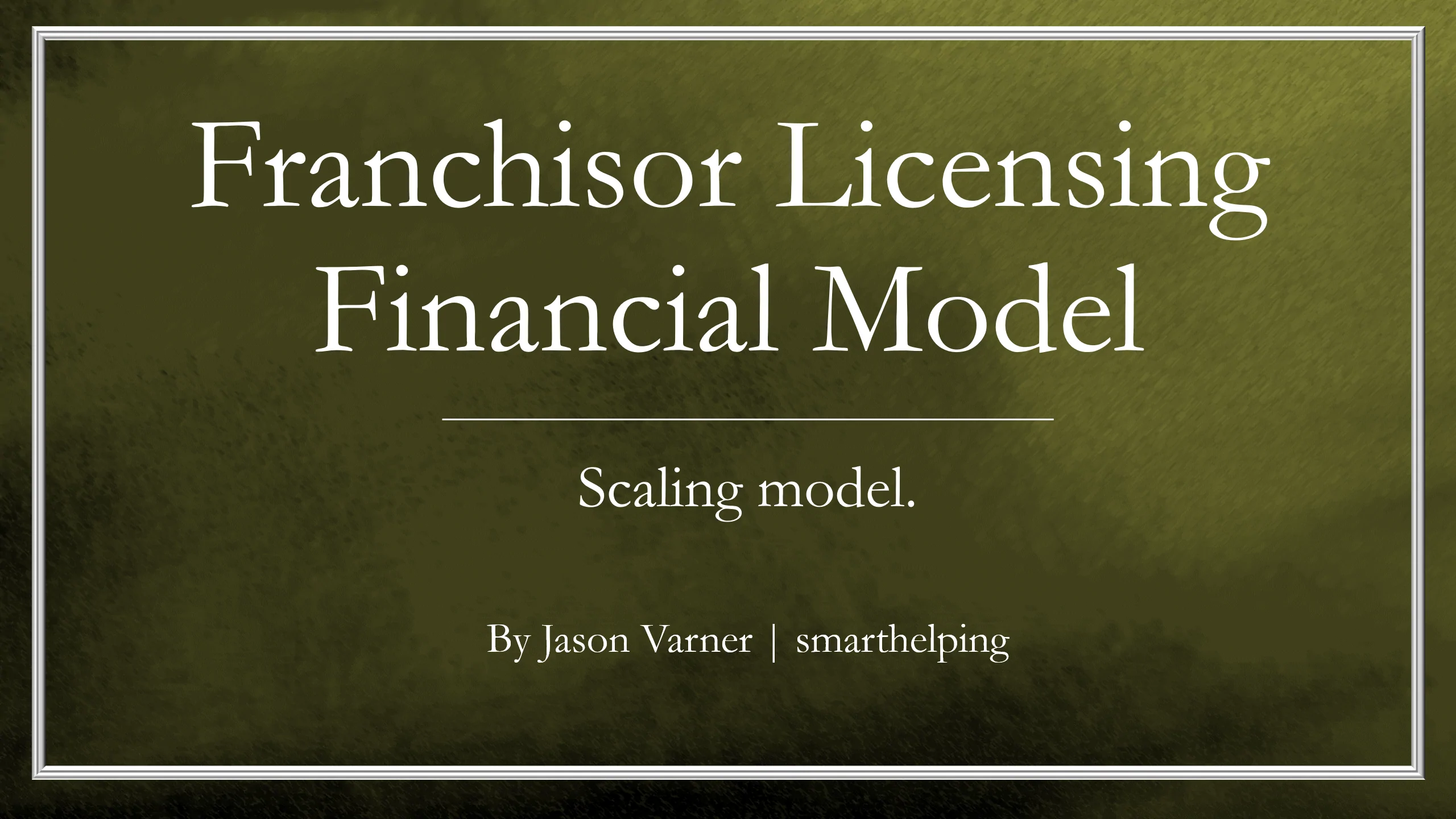 DETAILS
This business document is categorized under the function(s): Corporate Finance
It applies to All Industries
File Size: 6.2 MB
Related Topic(s): Integrated Financial Model Franchising
Purchase includes lifetime product updates. After your purchase, you will receive an email to download this document.
Initial upload date (first version): Nov 16, 2022
Most recent version published: Nov 16, 2022
Since 2012, we have provided best practices to over 5,000 businesses and organizations of all sizes across the world—in over 130 countries. Below is just a very small sample of our customer base.