The dynamics of Innovation Organization is the most important influencer of the company's innovation performance.
Management of Innovation–the ability to define and develop new products and services and deliver them to the market–is the fundamental source of Value Creation in companies.  Innovation is inherently a highly cross-functional activity that, when it works well, creates a construction tension between competing objectives of development cost, product value, performance, quality, and time to market. Product development touches every part of the company.
Functions like strategic planning, sales, operations, customer support, purchasing, and finance are just as important to successful Innovation as R&D and engineering. How well these very different functions work together in large measure determines how effective a company will be at developing successful products and services.
The structure is often the first thing companies seek to change to achieve better organizational performance.  However, a study conducted by global management consulting firm Booz Allen showed that structure is a poor predictor of how an organization behaves.  Independent of organization structures, some companies can deftly mobilize their best capabilities to meet unexpected changes in the marketplace.  These are the Innovation Organizations. However, there are companies that are immobilized by such challenges, unable to respond effectively.
Understanding the Innovation Organization
 The Innovation Organization frees up the full potential of your organization to support and accelerate Innovation. When this is in place, only then will Innovation start.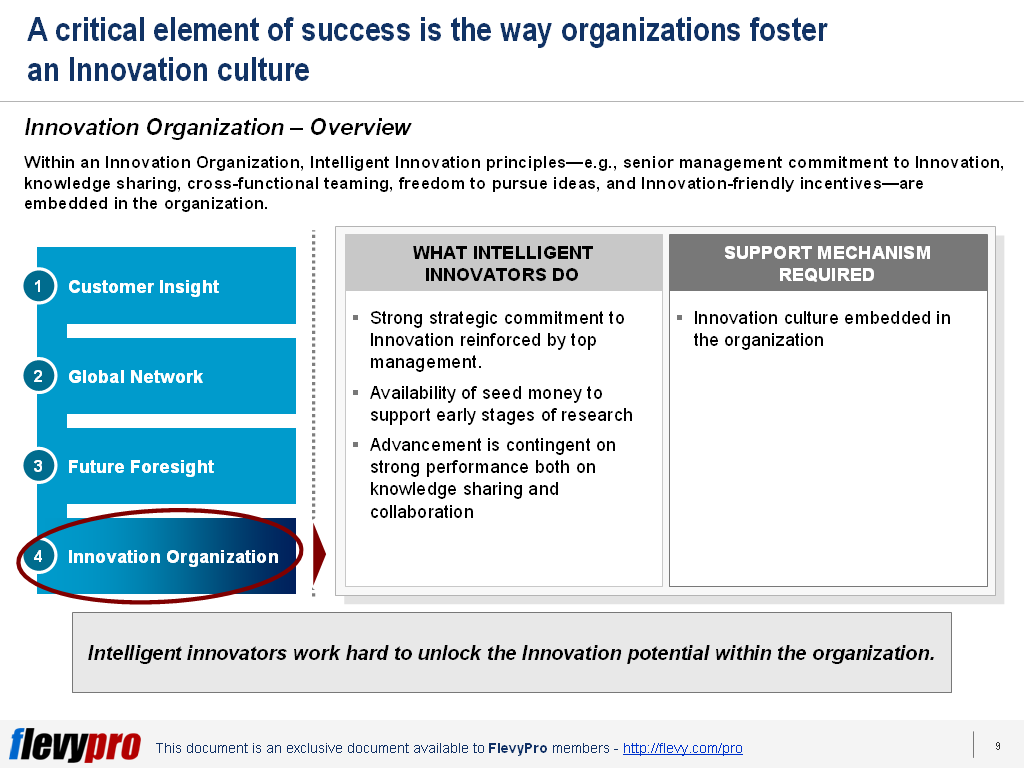 An Innovation Organization is anchored on 4 Pillars to achieve an Innovation Culture. The 4 Pillars or Building Blocks of an effective organization ensures the creation of an innovative thinking culture within the organization.
The 4 Pillars to Achieving an Innovation Culture
The 4 Building Blocks ensure that Innovation Performance Improvement is achieved.
Decision Rights. Decision Rights is how and by whom decisions are made. Cross-functional Innovation Teams must be organized and empowered to make many decisions.  There must be clearly defined decision-making authority and responsibilities.
Information. Information is the metrics that are tracked, the way activities are coordinated, and how knowledge is transferred. Throughout the company, it is essential that Innovation Strategy is properly understood by everybody from top management to the lowest level.  There must be a rapid and broad sharing of knowledge and ideas. Most importantly, there must be a fully agreed list of clear Innovation metrics with accountability for performance.
Structure. The structure is the overall organization model including the lines and boxes of the organization chart.  It ensures that there is a lean but empowered Innovation Management group coordinates.  Rotation is established to provide broad exposure to functions as part of a fast career track.
Motivator. Motivators are the objectives, incentives, and career paths available to employees. There must be clear senior management commitment and creativity is encouraged and rewarded. Employees are given the freedom to spend a portion of their time on new ideas and resources are available to support the exploration of new ideas.
These 4 pillars or building blocks are essentially necessary when organizations go through the process of becoming an Innovation Organization. It requires a 3-phase approach which, when properly undertaken, can boost an organization Intelligent Innovation capability.
Moving from a control regime to a more holistic approach is challenging. But the performance benefits are compelling.
Interested in gaining more understanding of Innovation Organization? You can learn more and download an editable PowerPoint about Innovation Organizations here on the Flevy documents marketplace.
Are you a management consultant?
You can download this and hundreds of other consulting frameworks and consulting training guides from the FlevyPro library.