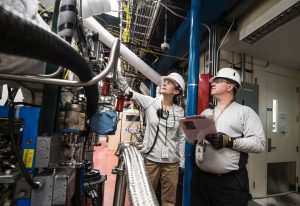 Unsuccessful software applications cost organizations significant efforts and resources.  The reasons for these failed ventures are often attributed to technology issues.  However, the real issue is flaws in business processes—the enterprise application deployment environment and the ecosystem which the application targets.
This calls for ensuring the organizational readiness before initiating technology deployment.  It is for this reason the Business Process Maturity Model (BPMM) originated.  BPMM helps achieve uniform standards, identify weaknesses in workflows, and create standardized tailored processes that simplify the requirements for enterprise applications.
BPMM's roots can be traced back to the Process Maturity Framework (PMF) created by Watts Humphrey and his colleagues at IBM in the late 1980s.  Process Maturity Framework explores the ways to introduce quality practices in software development.  Humphrey and his colleagues introduced incremental stages to adopting best practices in software organization.  The PMF served as the groundwork for the development of the Capability Maturity Model (CMM) for software in 1991.  CMM then became the foremost standard for appraising the capability of software development organizations.
BPMM ensures the success of enterprise systems by providing proven methods for system requirements validity; accuracy of use cases, and effectiveness of applications; simplification of requirements for enterprise applications; and providing a reliable standard for appraising the maturity of business process workflows.
The Guiding Principles for BPMM
BPMM considers processes as workflows across organizational boundaries.  The key guiding principles governing BPMM are:
A process should be analyzed in terms of its contribution to organizational objectives.
It depends on the organizational ability to sustain efficient processes.
Process Improvement should be ideally executed as a phased Transformation endeavor that aims to achieve successively more predictable states of organizational capability.
Each stage or maturity level works as a groundwork to build future improvements.
BPMM Utility
BPMM has the following 4 primary utilities.
To drive business process improvement initiatives
To gauge enterprise application deployment risks
To ensure selection of capable suppliers
To Benchmark
BPMM – Conformance
Evaluating the BPMM conformance is about ensuring that the implemented system meets the needs of the client.  Verification of conformance necessitates an effective appraisal technique to gather multiple forms of evidence to evaluate the performance of the practices contained in the BPMM.
The BPMM conformance appraisal should be headed by an authorized Lead Appraiser—external to the organization, trained in BPMM as well as appraisal methods.  The team under the lead appraiser should include some members internally from the organization.  The BPMM conformance appraisal team gathers and analyzes evidence regarding the implementation of BPMM practices, judges their strengths and weaknesses, and gauges their effectiveness in meeting the goals of the process areas at respective maturity levels.
The following evidence is utilized during BPMM conformance appraisals:
Review of outputs produced as a result of a process.
Review of objects, documents, products supporting the execution of a process.
Interviews with individuals that perform a process and those who support and manage it.
Quantitative data that depicts the organizational state, employee behaviors, performance, and results of a process.
BPMM Conformance Appraisals
BPMM Conformance Appraisals help assure the implementation of practices at a level that achieve the intent and goals of the practices and their process areas.  BPMM conformance appraisals are of 4 distinct types:
Starter Appraisal:  An inexpensive BPMM conformance appraisal—which takes only a few days—that entails gathering quantitative data by conducting few interviews.
Progress Appraisal:  An extensive appraisal that entails quantitative data collection, investigation of all process areas and practices, review of artifacts, and analysis of interviews.
Supplier Appraisal:  An appraisal method to select sources and to make informed decisions during procurement contracts.
Confirmatory Appraisal:  A rigorous investigation of all process areas / practices where all evidence is accounted for.
BPMM – Maturity Levels
BPMM encompasses 5 maturity levels that signify the transformation of an organization on the basis of improvements in its processes and capabilities.  BPMM Maturity levels 2, 3, 4, and 5 each contain 2 or more process areas, whereas the Maturity level 1 does not contain any process areas.  The 5 successive levels of BPMM are: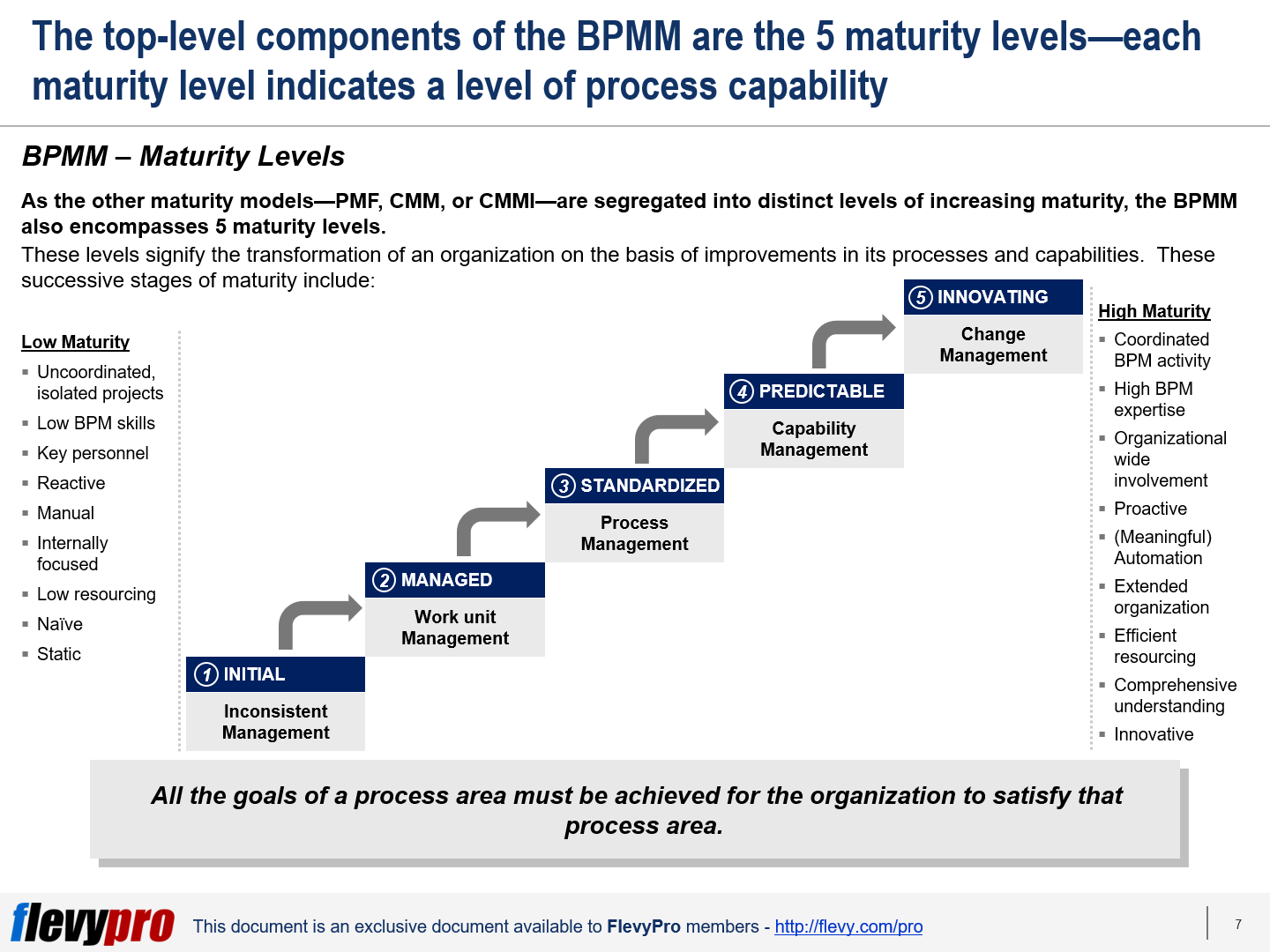 Initial
The focus of the BPMM level 1 is on achieving economy of scale, automation, and productivity growth by encouraging people to overcome challenges and complete their tasks.
Managed
The 2nd maturity level aims at developing repeatable practices, minimizing rework, and satisfying commitments — by managing work units and controlling workforce commitments.
Standardized
The focus of the 3rd maturity level of BPMM is to accomplish standardization in terms of business processes, measures, and training for product and service offerings.
Predictable
The 4th maturity level aims at achieving stable processes, knowledge management, reusable practices, and predictable results.  Organizations accomplish these results through standardization and managing processes and results quantitatively.
Innovating
The focus of the organizations operating at the highest maturity level of BPMM is on implementing continuous improvements, developing efficient processes, and inculcating innovation.
Interested in learning more about the process areas and practices at various maturity levels of the Business Process Maturity Model?  You can download an editable PowerPoint on Business Process Maturity Model here on the Flevy documents marketplace.
Do You Find Value in This Framework?
You can download in-depth presentations on this and hundreds of similar business frameworks from the FlevyPro Library. FlevyPro is trusted and utilized by 1000s of management consultants and corporate executives. Here's what some have to say:
"My FlevyPro subscription provides me with the most popular frameworks and decks in demand in today's market. They not only augment my existing consulting and coaching offerings and delivery, but also keep me abreast of the latest trends, inspire new products and service offerings for my practice, and educate me in a fraction of the time and money of other solutions. I strongly recommend FlevyPro to any consultant serious about success."

– Bill Branson, Founder at Strategic Business Architects
"As a niche strategic consulting firm, Flevy and FlevyPro frameworks and documents are an on-going reference to help us structure our findings and recommendations to our clients as well as improve their clarity, strength, and visual power. For us, it is an invaluable resource to increase our impact and value."

– David Coloma, Consulting Area Manager at Cynertia Consulting
"As a small business owner, the resource material available from FlevyPro has proven to be invaluable. The ability to search for material on demand based our project events and client requirements was great for me and proved very beneficial to my clients. Importantly, being able to easily edit and tailor the material for specific purposes helped us to make presentations, knowledge sharing, and toolkit development, which formed part of the overall program collateral. While FlevyPro contains resource material that any consultancy, project or delivery firm must have, it is an essential part of a small firm or independent consultant's toolbox."

– Michael Duff, Managing Director at Change Strategy (UK)
"FlevyPro has been a brilliant resource for me, as an independent growth consultant, to access a vast knowledge bank of presentations to support my work with clients. In terms of RoI, the value I received from the very first presentation I downloaded paid for my subscription many times over! The quality of the decks available allows me to punch way above my weight – it's like having the resources of a Big 4 consultancy at your fingertips at a microscopic fraction of the overhead."

– Roderick Cameron, Founding Partner at SGFE Ltd
"Several times a month, I browse FlevyPro for presentations relevant to the job challenge I have (I am a consultant). When the subject requires it, I explore further and buy from the Flevy Marketplace. On all occasions, I read them, analyze them. I take the most relevant and applicable ideas for my work; and, of course, all this translates to my and my clients' benefits."

– Omar Hernán Montes Parra, CEO at Quantum SFE