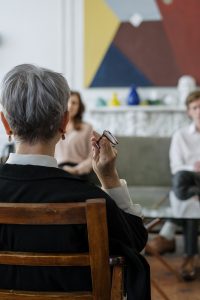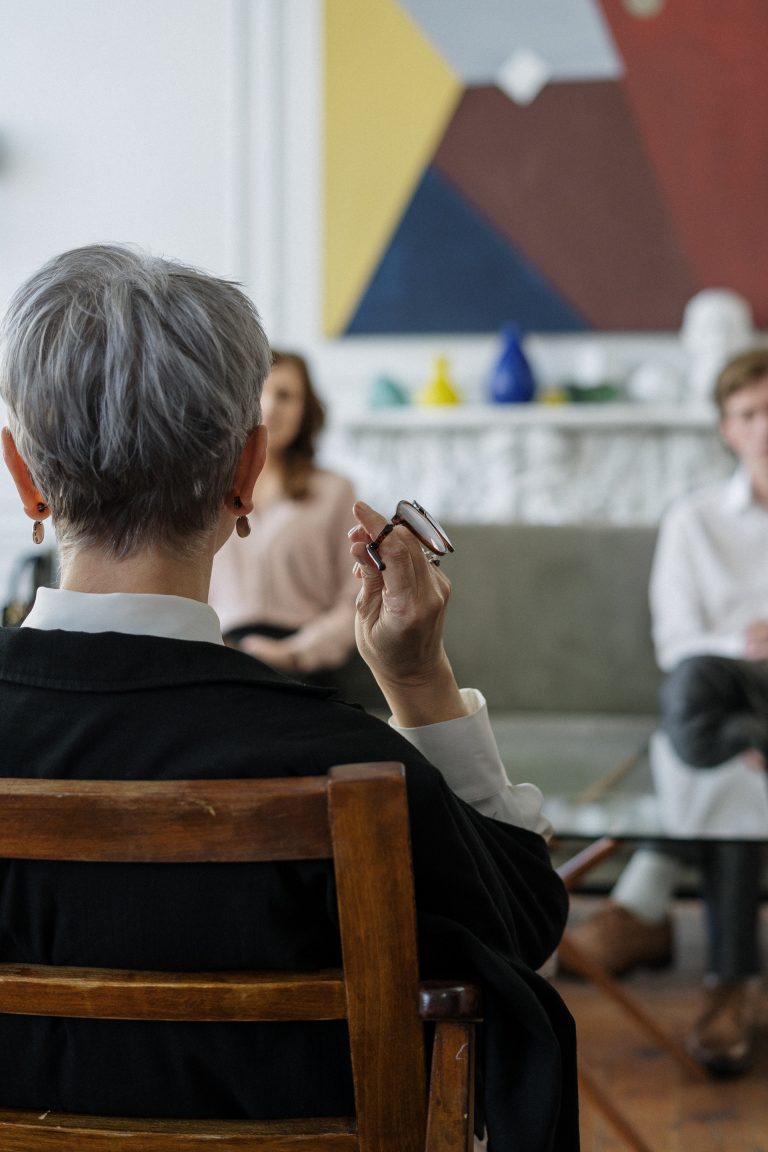 Understanding others has a lot to do with collaboration, performance management, and building effective teams.
Developed by Taibi Kahler in the 1970s, Process Communication Model (PCM) is a prominent psychometric tool for individual and team development.  The main utility of the PCM model is in understanding others' personality types, discovering one's own personality, and personifying others' personality types to have better relationships.
PCM allows the executives to understand others' needs, influence others, find practical solutions to problems, and manage conflict.  The model has found its utilization in a number of Fortune 500 organizations.  NASA has used PCM for the training and selection of its astronauts for over 20 years.
As per the PCM model, each individual embodies an assortment of behaviors, each with its own set of psychological requirements, strengths, weaknesses, communication style, and motivations.  The Process Communication Model describes that each of us exemplify a combination of 6 personality types—each of personality type has its strengths and weaknesses—but one personality dominates the others in an individual.  The 6 personality types are:
Harmonizer
Rebel
Thinker
Persister
Imaginer
Promoter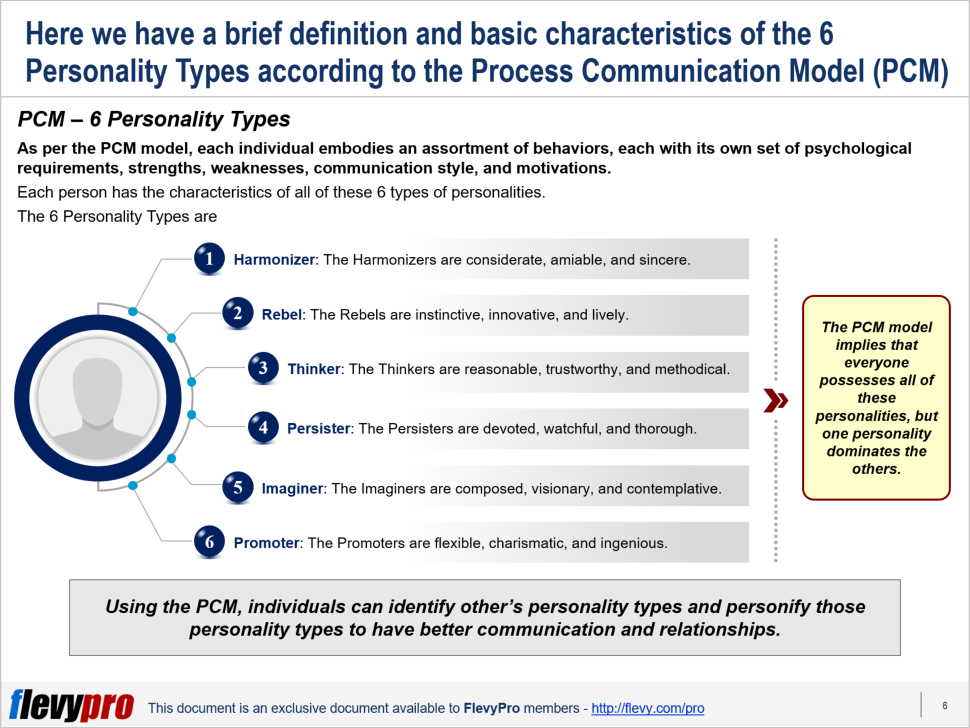 Let's discuss these personality types in a bit detail.
Harmonizer
Individuals with a dominating Harmonizer personality type are humble, quiet, and naturally gifted at forming relationships with others.  The Harmonizers care for their family and friends, are compassionate, and use their feelings to judge the world around them.  They treat others cordially, make them feel comfortable, listen to them attentively, and do not shy away from making physical contact.
Recognition of their personality and others' amiable communication style motivate the Harmonizers.  Under difficult circumstances, these individuals tend to become apprehensive, lack firmness, act irrationally, and make grave mistakes / incoherent decisions.
Rebel
The individuals possessing a Rebel personality are generally creative, fun loving, and radiate positive energy for others.  These individuals respond promptly, reciprocate righteousness with virtue, and enjoy the present.  The Rebels are valued for their extemporaneous humor, interest in others, energy, and problem-solving ability.  They are a bit impulsive and judge the world around them through their likes and dislikes.
Others upbeat communication style and stimulation through playful contact motivate the Rebels.  Under stress, the Rebels tend to get confused, whine, irritate others, leave complex situations, and bounce responsibility to others.
Thinker
Individuals with a dominating Thinker personality believe in data, logic, and perfectionism.  They take on a methodical approach to doing things, ask too many queries, and only attend meetings when there is a formal agenda set in advance.  The Thinker personality likes to evaluate detailed information before drawing any conclusions.  These people are valued for their planning and organization ability, dependability, structuring ideas logically, and clear expression.
Recognition of their thoughts and accomplishments motivates the Thinkers.  Under stress, they reverse delegate tasks and start doing those themselves, try to gather as much detail as possible to understand the situation, and may start arguments or even attack others.  These people need time and assurance of their abilities to return to their organized selves.
Interested in learning more about PCM and its other personality profiles?  You can download an editable PowerPoint presentation on Process Communication Model: Personality Types here on the Flevy documents marketplace.
Do You Find Value in This Framework?
You can download in-depth presentations on this and hundreds of similar business frameworks from the FlevyPro Library. FlevyPro is trusted and utilized by 1000s of management consultants and corporate executives. Here's what some have to say:
"My FlevyPro subscription provides me with the most popular frameworks and decks in demand in today's market. They not only augment my existing consulting and coaching offerings and delivery, but also keep me abreast of the latest trends, inspire new products and service offerings for my practice, and educate me in a fraction of the time and money of other solutions. I strongly recommend FlevyPro to any consultant serious about success."

– Bill Branson, Founder at Strategic Business Architects
"As a niche strategic consulting firm, Flevy and FlevyPro frameworks and documents are an on-going reference to help us structure our findings and recommendations to our clients as well as improve their clarity, strength, and visual power. For us, it is an invaluable resource to increase our impact and value."

– David Coloma, Consulting Area Manager at Cynertia Consulting
"As a small business owner, the resource material available from FlevyPro has proven to be invaluable. The ability to search for material on demand based our project events and client requirements was great for me and proved very beneficial to my clients. Importantly, being able to easily edit and tailor the material for specific purposes helped us to make presentations, knowledge sharing, and toolkit development, which formed part of the overall program collateral. While FlevyPro contains resource material that any consultancy, project or delivery firm must have, it is an essential part of a small firm or independent consultant's toolbox."

– Michael Duff, Managing Director at Change Strategy (UK)