4 Ps of Effective Presentations
Featured Best Practice on Presentation Development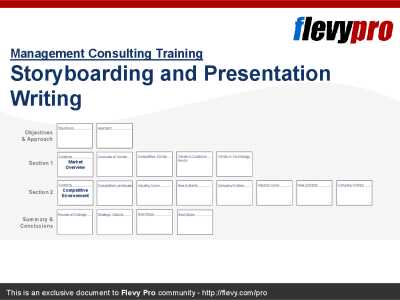 33-slide PowerPoint presentation
You may have heard that management consultants spend the majority of their time cranking out PowerPoint slides. There is much truth to do this--and for good reason. A PowerPoint presentation is not only a great communication tool, it is also the form of most consulting deliverables--i.e. the
[read more]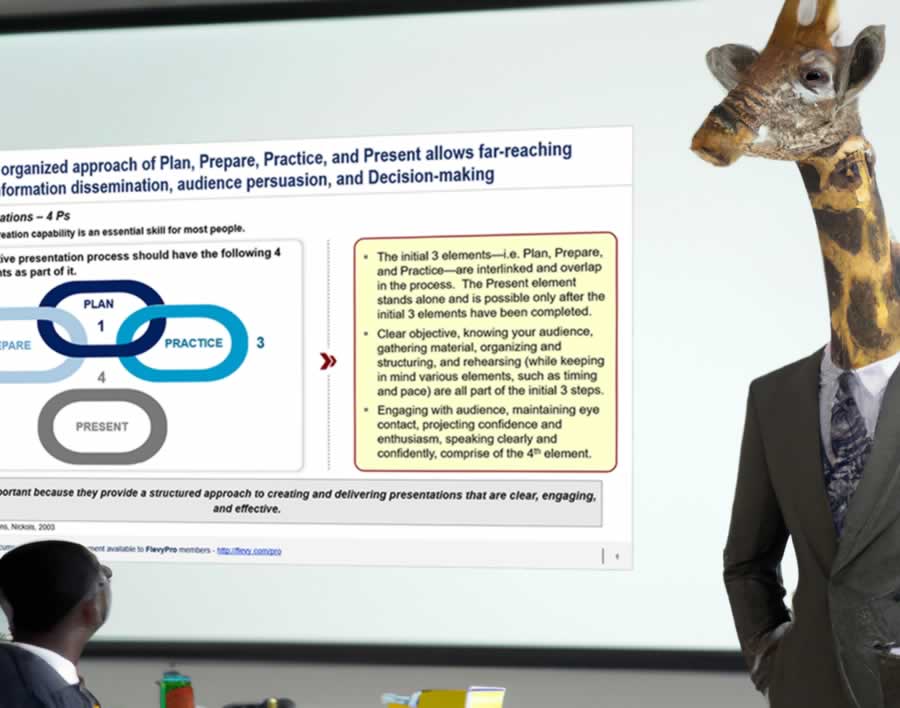 Effective presentations are an indispensable element of effective professional communication in today's world.
A well-designed and well-delivered presentation can aid in transmitting ideas and messages more efficiently.  Effectively presented content facilitates the achievement of objectives and key results.
Effective compilation and delivery of presentations is a critical skill for most executives these days.  Doing so may generate quite a few benefits, both for the presenter and the audience.
The following 4 essential elements should be included in any effective presentation-making process.
Plan
Prepare
Practice
Present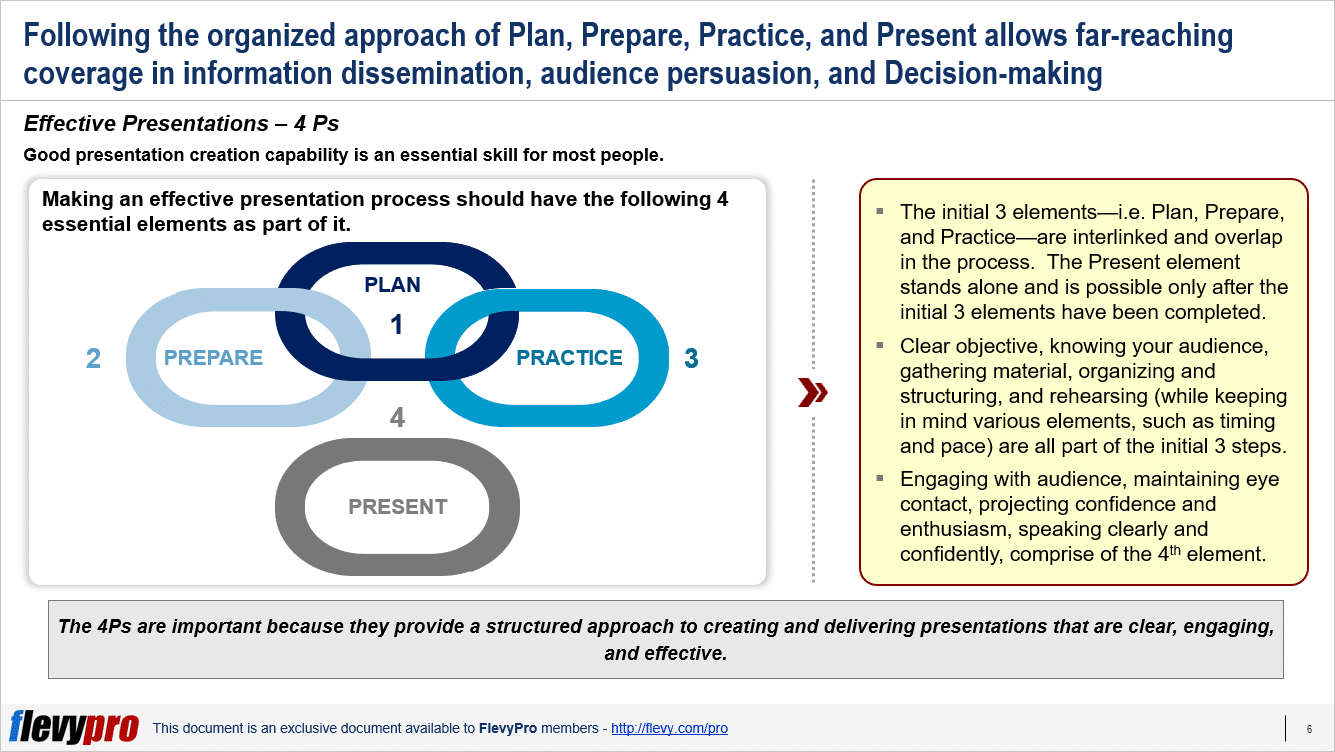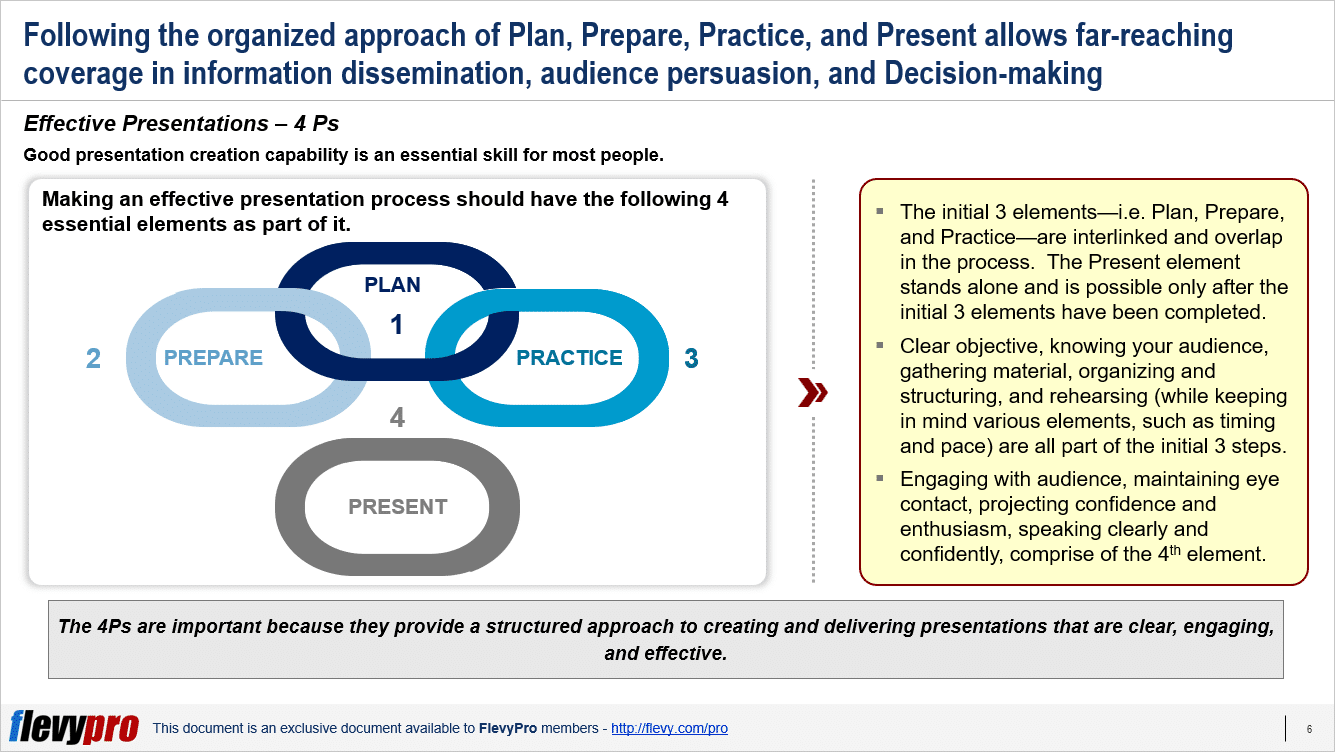 The initial 3 elements—i.e. Plan, Prepare, and Practice—are interlinked and overlap in the process.  The Present element stands alone and is possible only after the initial 3 elements have been completed.
The first 3 elements can be structured in either parallel or sequential order.   The serial approach entails working on a single task until it is completed, then moving on to the next task, and so on.
A parallel approach consists of working on a number of tasks at the same time, accomplishing what can be achieved at a time.
Both methods work the same way, as long as the method used is in line with the following traits of the people who made it:
Style
Experience
Background
Partialities
Let us delve a little deeper into the details of the 4 elements of presentation.
Planning
Planning a presentation entails pondering beforehand regarding significant parts of it.  Planning involves the following 7 dimensions that need attention:
Objectives
Audience
Content
Organization
Visuals
Setting
Delivery
Planning, methodically, using the 7 factors enables the identification of gaps in the ideas generated.
Planning also helps give structure to the presentation, which enables the audience to follow it easily and remain engaged.
Planning ahead enables rehearsing the presentation's delivery which in turn boosts confidence—a confident presenter is able to convince the audience much better.
Preparing
The most important aspect of the Preparing phase is the use of an effective slide structure.  Slides that are well-designed help to engage the audience and reinforce key messages.
The Consulting Presentation Framework—a slide structure that every top-tier management consulting firm follows, also used by FlevyPro—uses a structure in which every slide has 3 primary components:
Headline
Body
Bumper
Practicing
Practicing a presentation is always a good idea, even if the presenter has already delivered it somewhere else.  A change of setting and audience, as well as the time lapse between presentations, brings up new challenges.
Practicing also has 2 aspects that need to be addressed:
Rehearse – This is practicing the things you intend to do.
Prehearse – This is practicing and planning for the things you might have to do.
Presenting
Effective presentations are not only about having good content or a well-designed slide deck; the way information is presented can be just as important.  From body language and voice tone to pace and the use of visuals, everything about how the message is delivered can affect how the audience sees it.
Interested in learning more about 4 Ps of Effective Presentations?  You can download an editable PowerPoint presentation on 4 Ps of Effective Presentations here on the Flevy documents marketplace.
Do You Find Value in This Framework?
You can download in-depth presentations on this and hundreds of similar business frameworks from the FlevyPro Library.  FlevyPro is trusted and utilized by 1000s of management consultants and corporate executives.
For even more best practices available on Flevy, have a look at our top 100 lists: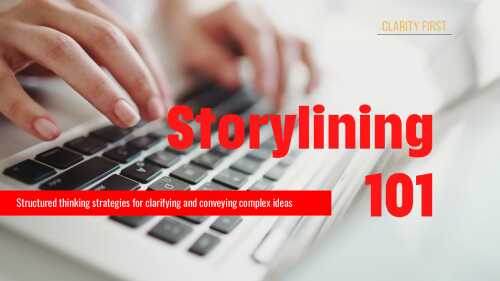 37-page PDF document
Clarity is critical in business communication of all kinds, yet difficult to achieve. This pack outlines five clear steps that will enable you to clarify your thinking for both yourself and your audience while preparing any kind of communication, from emails through to board papers, complex
[read more]
Readers of This Article Are Interested in These Resources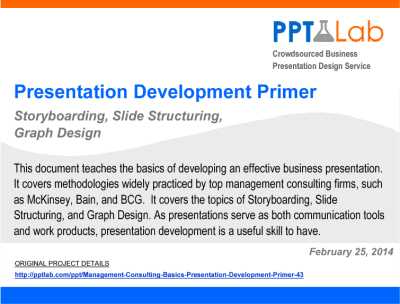 28-slide PowerPoint presentation
This document teaches the basics of developing an effective business presentation. It covers methodologies widely practiced by top management consulting firms, such as McKinsey, Bain, and BCG. This document is divided into 3 sections: *Storyboarding. Storyboarding refers to developing the
[read more]
40-slide PowerPoint presentation

Excel workbook
About Mark Bridges
Mark Bridges is a Senior Director of Strategy at Flevy. Flevy is your go-to resource for best practices in business management, covering management topics from
Strategic Planning
to
Operational Excellence
to
Digital Transformation
(
view full list here
). Learn how the Fortune 100 and global consulting firms do it. Improve the growth and efficiency of your organization by leveraging Flevy's library of best practice methodologies and templates. Prior to Flevy, Mark worked as an Associate at McKinsey & Co. and holds an MBA from the Booth School of Business at the University of Chicago. You can
connect with Mark on LinkedIn here.
Top 10 Recommended Documents on Presentation Development
33-slide PowerPoint presentation
37-page PDF document
28-slide PowerPoint presentation
40-slide PowerPoint presentation
This presentation talks to the topics of structure communication, presentation development, and storyboarding. These topics related to formulating a cohesive, powerful business presentation.
Excel workbook
Excel workbook
93-slide PowerPoint presentation
20-slide PowerPoint presentation
33-page PDF document
74-slide PowerPoint presentation

» View more resources Presentation Development here.
» View the Top 100 Best Practices on Flevy.