The concept of Core Competencies was first introduced by C. K. Prahalad and Gary Hamel in 1990, in their article The Core Competence of the Corporation.  Since then, this term has become part of the general business vernacular.
Companies constantly claim various things to be part their "core competences."  But, are these really Core Competences?  How do we determine if something qualifies as a Core Competence?  Perhaps most importantly, how do we develop Core Competences?
To address these questions, let's introduce the Core Competence Model.  This is a strategy framework that starts the strategy process by thinking about the core strengths of an organization.  Whereas the traditional outside-in approach (e.g. Porter's Five Forces, BCG Matrix) places the market, competition, and customer at the starting point of the strategy process, the Core Competence Model does the opposite. It states that in the long run, competitiveness derives from an ability to build a Core Competence at lower cost and more quickly than competitors.
A Core Competence can be any combination of specific, inherent, integrated, and applied knowledge, skills, and attitudes.  Leveraging our Core Competence may result in the creation of unanticipated products and services.
Per the Core Competence Model, a Core Competence is comprised of 4 dimensions:
Skills and Knowledge Base
Technical Systems
Managerial Systems
Values and Norms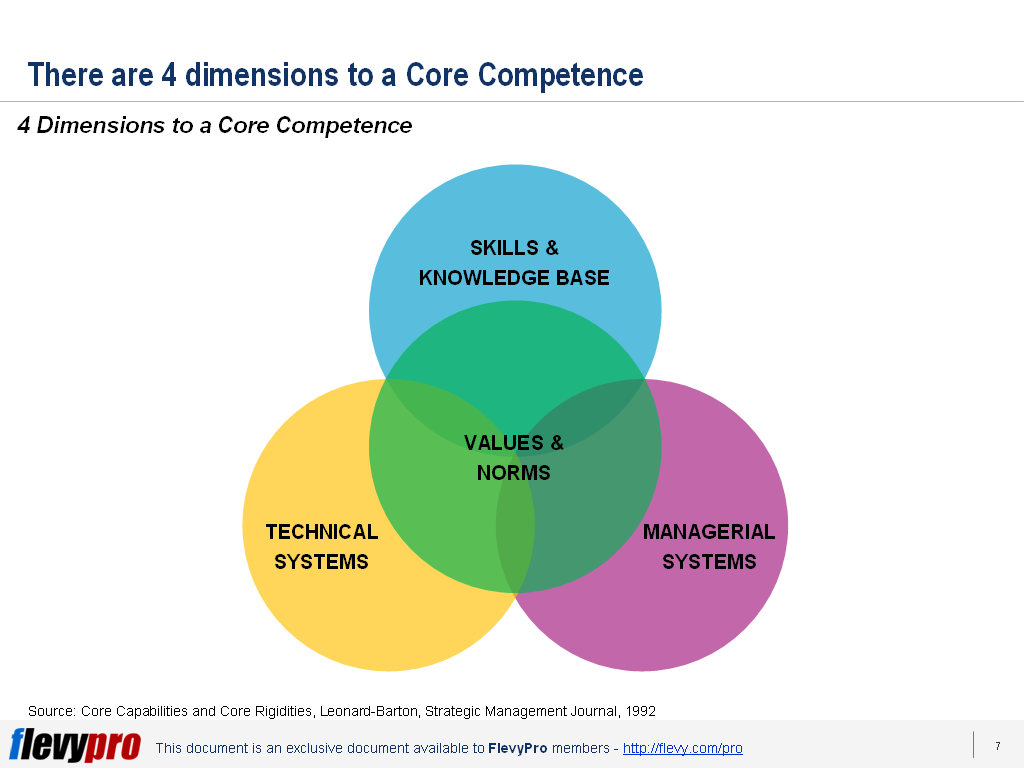 Skills and Knowledge Base
The first dimension, Knowledge and Skills embodied in people, is the one most often associated with core capabilities and the one most evidently relevant to New Product Development (NPD).  This dimension encompasses both firm-specific techniques and scientific understanding.
Technical Systems
Knowledge that has been embedded in Technical Systems results from years of accumulating, codifying, and structuring the tacit knowledge in peoples' heads.  Such physical production or information systems represent compilations of knowledge, usually derived from multiple individual sources.
Therefore, the whole technical system is greater than the sum of its parts.  This knowledge constitutes both information and procedures.
Managerial Systems
This third dimension, Managerial Systems, represents formal and informal ways of creating knowledge–such as via sabbaticals, apprenticeship programs or networks with partners–and of controlling knowledge–such as incentive systems, reporting structures.
Values and Norms
Infused through the 3 aforementioned dimensions is the last: Values and Norms.  This represents the value assigned within the company to the content and structure of knowledge (e.g. computer engineering vs. marketing expertise; open source software vs. proprietary systems), means of collecting knowledge (e.g. formal degrees vs. experience) and controlling knowledge (e.g. individual empowerment vs. management hierarchies).
Be aware that even physical systems embody values.
According to Prahalad and Hamel, Core Competences can be identified and clarified following a 3-step process.
1. Articulate Strategic Intent.
We must first articulate our Strategic Intent, which is our company's vision of what we want to achieve in the long term.  A Strategic Intent must have the following 4 components:
Sense of direction
Emotional element
Sense of discovery
Sense of destiny
2. Identify Core Competencies.
There are 3 tests for identifying a Core Competence:
Provides potential access to a wide variety of markets.
Makes a significant contribution to the benefits of the product as perceived by the customer.
A Core Competence should be difficult for competitors to imitate.
3. Enhance Core Competencies.
After we have identified our Core Competencies, we need to enhance them by redesigning the architecture of our organization.  For instance, we should invest in required technologies that support and strengthen the competency.  Another example is we can develop strategic partnerships that further nurture this Core Competence.
Once we clarify our Core Competencies, our whole organization will know how to support  our Competitive Advantage.  We will then have clarity and direction as to how to allocate resources appropriately.
One final caveat:   care must be taken not to let Core Competencies develop into Core Rigidities.  A Core Competence is difficult to learn, but is difficult to unlearn as well.  Thus, a Core Rigidity is caused by over-reliance on any Core Competence for too long, even after its competitive advantage has turned obsolete.
What are the Core Competencies or your organization?
You can learn more about Core Competencies and download an editable PowerPoint about the the Core Competence Model here on the Flevy documents marketplace.