The 5 Building Blocks to Developing a Learning Organization
Featured Best Practice on Learning Organization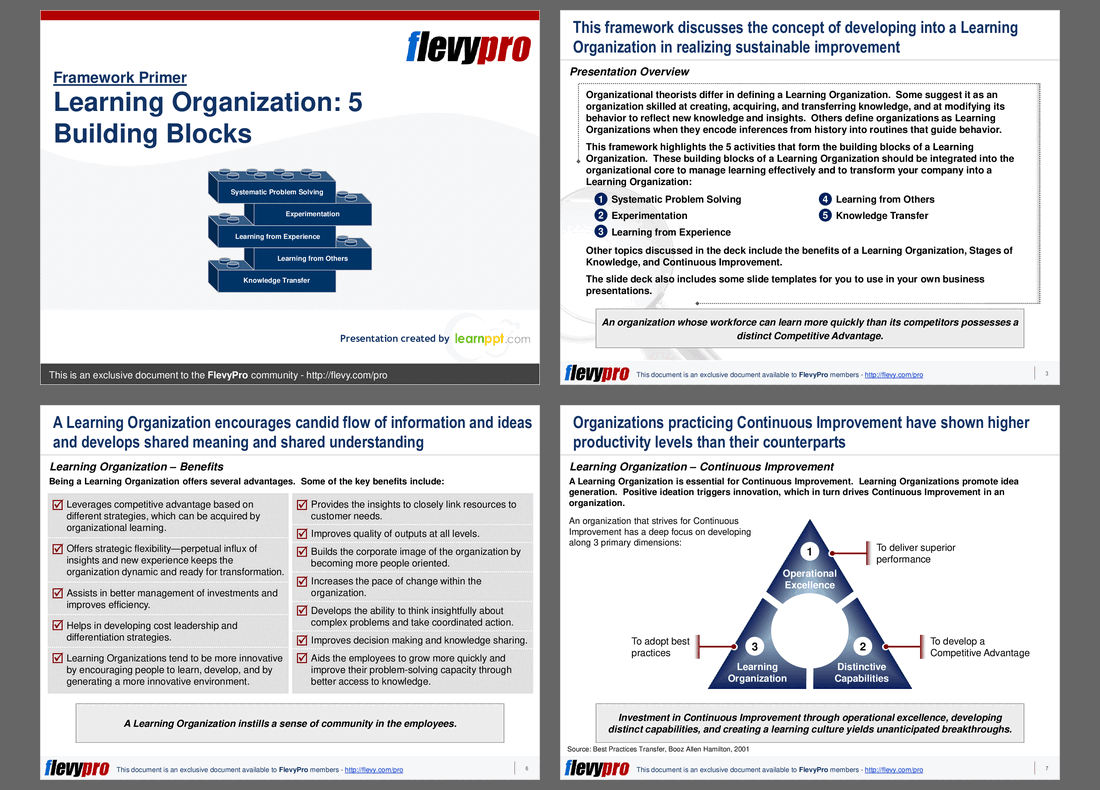 37-slide PowerPoint presentation
Organizational theorists differ in defining a Learning Organization. Some suggest it as an organization skilled at creating, acquiring, and transferring knowledge, and at modifying its behavior to reflect new knowledge and insights. Others define organizations as Learning Organizations when they
[read more]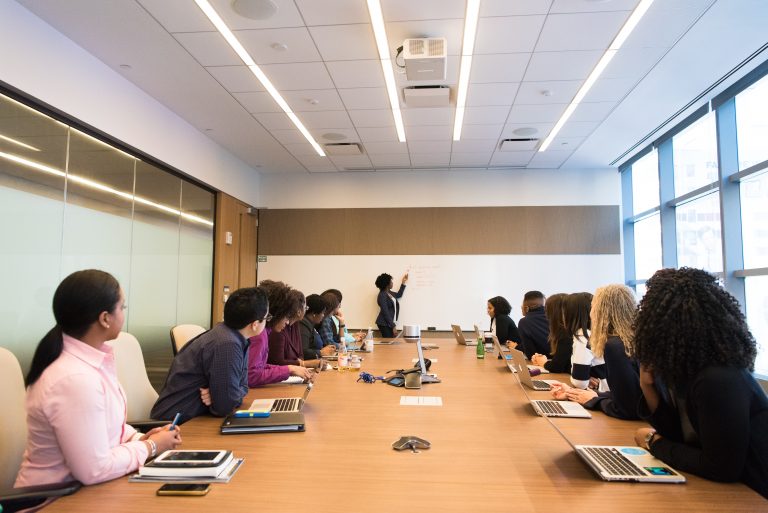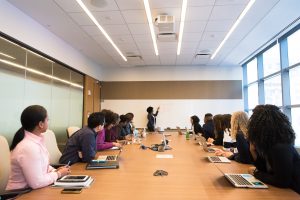 Organizations need to persistently improve the way they do business to staying ahead of the curve.  New ideas trigger organizational improvement and build the foundation of a Learning Organization.
Scholars have defined a Learning Organization in many different ways.  Some suggest it as an organization skilled at creating, acquiring, and transferring knowledge, and at modifying its behavior to reflect new knowledge and insights.  Marlene Fiol and Marjorie A. Lyles describe organizational learning as "the process of improving actions through better knowledge and understanding."  Barbara Levitt and James G. March define organizations as "Learning Organizations when they encode inferences from history into routines that guide behavior.  Chris Argyris categorizes organizational learning as "a process of detecting and correcting error."  According to Peter Senge, "a Learning Organization is a group of people working together collectively to enhance their capacities to create results they care about."
Being a Learning Organization offers several advantages.  A perpetual influx of insights and new experience keeps the organization dynamic and ready for transformation; assists in better management of investments, improves efficiency; and helps in developing cost leadership and differentiation strategies.  Learning Organizations tend to be more innovative by encouraging people to learn, develop, and by generating a more innovative environment.  Shared learning builds the corporate image of the organization and increases the pace of change within the organization.  Learning Organizations provide their people the ability to think insightfully about complex problems, take coordinated action, improve decision making, and instill a sense of community in them.
Despite efforts to improve continuously and creating new knowledge, organizations cannot simply become Learning Organizations.  They employ various approaches but what they actually need is to become proficient in translating new knowledge into new ways of doing things, and actively managing the learning process so that it gets ingrained into the organizational culture.
Becoming a Learning Organization necessitates mastering 5 key activities.  These 5 activities form the building blocks of a Learning Organization and should be integrated into the organizational core to transform your company into a Learning Organization.
Systematic Problem Solving
Experimentation
Learning from Experience
Learning from Others
Knowledge Transfer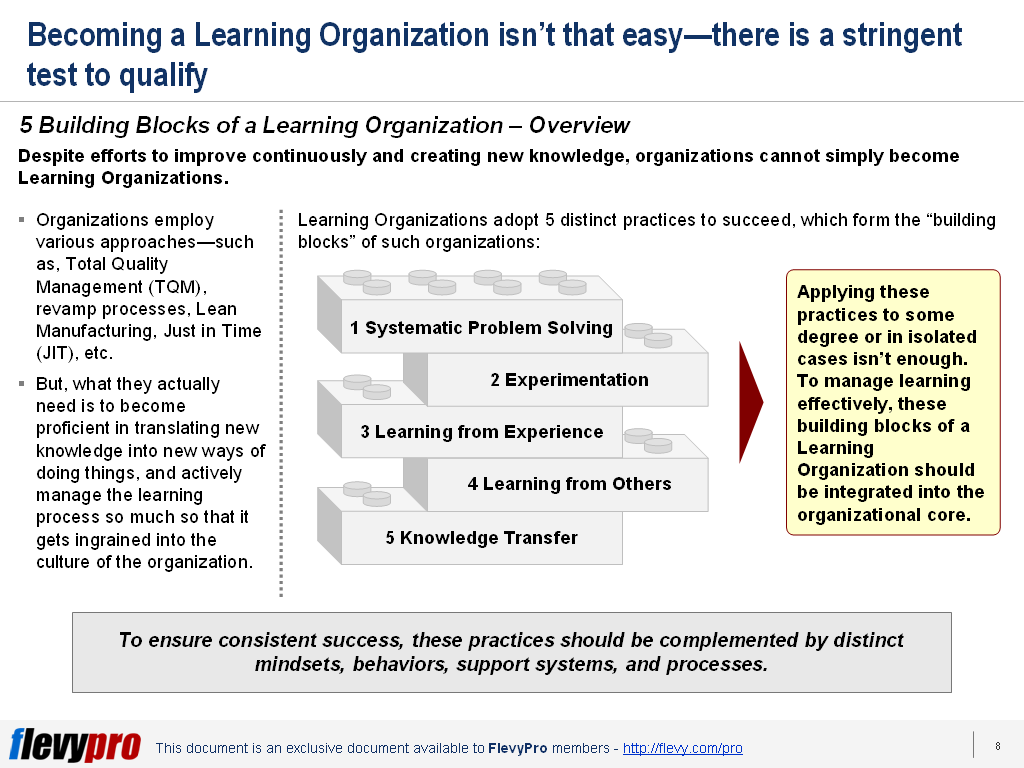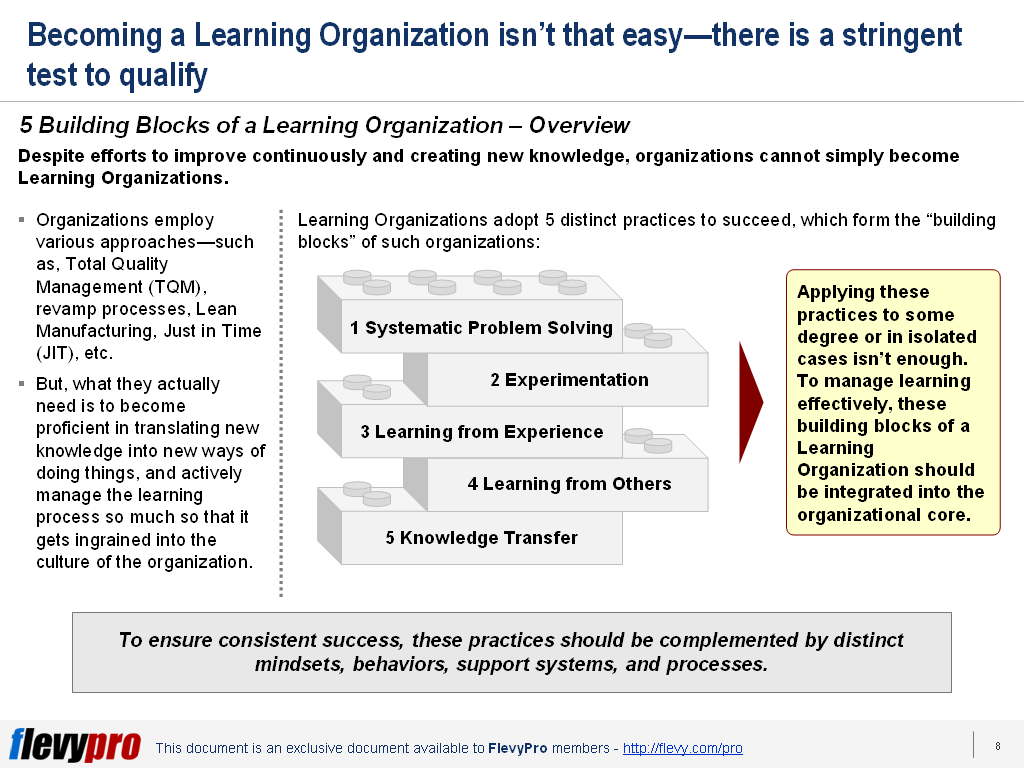 Applying these practices to some degree or in isolated cases isn't enough.  To ensure continued success, these practices should be complemented by distinct mindsets, support systems, and processes.
Let's now discuss the first 3 building blocks in detail.
1. Systematic Problem Solving
Systematic problem solving is based on scientific methods for diagnosing problems, e.g., the Plan, Do, Check, Act  (PDCA) cycle or "hypothesis-generating, hypothesis-testing."  The technique employs fact-based management, relying on concrete data instead of assumptions for making decisions and utilizes statistical tools—such as Pareto charts, histograms, correlation, and cause and effect diagrams—to consolidate data and draw conclusions.
For a real Learning Organization, people need to become more disciplined, pay more attention to detail, assess underlying causes, and analyze data before reaching decisions.
2. Experimentation
Experimentation involves systematic exploration and testing of new knowledge.  Experimentation has 2 fundamental configurations; both forms transfer knowledge and yield new insights, capabilities, tools, techniques, and processes:
Ongoing programs
Demonstration Projects
Ongoing Programs
Ongoing programs entails a chain of small experiments aimed at yielding incremental gains in knowledge.  These programs maintain a steady flow of new ideas by sending workforce on sabbaticals at different places to learn new work practices and tools from industry and academia, and applying that knowledge to their daily routines.  Such programs foster risk taking and a feeling of "benefits of experimentation far outweigh the costs."
Demonstration Projects
Demonstration projects are one of a kind, large-scale initiatives that include holistic system-wide transformation targeted at a single site.  These projects are executed with a goal of developing new organizational capabilities using a "clean slate" approach.
Self-managing, multi-departmental teams; high level of employee autonomy; considerable "learning by doing;" course corrections; implicit policy guidelines, precedents, and decision rules are the key characteristics of demonstration projects.
3. Learning from Experience
Learning Organizations gain valuable knowledge from their past experiences, by doing an exhaustive and systematic appraisal of past successes and failures.  However, not too many managers pay attention to past experiences or reflect on those, eventually losing valuable insights.  To inculcate a culture of learning, lessons learned should be recorded and made readily accessible to all employees.
A handful of companies have laid out processes for their managers to contemplate on their past actions and incorporate those in their learning.  At the core of this approach lies the belief that distinguishes productive failure from unproductive success.  Productive failure delivers knowledge and understanding whereas unproductive success goes unnoticed where nobody knows what went well and why.  Learning from experience approach isn't that expensive—case studies and project reviews can be compiled with little cost.
Interested in learning more about the building blocks of a Learning Organization?  You can download an editable PowerPoint on Learning Organization: 5 Building Blocks here on the Flevy documents marketplace.
Do You Find Value in This Framework?
You can download in-depth presentations on this and hundreds of similar business frameworks from the FlevyPro Library. FlevyPro is trusted and utilized by 1000s of management consultants and corporate executives. Here's what some have to say:
"My FlevyPro subscription provides me with the most popular frameworks and decks in demand in today's market. They not only augment my existing consulting and coaching offerings and delivery, but also keep me abreast of the latest trends, inspire new products and service offerings for my practice, and educate me in a fraction of the time and money of other solutions. I strongly recommend FlevyPro to any consultant serious about success."

– Bill Branson, Founder at Strategic Business Architects
"As a niche strategic consulting firm, Flevy and FlevyPro frameworks and documents are an on-going reference to help us structure our findings and recommendations to our clients as well as improve their clarity, strength, and visual power. For us, it is an invaluable resource to increase our impact and value."

– David Coloma, Consulting Area Manager at Cynertia Consulting
"As a small business owner, the resource material available from FlevyPro has proven to be invaluable. The ability to search for material on demand based our project events and client requirements was great for me and proved very beneficial to my clients. Importantly, being able to easily edit and tailor the material for specific purposes helped us to make presentations, knowledge sharing, and toolkit development, which formed part of the overall program collateral. While FlevyPro contains resource material that any consultancy, project or delivery firm must have, it is an essential part of a small firm or independent consultant's toolbox."

– Michael Duff, Managing Director at Change Strategy (UK)
"FlevyPro has been a brilliant resource for me, as an independent growth consultant, to access a vast knowledge bank of presentations to support my work with clients. In terms of RoI, the value I received from the very first presentation I downloaded paid for my subscription many times over! The quality of the decks available allows me to punch way above my weight – it's like having the resources of a Big 4 consultancy at your fingertips at a microscopic fraction of the overhead."

– Roderick Cameron, Founding Partner at SGFE Ltd
"Several times a month, I browse FlevyPro for presentations relevant to the job challenge I have (I am a consultant). When the subject requires it, I explore further and buy from the Flevy Marketplace. On all occasions, I read them, analyze them. I take the most relevant and applicable ideas for my work; and, of course, all this translates to my and my clients' benefits."

– Omar Hernán Montes Parra, CEO at Quantum SFE
Readers of This Article Are Interested in These Resources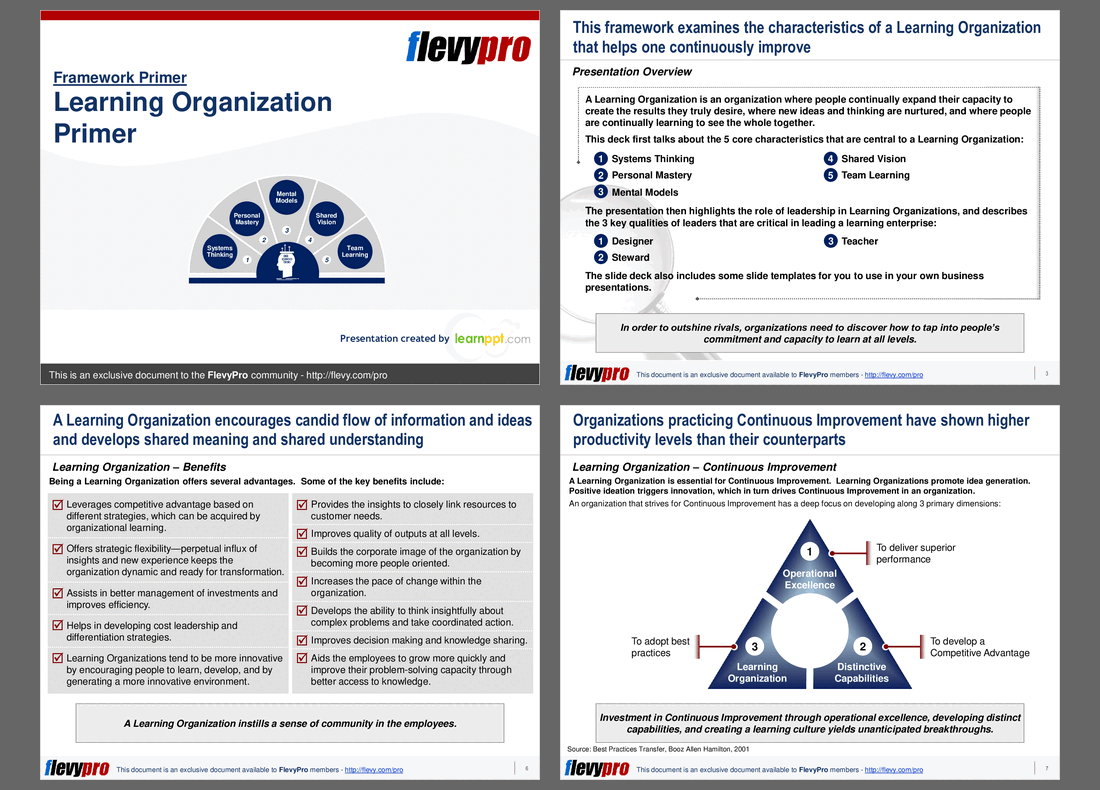 26-slide PowerPoint presentation
A Learning Organization is an organization where people continually expand their capacity to create the results they truly desire, where new ideas and thinking are nurtured, and where people are continually learning to see the whole together. In order to outshine rivals, organizations need to
[read more]
26-slide PowerPoint presentation

21-slide PowerPoint presentation
About Mark Bridges
Mark Bridges is a Senior Director of Strategy at Flevy. Flevy is your go-to resource for best practices in business management, covering management topics from
Strategic Planning
to
Operational Excellence
to
Digital Transformation
(
view full list here
). Learn how the Fortune 100 and global consulting firms do it. Improve the growth and efficiency of your organization by leveraging Flevy's library of best practice methodologies and templates. Prior to Flevy, Mark worked as an Associate at McKinsey & Co. and holds an MBA from the Booth School of Business at the University of Chicago. You can
connect with Mark on LinkedIn here.
Top 10 Recommended Documents on Learning Organization
37-slide PowerPoint presentation
26-slide PowerPoint presentation
26-slide PowerPoint presentation
21-slide PowerPoint presentation
29-slide PowerPoint presentation
30-slide PowerPoint presentation
27-slide PowerPoint presentation
30-slide PowerPoint presentation
26-slide PowerPoint presentation
21-slide PowerPoint presentation

» View more resources Learning Organization here.
» View the Top 100 Best Practices on Flevy.