What Is Operational Excellence?

In "The Discipline of Market Leaders," Michael Treacy and Fred Wiersema describe three distinct value propositions an organization can choose to compete in their market or industry:
Operational Excellence,
Product Leadership, and
Customer Intimacy.
The core of the book is based on five years of research by the Treacy and Wiersema into companies, including Wal-Mart, Dell, Southwest Airlines, Home Depot, Intel, and Sony. Market leaders choose to excel in delivering extraordinary levels of one of these three value propositions, while maintaining reasonable standards in the other disciplines. So, what exactly is Operational Excellence?
Operational Excellence is a well established management philosophy. It is a philosophy of leadership, teamwork, and problem solving, resulting in continuous improvement throughout the organization by focusing on the needs of the customer, empowering employees, and optimizing existing activities in the process.
There are many approaches, frameworks, and models that have been presented under the term Operational Excellence. It is also closely related to other continuous improvement methodologies, such as Lean Manufacturing and Six Sigma.
How Do You Build Operational Excellence?

To achieve and build Operational Excellence requires the successful implementation of an integrated Business Execution System that effectively and seamlessly integrates the following 4 building blocks:
Strategy Deployment,
Performance Management,
Process Excellence, and
High Performance Work Teams.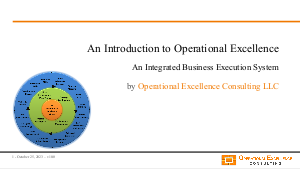 FREE DOWNLOAD
INTRODUCTION TO OPERATIONAL EXCELLENCE
Learn about the 4 building blocks to Operational Excellence: Strategy Deployment, Performance Management, Process Excellence, and High Performance Work Teams. Download a FREE PowerPoint on Operational Excellence.
Let's delve briefly into each of these components.
Strategy Deployment
Strategy or Policy Deployment is the process that aligns and links business strategy and execution. The (Hoshin) Strategy Deployment Process follows a 6 phase approach:
Phase 1: Organize the process.
Phase 2: Conduct current state analysis.
Phase 3: Define strategic vision elements.
Phase 4: Develop strategic breakthrough objectives.
Phase 5: Determine strategic initiatives and tactics.
Phase 6: Implement strategy and review.
There are many tools and frameworks assist in the Strategy Deployment process, such as Strategy Maps, Strategic Grids, and Hoshin X-Matrix.
Performance Management
Performance Management is the process that translates strategic initiatives into measurable objectives and goals. A powerful tool for Performance Management used in Operational Excellence is the Balanced Scorecard (BSC) framework, developed by Dr. Robert Kaplan and Dr. David Norton. BSC is used extensively in business and industry, government, and nonprofit organizations worldwide to align business activities to the vision and strategy of the organization, improve internal and external communications, and monitor organization performance against strategic goals.
There are numerous benefits to developing and deploying Balanced Scorecards in an organization. These benefits include:
Help the management team focus on the execution of their business strategy.
Focus and align an organization towards common goals and objectives.
Enable an organization to understand the relationship between measures and performance.
Improve communication of organizational priorities across an organization.
Help employees to understand and focus on organizational priorities and realize relevant results.
Reduce the number of metrics to the few vital key performance indicators.
Strengthen and formalize the project selection process to focus on key capabilities and enablers.
Process Excellence
Well designed, efficient, and effective Management, Value Chain, and Support Processes are necessary to deliver world-class results. On a high level, to attain Process Excellence, follow this 5-phase approach:
Phase 1: Select the right projects. Clarify big picture using strategic and operating plan. Prioritize projects based on impact, value, resources, timing. Ensure the projects you select have leadership buy-in, etc.
Phase 2: Select and train the right people. Ensure the right leadership and ownership. Select the right team leader and team. Develop a training plan, etc.
Phase 3: Develop and implement improvement plans. Utilize the right improvement methodology for the right project.
Phase 4: Manage for excellence in execution. Stay focused. Frequently review progress. Remove barriers, check real business impact, continuously communicate progress, etc.
Phase 5: Sustain the gains. Implement effective control plans. Conduct regular training focused on the process. Review the system effectiveness at least quarterly, etc.
There are numerous frameworks and tools for achieving Process Excellence, including full a suite of Lean Six Sigma methodology tools. Examples include BPI (Business Process Improvement) 7, 8D (8 Disciplines) Problem Solving, DMAIC (Define-Measure-Analyze-Improve-Control), and so forth.
High Performance Work Teams
Operational Excellence can be achieved and sustained with the right attitude, the right mindset, and the right competencies. In the "Empowerment Continuum," the high performance team has the highest level of empowerment. This requires the team to have sufficiency across the areas of authority, resources, information, accountability.
While an organization transitions from a more traditional top-down organization to an organization build around high performance work teams, the role of a supervisor or manager changes to the role of a leader and coach, with six distinctive capabilities: living example, coach, barrier buster, result catalyst, facilitator, and business analyzer.
Why Implement Operational Excellence

The pursuit of Operational Excellence generates numerous business benefits. Here are several of the most impactful ways Operational Excellence can drive efficiencies, savings, and other benefits to your organization:
Simplifies Business Processes – OpEx makes jobs easier and more fulfilling for employees, which means higher employee satisfaction and lower employee turnover.
Improves the Quality of Products – OpEx helps to better define, simplify, standardize, and control the processes involved in Product Design, Development, and Manufacturing.
Increases Throughput – OpEx helps to improve productivity, which in turn improves deliveries and can lead to increased capacity and sales.
Permits Smaller Lots – OpEx helps to reduce inventory waste, quality loss, and production delays.
Increases the Competitiveness of Organizations – OpEx helps to reduce wastes, lead time, total cost, and resources usage. These savings can be passed on to customers, making your offering more competitive.
Saves Jobs – OpEx helps to reduce costs and delivery lead times, which benefits the company and customers. Non-deployment of these tools and techniques potentially make companies non-competitive and this could lead to loss of work to offshore companies.
This article provides a very rudimentary introduction to Operational Excellence. To develop a more in depth understanding, we suggest downloading a free copy of the 48-slide Introduction to Operational Excellence presentation and consulting the business training guides below.