BENEFITS OF DOCUMENT
Provides a holistic framework for maximizing production efficiencies and minimizing losses and waste based on the TPM excellence model.
Provides guidelines on the proper application of TPM tools, e.g. One-point Lessons, Activity Boards, etc. to promote TPM goals.
Provides guidelines on the implementation of key TPM pillars, e.g. Autonomous Maintenance.
DOCUMENT DESCRIPTION
This product (
Total Productive Maintenance [TPM]

) is a 235-slide PowerPoint presentation (PPTX) with a supplemental PDF document, which you can download immediately upon purchase.

Total Productive Maintenance (TPM) is a comprehensive approach to equipment maintenance that aims to optimize equipment efficiency, reliability, and performance. It involves a holistic approach to maintenance, encompassing both the technical and the human aspects of equipment management. TPM is often associated with Lean Manufacturing, which emphasizes the elimination of waste and continuous improvement.

The primary objective of TPM is to improve equipment effectiveness by minimizing downtime, reducing defects, and increasing overall equipment efficiency. This is achieved through the implementation of a set of maintenance strategies that involve both the equipment operators and maintenance staff. TPM has several benefits, including increased productivity, reduced downtime, improved quality, increased safety, and improved morale among employees.

Our TPM presentation is created by a certified JIPM TPM consultant and delivers a comprehensive training experience. Covering the TPM tools, 5S, OEE (Overall Equipment Effectiveness), and the eight pillars with a focus on Autonomous and Planned Maintenance, this detailed presentation outlines the step-by-step process for TPM implementation. By incorporating practical examples and real-world applications, this presentation provides an engaging and effective way to introduce and implement TPM in your organization.

||||||||||||||||||||||||||||||||||||||||||||||||||||||||||||||||||||||||||||||||||||||||||||||||||||||||||||||||||||||||||||||||||||||||||||||||||||||
NOTE: This training package includes:
1. Total Productive Maintenance PPT training presentation (PowerPoint format)
2. Autonomous Maintenance (Jishu Hozen) poster (PDF format, in color and monochrome, printable in A3 size)
||||||||||||||||||||||||||||||||||||||||||||||||||||||||||||||||||||||||||||||||||||||||||||||||||||||||||||||||||||||||||||||||||||||||||||||||||||||

LEARNING OBJECTIVES

1. Understand the concept and management philosophy of TPM as a foundation for Lean Transformation
2. Learn the 8 pillars of TPM activities, TPM implementation strategy, roadmap and step-by-step approach
3. Learn the TPM tools and be able to identify and eliminate loss through TPM implementation
4. Learn how to kick-start TPM deployment with Autonomous Maintenance (Jishu Hozen), Planned Maintenance, Focused Improvement (Kobetsu Kaizen) and Education & Training activities to improve equipment reliability
5. Understand the roles of a TPM implementation organization and the critical success factors

CONTENTS

1. OVERVIEW OF TPM
• What is TPM?
• What TPM Is Not
• TPM Principles
• TPM Supports Lean Transformation
• TPM is a Paradigm Shift
• Why is TPM Important?
• TPM Goals
• Eight Pillars of TPM
• TPM Pillars & Activities
• TPM Benefits

2. TPM FOUNDATIONS: 5S & VISUAL MANAGEMENT
• 5S Principles
• Sort: Identifying Red-tag Targets
• Sort: Disposal Methods
• Set In Order: Making Things Easy to Find
• Shine: Practice Tips & Check Sheet
• 5S & Equipment Maintenance
• Visual Control – TPM Scorecard
• Visual Control Example

3. TPM TOOLS
• Small Group Activities
• Suggestion System
• Fuguai Tagging
• One-Point Lesson
• Activity Board

4. EQUIPMENT LOSS & OVERALL EQUIPMENT EFFECTIVENESS (OEE)
• 3 Key Components of OEE: Availability, Performance and Quality
• 6 Big Equipment Losses
• Equipment Losses & OEE
• Breakdown Losses
• Setup & Adjustment Losses
• Minor Stoppage Losses
• Speed Loss
• Quality Defect & Rework Losses
• Start-up (Yield) Losses
• Strategies for Zero Breakdowns

5. THE EIGHT PILLARS OF TPM
• Autonomous Maintenance (Jishu Hozen)
• Planned Maintenance
• Focused Improvement (Kobetsu Kaizen)
• Education & Training
• Early Equipment Management
• Quality Maintenance (Hinshitsu Hozen)
• Office TPM
• Safety, Health & Environment

6. TPM IMPLEMENTATION
• TPM Implementation Master Plan
• Example of TPM Implementation Structure
• 3 Requirements for Fundamental Improvement
• 12 Steps of TPM Implementation (based on Nakajima)
• How to Sustain TPM
• Critical Success Factors

7. JIPM TPM EXCELLENCE AWARD
• About JIPM
• Objectives of JIPM
• Benefits of Applying for TPM Recognition
• How is an Organization Selected as a TPM Winner?
• JIPM TPM Award Categories
• Assessment Criteria

Related training presentations/guides that you might be interested:
1. Overall Equipment Effectiveness (OEE) PPT
2. Autonomous Maintenance (Jishu Hozen) PPT
3. Focused Improvement (Kobetsu Kaizen) PPT
4. Quality Maintenance (Hinshitsu Hozen) PPT
5. TPM Team Guide PPT
6. TPM Self-assessment Guide & Tool
7. 5S Techniques PPT
8. 5S Audit Checklists for Manufacturing Companies

Got a question about the product? Email us at [email protected] or ask the author directly by using the "Ask the Author a Question" form. If you cannot view the preview above this document description, go here to view the large preview instead.

Source: Best Practices in Operational Excellence, Total Productive Maintenance, Autonomous Maintenance PowerPoint Slides: Total Productive Maintenance (TPM) PowerPoint (PPTX) Presentation, Operational Excellence Consulting

ABOUT THE AUTHOR: OPERATIONAL EXCELLENCE CONSULTING

Operational Excellence Consulting is a leading management training and consulting firm dedicated to helping individuals and organizations improve their effectiveness and productivity in the post-pandemic new normal. Our mission is to drive lasting beneficial change by leveraging design thinking and lean management approaches. [read more]

We work with a diverse range of clients, including government bodies, multinational corporations, and small and medium-sized enterprises, across a wide spectrum of industries.

Our firm offers a comprehensive suite of capabilities, including Design Thinking, Customer Experience Management, Business Model Innovation, Lean Process Redesign, Total Quality Management (TQM), Total Productive Maintenance (TPM), Kaizen, Value Stream Improvement, Hoshin Kanri (Policy Deployment), Problem Solving Techniques & Tools (e.g. PDCA, 8D, A3, etc.), Training Within Industry (TWI), Suggestion System and Benchmarking.

To ensure the widespread adoption of operational excellence techniques and tools, we pride ourselves on developing high-quality, customizable training materials, presentations, frameworks, and templates to complement your training and business needs.

Operational Excellence Consulting has published 203 additional documents on Flevy.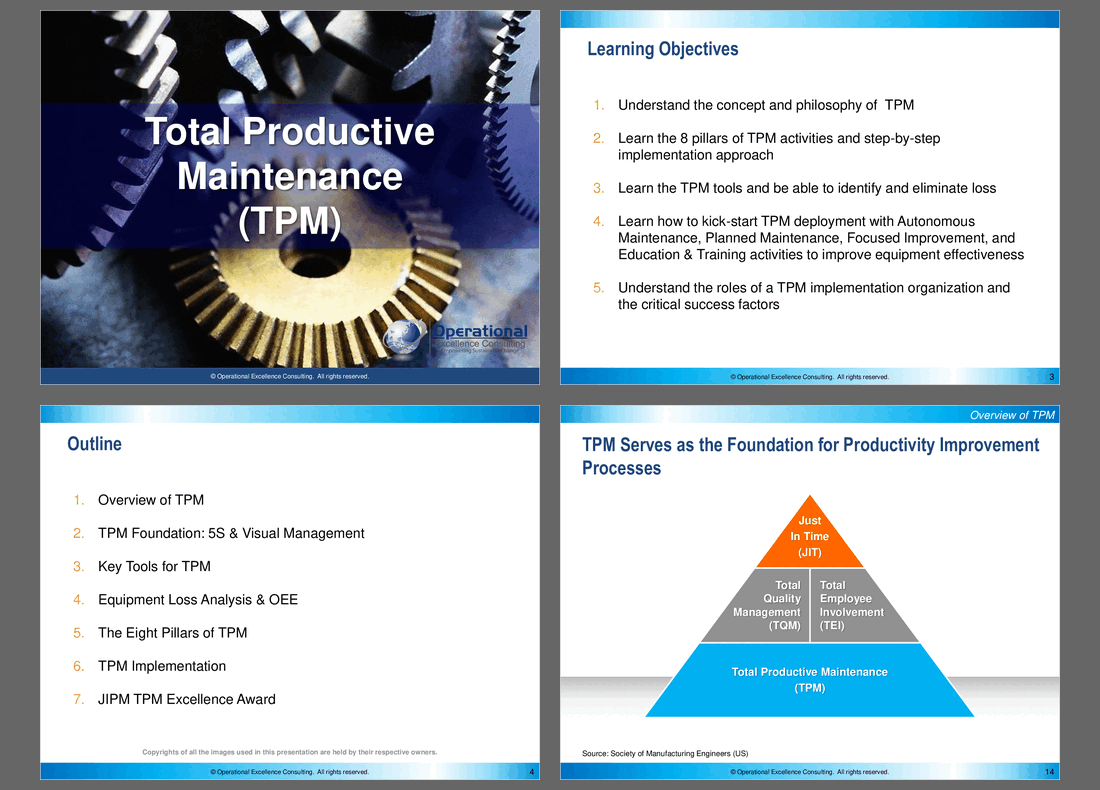 DETAILS
This business document is categorized under the function(s): Operations Organization, Change, & HR
It applies to All Industries
File Type: PowerPoint

(pptx)
File Size: 13.5 MB
Number of Slides: 235 (includes cover, transition, & marketing slides)
Related Topic(s): Operational Excellence Total Productive Maintenance Autonomous Maintenance
Purchase includes lifetime product updates. After your purchase, you will receive an email to download this document.
This product contains a supplemental PDF document.
Terms of usage (for all documents from Operational Excellence Consulting)
Initial upload date (first version): Feb 23, 2013
Most recent version published: Jan 17, 2022