Frequently Asked Questions


What is FlevyPro?
FlevyPro is a subscription service for business documents. FlevyPro subscribers receive access to an exclusive
library of curated business documents
—business framework primers, presentation templates, Lean Six Sigma tools, and more—among other exclusive benefits. New documents are constantly being added to the library. We develop or acquire new documents based on subscriber requests.
Please beware the FlevyPro document library is not the same as the Flevy marketplace documents.
What is the difference between FlevyPro and the Flevy Marketplace?
FlevyPro is our subscription service, where subscribers gain access to the
FlevyPro Library
. Each subscriber receives a monthly download quota, based on the
subscription plan
.
On the other hand, the Flevy Marketplace is an online e-commerce marketplace, where documents can be purchased on an individual basis. The FlevyPro Library is not the same as the Flevy Marketplace. Flevy Marketplace documents are not included in the FlevyPro subscription. However, all Flevy Marketplace documents are available to FlevyPro subscribers at a reduced price.
I understand as a FlevyPro subscriber, I receive a certain number of downloads each month (depending on my plan). What documents can I download?
As part of your FlevyPro subscription, you can only download documents in the
FlevyPro document library
. The
FlevyPro document library
is different from the Flevy document marketplace. The document marketplace operates on a pay-per-download basis, not on a subscription basis.
Where can I find the FlevyPro document library?
Go to this page:
http://flevy.com/pro/library
. You can also click the "FlevyPro Library" tab from above.
All documents that are NOT part of the FlevyPro document library have clearly indicated purchase prices. These are marketplace documents, which you can purchase individually. As a FlevyPro subscriber, you automatically receive a discount on all marketplace documents. (See plans for the exact discount amount.)
How can I tell if a document is a FlevyPro document or a Flevy marketplace document?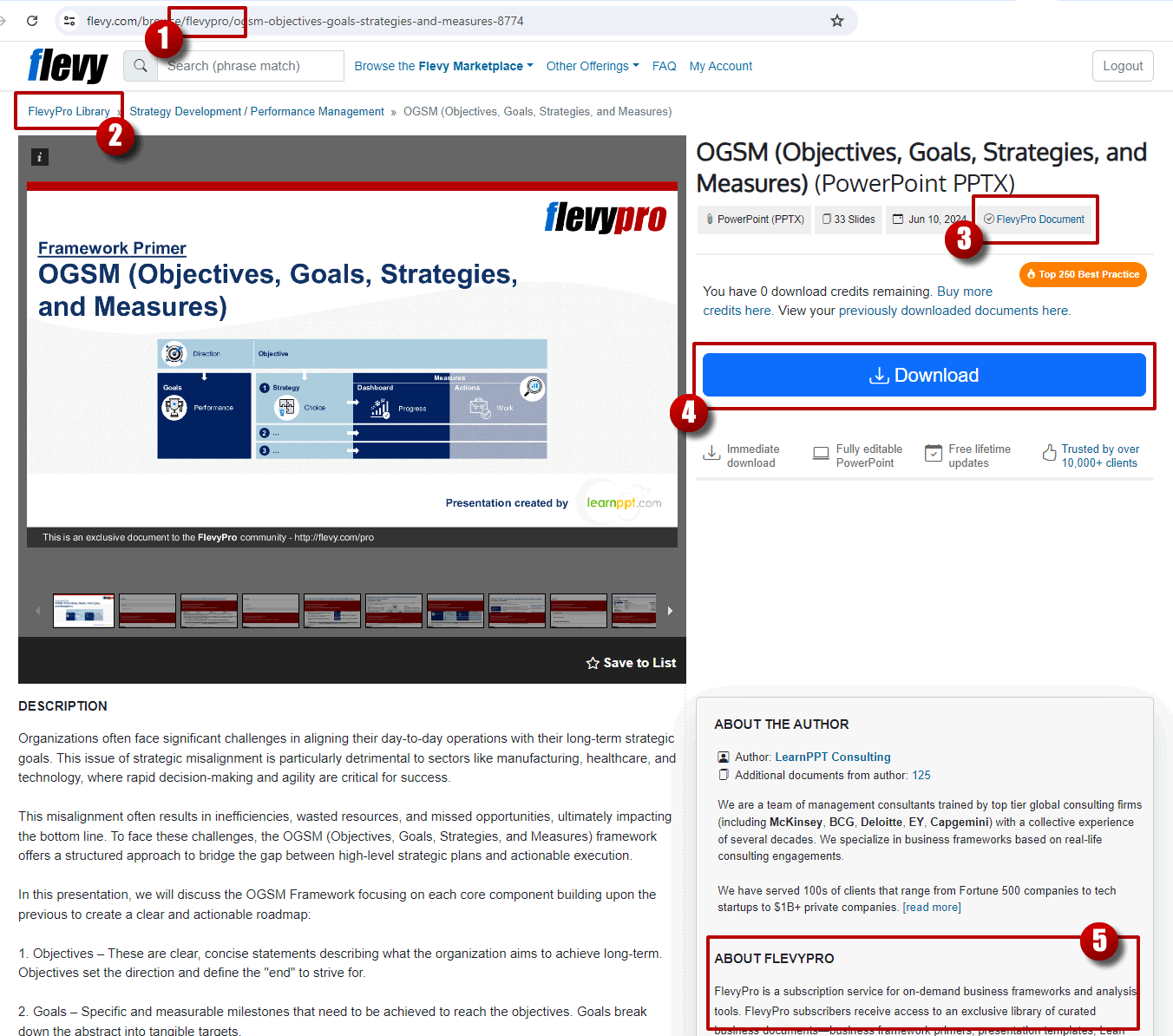 On the document page, you can identify whether it is a FlevyPro document through any of the following indicators (see screenshot to the right):
The word "flevypro" appears in the URL.
"FlevyPro Library" is the initial link in the breadcrumb navigation.
You should see a prominent green "Download" button to the right of the preview images.
In the "Overview" section, it says "Included in FlevyPro subscription."
There is an "About FlevyPro" section in the right column.
Can I preview a document before I download it?
Yes. For all PowerPoint documents, underneath the cover image on the left side, you will see a screenshot of all the slides in the presentation. Hover your mouse over the screenshot to zoom in on any particular section. These slides may not be readable, but should provide a reasonable indication on the type and depth of content.
For non-PowerPoint documents, previews are not available.
How long is the subscription period?
We offer 2 subscription cycles: monthly subscriptions and annual subscriptions. You are billed at the start of each billing period.
Do my download credits reset each month?
UPDATED 5/1/2023
Not anymore—unused downloads credits will now carry over to the next month, but
capped at a maximum of 2x your monthly downloads
. For example, if you have the Individual plan with 3 monthly downloads, your maximum carryover is 6 credits.
The reset date is driven by your subscription start date (not the first of each calendar month). For example, if your subscription started on January 15th, then your credits will receive new downloads credits on the 15th of each successive month.
Note: previously, unused credits would expire at the end of each month. We received feedback from our subscribers saying their needs fluctuated from month to month. So, we decided to implement the carryover feature to add flexibility in monthly downloads.
How do I cancel?
You cancel your subscription at anytime. Just go to
Account
Billing Details
. You will see the option to cancel your subscription.
After cancellation, your FlevyPro subscription will remain active until the end of the current billing period.
I am interested in a specific topic that I don't see in the library. How do I request a document?
We build up our library based on subscriber requests. To make your document requests, please
go here
and click the green "Request" button next to the topic(s) you are interested in. You get also get to this page from the
FlevyPro Library
section by clicking the blue button "Request a Document" on the top right.
Can I modify the document content and re-brand them with my own logo and company name? What are the full usage terms?
Yes, you are free to modify and customize FlevyPro documents to meet your needs. Please refer to our
standard terms
for the full terms of usage.
It's the start of the month and I have not received new download credits. When do my download credits refresh?
Your monthly download credits refresh at the start of your billing cycle. For example, if you signed up on the 5th of a month, you will receive download credits and be billed on the 5th of every month.
After I cancel my subscription, can I still access my old FlevyPro documents?
If you have any further questions, please email us at flevypro@flevy.com. Thank you.