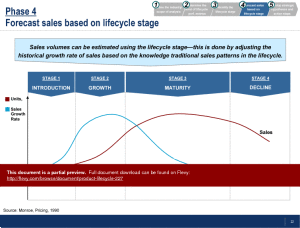 Launching a new product? In this email, we outline a number of strategic business frameworks that, together, provide a holistic approach to Product Launch Strategy. The linked documents have been developed by a couple of Flevy's Top Authors, LearnPPT and PPT Lab.
1. Selecting the Right Market Segment
Product Life Cycle
https://flevy.com/browse/business-document/Product-Lifecycle-227
The essence of this framework is that a product will go through 4 stages of development from creation to obsolescence. The Product Life Cycle is often mapped against the Consumer Adoption Curve (one of the best known marketing frameworks). By doing this, we can determine the ideal market segment to go after at each stage of the product's lifecycle.
Pricing Strategy
https://flevy.com/browse/business-document/Pricing-Strategy-226
Answering the pre-eminent pricing question — to skim to to penetrate? — is at the heart of the Introduction stage of the Product Life Cycle.
Consolidation-Endgame Curve
https://flevy.com/browse/business-document/consolidation-endgame-curve-framework-201
Every major strategic and operational move–including product development and launch–should be evaluated with regard to the industry's stage in the Consolidation Curve.
2. Architecting the Right Product
Rogers' Five Factors
https://flevy.com/browse/business-document/Rogers-Five-Factors-169
This framework (developed by Everett Rogers, who also created the Consumer Adoption Curve) explains what product attributes drive rapid market diffusion and consumer adoption.
3. Understanding the Customer
The Psychology of Product Adoption
https://flevy.com/browse/business-document/Psychology-of-Product-Adoption-203
Customers are irrational. As such, it is important to understand common principles of Consumer Psychology and Behavioral Economics to avoid and overcome common pitfalls and assumptions when driving your product's adoption.
Consumer Decision Journey
http://www.mckinsey.com/insights/marketing_sales/the_consumer_decision_journey
Traditional thinking suggests the sales cycle is linear, typically visualized in a funnel. More recent research by McKinsey suggests the buying "journey" is actually cyclicle (partly driven by the advent of Internet services). This framework explains the consumer's thinking and priorities along each phase.
You may find these additional documents on Product Strategy and Development helpful as well: