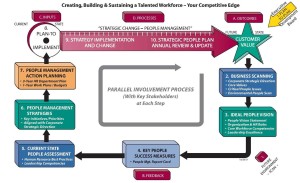 Human Resource practices today more than ever need to support, and be aligned with, the organization's business strategy and the satisfaction of customer needs. They are essential to business and organizational growth, as well as providing a basis for competitive gain. This requires the Human Resource function to take on a more Strategic role, and HR practitioners to be strategists, planners and implementers, in order to position the organization to its maximum advantage.
Below, we have 2 comprehensive frameworks that focus on this topic of developing Strategic Human Resources.
Strategic People / Human Resource Planning
https://flevy.com/browse/business-document/strategic-people-human-resource-planning-707
This set of Powerpoint slides provides a framework to guide you through the development of a robust Strategic People (or Human Resource) Plan.
Strategic Human Resources
https://flevy.com/browse/business-document/strategic-human-resources-147
The slides in this presentation show three levels of HR work; transactional, tactical and strategic. Each level requires a different set of concerns, tools and techniques. By understanding the three levels, it becomes clearer how to move from one level to the next.