Price wars have broken out in consumer industries around the world. In fact, retailers such as ALDI, Amazon, and Walmart have used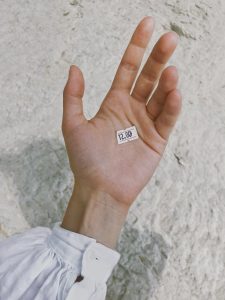 price to position themselves against traditional competitors in the market, pinching margins all around. Prices are being reduced because of the belief that this will boost their perceived value to consumers, who implicitly weigh price against product features and benefits in their purchase decisions.
With the pressure to reduce prices intensifies, companies are acting hastily and when decisions are made on pricing, the question now does customers notice. Often the result is customers do not notice these things. What ultimately matters are how customers perceive the price point.
Companies ultimately need to map a path to improved perception guided upon by the principles of Customer-centric Design.
A Look at Consumer Perception
Companies are reducing prices with the belief that this will boost their perceived value to customers. Yet, customers implicitly weigh price against product features and benefits in their purchase decisions. When managers make decisions on pricing, often this is not noticed by customers.
Ultimately, what matters is how customers perceive the price point.  This is why have a clear, analytical understanding of Consumer Pricing Perception should be incorporated into your Pricing Strategy.
Let us take a look at Amazon.
Amazon is a titan of e-commerce, logistics, payments, hardware, data storage, and media. It is the go-to site for online shoppers and merchants alike, a modern necessity that independent sellers love to hate. Consumers believe that Amazon offers at or near the lowest prices on a broad range of goods, even if this is not always the case.
What Amazon does is strategically select products such as bestselling items to compete aggressively and charge more than others. When it comes to consumer perception, this must align with the company's intent so that investments and tactics put in by the company will not be undercut.
How Can Companies Better Determine What Tactics to Take
There are tools companies can use in determining what tactics to take. One of these tools is the Pricing Perception Matrix.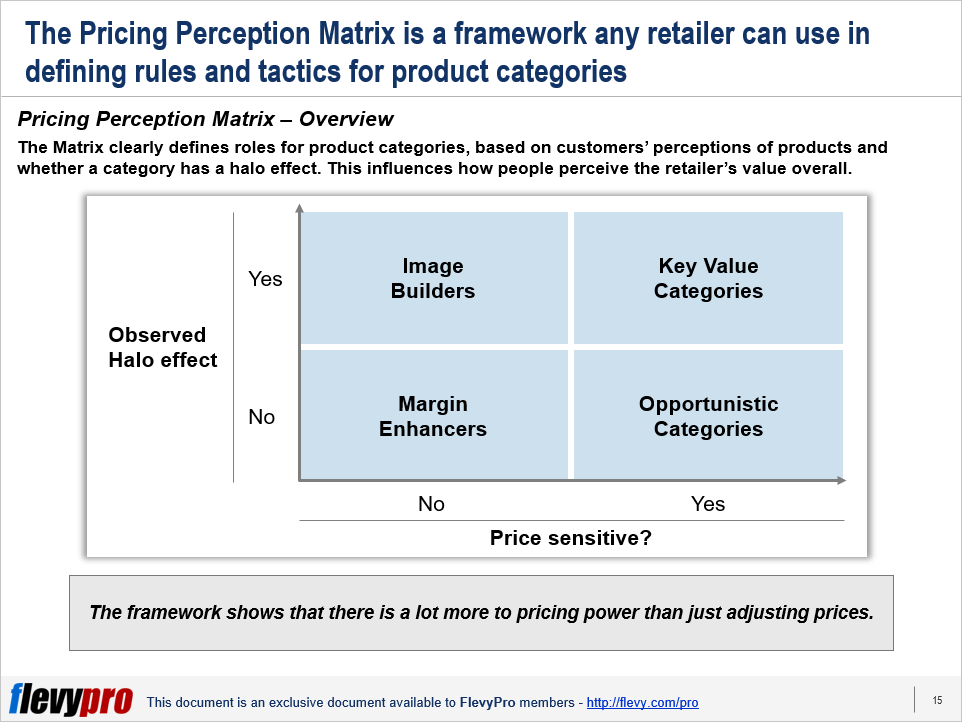 The Price Perception Matrix has 4 quadrants. Horizontally, this is to determine if the product is price sensitive. The farther you are to the right, the more sensitive the product is when it comes to pricing.
The vertical side is the observed halo effect.
A halo effect is a term for a consumer's favoritism toward a line of products due to positive experiences with other products by this maker. The halo effect is correlated to brand strength, brand loyalty, and contributes to brand equity. It is the tendency for positive impressions of a person or consumer in one area or product to positively influence one's opinion or feelings in other areas.
Application of the Price Perception Matrix in Retail Business
Here's a case on an Apparel Retailer. The business is faced with stiff competition from other fashion discounters. To fight back, the retailer started slashing prices across the board. The retailer did not realize the anticipated benefits in price image and sales volume.
What is the perception of its consumers? The consumers incorrectly perceived that the company had higher prices than its key competitors.
What could be the reason for this perception? The retailer has been offering far more price points than its competitors. This has, as a result, confused its market. Businesses have to understand that customers can be price-sensitive when it comes to certain product categories. An example of product categories that are price sensitive is children's t-shirts and adult sweaters.
Interested in gaining more understanding of Pricing Perception? You can learn more and download an editable PowerPoint about Pricing Perception here on the Flevy documents marketplace.
Do You Find Value in This Framework?
You can download in-depth presentations on this and hundreds of similar business frameworks from the FlevyPro Library. FlevyPro is trusted and utilized by 1000s of management consultants and corporate executives. Here's what some have to say:
"My FlevyPro subscription provides me with the most popular frameworks and decks in demand in today's market. They not only augment my existing consulting and coaching offerings and delivery, but also keep me abreast of the latest trends, inspire new products and service offerings for my practice, and educate me in a fraction of the time and money of other solutions. I strongly recommend FlevyPro to any consultant serious about success."

– Bill Branson, Founder at Strategic Business Architects
"As a niche strategic consulting firm, Flevy and FlevyPro frameworks and documents are an on-going reference to help us structure our findings and recommendations to our clients as well as improve their clarity, strength, and visual power. For us, it is an invaluable resource to increase our impact and value."

– David Coloma, Consulting Area Manager at Cynertia Consulting
"As a small business owner, the resource material available from FlevyPro has proven to be invaluable. The ability to search for material on demand based our project events and client requirements was great for me and proved very beneficial to my clients. Importantly, being able to easily edit and tailor the material for specific purposes helped us to make presentations, knowledge sharing, and toolkit development, which formed part of the overall program collateral. While FlevyPro contains resource material that any consultancy, project or delivery firm must have, it is an essential part of a small firm or independent consultant's toolbox."

– Michael Duff, Managing Director at Change Strategy (UK)
"FlevyPro has been a brilliant resource for me, as an independent growth consultant, to access a vast knowledge bank of presentations to support my work with clients. In terms of RoI, the value I received from the very first presentation I downloaded paid for my subscription many times over! The quality of the decks available allows me to punch way above my weight – it's like having the resources of a Big 4 consultancy at your fingertips at a microscopic fraction of the overhead."

– Roderick Cameron, Founding Partner at SGFE Ltd
"Several times a month, I browse FlevyPro for presentations relevant to the job challenge I have (I am a consultant). When the subject requires it, I explore further and buy from the Flevy Marketplace. On all occasions, I read them, analyze them. I take the most relevant and applicable ideas for my work; and, of course, all this translates to my and my clients' benefits."

– Omar Hernán Montes Parra, CEO at Quantum SFE