BENEFITS OF DOCUMENT
Provides of Comprehensive Model for Diagnosing Organizational Systems PPT
Provides of Designing Effective Organization Intervention PPT
Provides of Presenter Note which contains material explanations to help make presentations more comprehensive DOCX
DOCUMENT DESCRIPTION
This product (
Organizational Effectiveness

) is a 61-slide PowerPoint presentation (PPTX) with a supplemental Word document, which you can download immediately upon purchase.

Organizational Effectiveness

Contents
1. Comprehensive Model for Diagnosing Organizational Systems
2. Common Approach to Business Problems
3. Organization-Level Diagnosis : Strategy, Structure, Culture, People and Technology
4. Five Forces of Industry Structure
5. Elements of Corporate Culture Formation
6. Human Resources Systems
7. Group-Level Diagnosis
8. Organization Design
9. Group Components & Goal Clarity
10. Task Structure
11. Group Functioning, Composition & Norms
12. Individual-Level Diagnosis
13. Individual Jobs Dimensions
14. Job Characteristics Model – Hackman/Oldham
15. Designing Effective Intervention
16. Intervention Success Factors
17. Human Process Intervention
18. Structural Intervention
19. Human Resources Management Intervention
20. Strategic Intervention
21. Factors Affecting Institutionalization Process

Organizational effectiveness refers to the concept of how proficient an organization is in accomplishing its objectives. Each employee in a firm greatly contributes to the effectiveness of the organization. It is indispensable to consider the skills, rank and motivation and experience. Some employees undoubtedly play a more crucial role as compared to others. They are the people who considerably contribute to the organization's development primarily with their know-how.

The major measure of organizational effectiveness for an enterprise will commonly be expressed in terms of how exceptional its net profitability correlates with its target profitability. Further measures may compose of the results of customer satisfaction surveys and growth data.

The Key Components of Organizational Effectiveness
The General Environment. This represents the forces as well as the external elements which can influence the achievement of organization's objectives. This can be described with regards to the amount of uncertainty present in political, social, ecological, technological and economic forces.

This diagnosis must be able to consider the following questions:
• What are the group's performance norms?
• What is the group's task structure?
• What is the composition of the group?
• How clear are the group's goals?
• What is the nature of team functioning in the group?

Organization-Level Diagnosis : Strategy, Structure, Culture, People and Technology
• What is the firm's general environment?
• What is the firm's industry structure?
• What is the firm's strategy?
• What is the firm's culture?
• What are the firm's human resources systems, structure and technology?

Group-Level Diagnosis : Group Dynamics and Group Performance
• This includes inputs such as the organization design. On the other hand, the design components comprised of task structure, goal clarity, group norms, group functioning and group composition. The output is team effectiveness.

Individual-Level Diagnosis : Employee Satisfaction and Performance The inputs include organization design, personal characteristics and group design. Meanwhile the design components comprised of task identity, autonomy, skill variety, task significance and feedback about results. And, the output is individual effectiveness.

Organization Design. This is concerned with the bigger organization in which the individual task is considered as the smallest unit.

Group Design. This concerns the bigger department or group containing the individual task. Just like organization design, it is worthy to note that group design is a vital part of the context of the job.

Personal characteristics. The personal characteristics can influence the execution of job and how individuals respond to job designs. Individuals' personal characteristics of occupying jobs are composed of skills, education, abilities, age and experience. The five essential individual jobs dimensions include task identity, autonomy, task significance, feedback about results and skill variety.

• Skill Variety. This refers to the extent to which the job calls for a range of various activities.
• Task Identity. The extent to which the job feels the necessity of an identifiable and whole piece of work.
• Task Significance. This refers to the extent to which a task has a vital impact on other individuals' lives.
• Autonomy. The extent to which a task offers discretion and freedom in terms of scheduling the work and identifying the methods of work.
• Feedback about Results. The extent to which a task offers worker with clear and direct data about the efficiency of task performance.

Individual-level Diagnosis must be able to respond to the following questions:
• How much task identity do the tasks have?
• How much skill variety is contained in the tasks?
• How much feedback about outcomes do the tasks contain?
• How much task significance is engaged in the tasks?
• How much autonomy is contained in the tasks?
• What are the personal attributes of jobholders?
• What is the design of the bigger organization in which the individual tasks are entrenched?
• What is the design of the group including the individual job?

Regards,
UJ Consulting

Got a question about the product? Email us at [email protected] or ask the author directly by using the "Ask the Author a Question" form. If you cannot view the preview above this document description, go here to view the large preview instead.

Source: Best Practices in Organizational Design PowerPoint Slides: Organizational Effectiveness PowerPoint (PPTX) Presentation, UJ Consulting

ABOUT THE AUTHOR: UJ CONSULTING

UJ Consulting

Untung Juanto ST., MM. Founder of UJ Consulting. He is professionally experienced business and management consultant in several local and multinational companies. [read more] He has an experience in managing an effective and efficient company with various approach methods adapted to different industries because He had a career from the lower management level as Supervisor before finally being at the top management level. His Top Management experience started from the position of General Manager, VP Operation, HR Director and Business Development Director

He completed his undergraduate education majoring in Architecture at Diponegoro University, Semarang, Central Java, Indonesia. After that, He continued to Master of Management level majoring in Human Resource Management with cum laude predicate with a GPA of 3.94 at Mercubuana University, Jakarta, Indonesia.

His last work experience as Deputy President Director at Hutahaean Group in charge of 14 business units engaged in various industries including CPO Production, Oil Palm Plantation, Cassava Plantation, Tapioca flour production, 4 and 5 star hotels, waterparks, golf courses and housing with a total of employees more than 3,000 employees.

His biggest achievement was in 2021 when He served as Deputy President Director at Hutahaean Group Indonesia by increasing the company's revenue from IDR 700 billion to IDR 1.1 trillion (y/y) and increasing the profit margin by more than 20%. Doing a turn around on business units that have lost in the last 5 years become profits. In addition, He have also succeeded in creating an efficient and effective management system by redesigning the Business Process Management (BPM), reviewing Standard Operating Procedures (SOP) and Work Instructions and compiling the appropriate Key Performance Indicator Management (KPIM) to increase employee productivity.

He is currently active as a part-time business and management consultant (online) at Enquire Corp. and Flevy Corp. In addition, He also teach part-time at several universities for courses in strategic management, human resource management, project management, entrepreneurship and business.

UJ Consulting has published 168 additional documents on Flevy.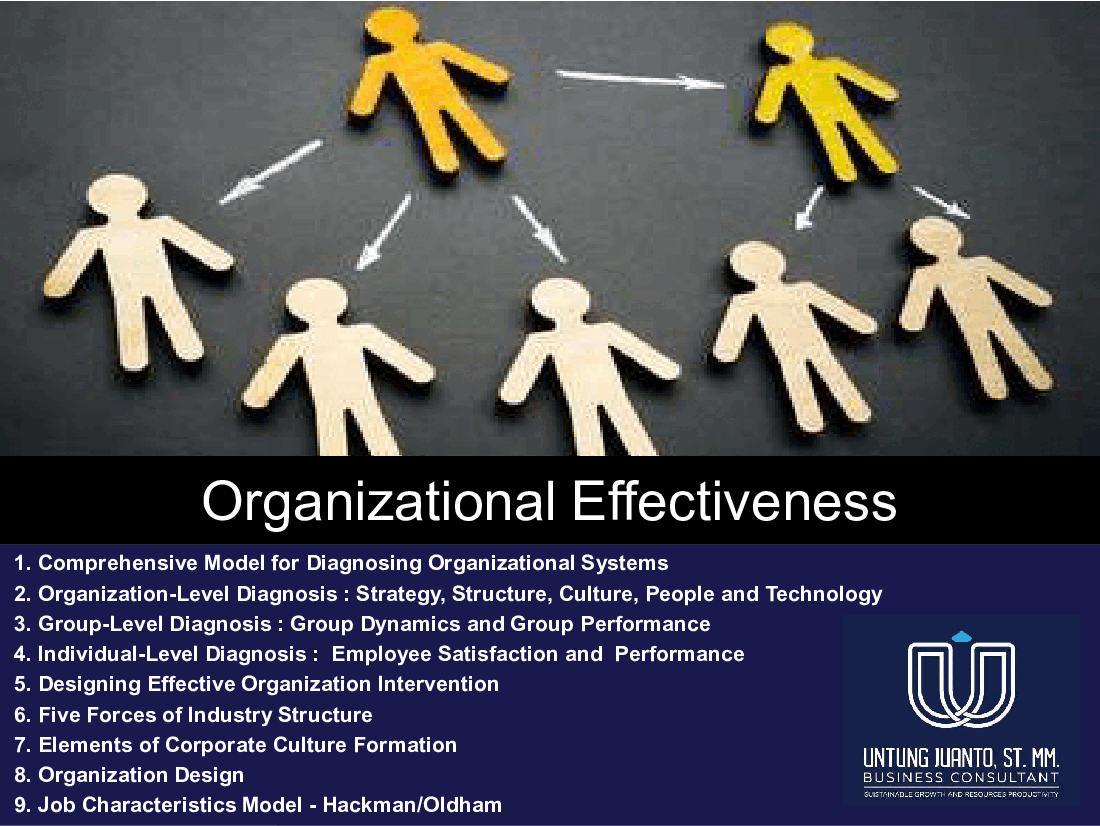 DETAILS
This business document is categorized under the function(s): Operations Organization, Change, & HR
It applies to All Industries
File Type: PowerPoint

(pptx)
File Size: 1.4 MB
Number of Slides: 61 (includes cover, transition, & marketing slides)
Related Topic(s): Organizational Design
Purchase includes lifetime product updates. After your purchase, you will receive an email to download this document.
This product contains a supplemental DOCX document.
Initial upload date (first version): Oct 25, 2022
Most recent version published: Oct 26, 2022