BENEFITS OF DOCUMENT
Provides of Tools for Defining Problems
Provides of Tools for Creating New Ideas
Provides of Organizational Characteristics that Support Creativity and Innovation
DOCUMENT DESCRIPTION
This product (
Creative Thinking Skills

) is a 51-slide PowerPoint presentation (PPTX) with a supplemental Word document, which you can download immediately upon purchase.

Creative Thinking Skills

Contents
1. Blocks and Blockbusters to Creativity
2. Conceptual Blocks
3. Types of Conceptual Blocks
4. Constancy
5. Compression
6. Complacency
7. The Paradoxical Characteristics of Creative Groups
8. Myths about Creativity
9. Tools for Defining Problems
10. Kipling Method
11. Kipling Method
12. Problem Statement
13. Challenge Method
14. Tools for Creating New Ideas
15. Attribute Listing
16. Brainstorming
17. Visioning
18. Organizational Characteristics that Support Creativity and Innovation
19. Creating a Creative Climate

How is it that some people always seem to be able to generate new ideas and think creatively, and others seem to struggle to do so? The answer lies in their ability to use creative thinking.

Creative thinking is the ability to look at things differently, and find new ways of solving problems. Creative thinking skills are definitely not just for 'creative types' like artists and musicians. Everyone can benefit from creative thinking from time to time.

Creative thinking is all about developing innovative solutions to problems. Creative thinkers brainstorm not only a large number of ideas but also a variety and range of them.

Once they've brainstormed their ideas, creative thinkers will experiment with them. They look at ideas from multiple perspectives and examine how their solutions fit into the scope of what they're working on. Creative thinkers aren't afraid to take risks and try new ideas. In fact, this ability to develop, test, and implement original solutions makes them a valuable asset to just about any workplace. At work, creative thinking may look like:

1. Holding an interactive brainstorm to gather initial thoughts on a project
2. Evaluating a current process and offering suggestions on how to improve it
3. Researching other ways to market a product and leading experiments on new marketing channels
4. Developing an innovative way to reach out to prospective clients
5. Identifying a unique opportunity to promote the company brand and developing a strategy to do so

Creative thinking includes the process of innovative problem-solving – from analyzing the facts to brainstorming to working with others. Examples of these skills include analytical skills, innovation, and collaboration.

Creative thinking is about "thinking outside the box," but putting limitations on your problem-solving can help you think more freely and innovatively. For example, if someone tells you to make dinner, you may struggle to come up with a meal you don't always cook. Yet if they ask you to make a hot dinner with three specific ingredients and two spices, you'll more likely come up with something original.

Putting yourself inside a box, whether that's by telling yourself you need to include three charts in your presentation or giving yourself a strict word count for an article, can help expand your thinking.

It's easy to get stuck in the same thought patterns, especially at work. However, those thought patterns may be hampering your innovation and keeping you stuck in routines that don't serve you.

Creative thinking shows us that there are many solutions to any problem, and developing your creative thinking skills helps you recognize innovative solutions more quickly.

Many business leaders see creativity and innovation as something unpredictable, with 53% of businesses reporting that innovation occurs by chance. However, with the right tools, you can tap into creative thinking whenever you want.

Regards,
UJ Consulting

Got a question about the product? Email us at [email protected] or ask the author directly by using the "Ask the Author a Question" form. If you cannot view the preview above this document description, go here to view the large preview instead.

Source: Best Practices in Creativity PowerPoint Slides: Creative Thinking Skills PowerPoint (PPTX) Presentation, UJ Consulting

ABOUT THE AUTHOR: UJ CONSULTING

UJ Consulting

Untung Juanto ST., MM. Founder of UJ Consulting. He is professionally experienced business and management consultant in several local and multinational companies. [read more] He has an experience in managing an effective and efficient company with various approach methods adapted to different industries because He had a career from the lower management level as Supervisor before finally being at the top management level. His Top Management experience started from the position of General Manager, VP Operation, HR Director and Business Development Director

He completed his undergraduate education majoring in Architecture at Diponegoro University, Semarang, Central Java, Indonesia. After that, He continued to Master of Management level majoring in Human Resource Management with cum laude predicate with a GPA of 3.94 at Mercubuana University, Jakarta, Indonesia.

His last work experience as Deputy President Director at Hutahaean Group in charge of 14 business units engaged in various industries including CPO Production, Oil Palm Plantation, Cassava Plantation, Tapioca flour production, 4 and 5 star hotels, waterparks, golf courses and housing with a total of employees more than 3,000 employees.

His biggest achievement was in 2021 when He served as Deputy President Director at Hutahaean Group Indonesia by increasing the company's revenue from IDR 700 billion to IDR 1.1 trillion (y/y) and increasing the profit margin by more than 20%. Doing a turn around on business units that have lost in the last 5 years become profits. In addition, He have also succeeded in creating an efficient and effective management system by redesigning the Business Process Management (BPM), reviewing Standard Operating Procedures (SOP) and Work Instructions and compiling the appropriate Key Performance Indicator Management (KPIM) to increase employee productivity.

He is currently active as a part-time business and management consultant (online) at Enquire Corp. and Flevy Corp. In addition, He also teach part-time at several universities for courses in strategic management, human resource management, project management, entrepreneurship and business.

UJ Consulting has published 168 additional documents on Flevy.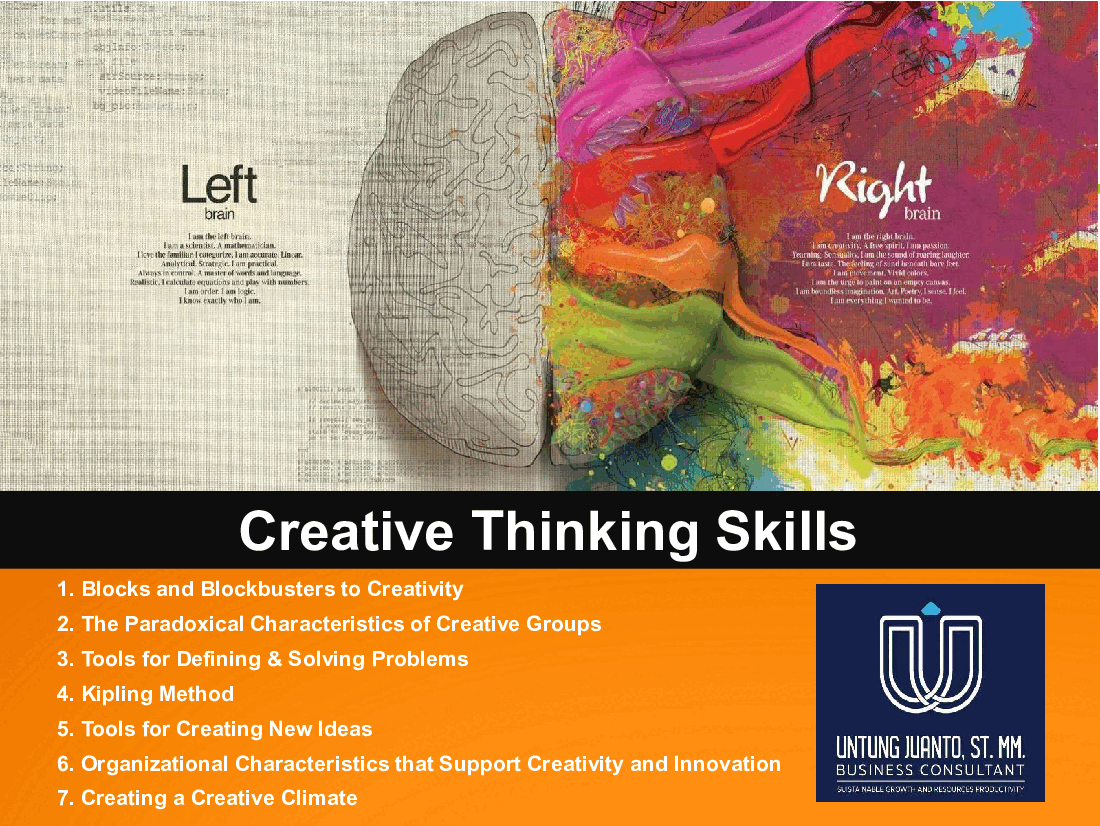 DETAILS
This business document is categorized under the function(s): Operations Organization, Change, & HR
It applies to All Industries
File Type: PowerPoint

(pptx)
File Size: 1.7 MB
Number of Slides: 51 (includes cover, transition, & marketing slides)
Related Topic(s): Creativity
Purchase includes lifetime product updates. After your purchase, you will receive an email to download this document.
This product contains a supplemental DOCX document.
Initial upload date (first version): Nov 3, 2022
Most recent version published: Nov 7, 2022