BENEFITS OF DOCUMENT
Provides of Force Field Analysis Model PPT
Provides of Critical Skills of Change Agents PPT
Provides of Presenter Note to make it easier to understand the presentation to be more comprehensive Doc in 68 pages
DOCUMENT DESCRIPTION
This product (
Corporate Change Management

) is a 45-slide PowerPoint presentation (PPTX) with a supplemental Word document, which you can download immediately upon purchase.

Corporate Change Management

Contents :
1. Forces for Change
2. Two Sides of Change
3. Rate of Success in Change Efforts
4. Principles of Change
5. Five Activities Contributing to Effective Change Management
6. Motivating Change
7. Force Field Analysis Model
8. Barriers to Change
9. Individual Resistance
10. Organizational Resistance
11. Four Phases of Transition
12. Overcoming Resistance to Change
13. Creating Vision of Change
14. Developing Political Support
15. Roles in Organizational Change
16. Influencing Key Stakeholders
17. Managing the Transition
18. Change Management Team : Roles Example
19. Critical Skills of Change Agents
20. Sustaining Momentum
21. Elements of Change Enablement
22. Change Enablement – Best Practices

"When the rate of change outside exceeds the rate of change inside, the end is in sight."

When Jack Welch quoted this statement, he is referring to having a balance between the external and the internal factors of changes. A balance will enable the change to be realized with lesser friction. Change, whether simple or complex causes friction to the person, environment, and system that need to undergo this process. No change is easy. It is the most overwhelming act to do. Yet, we all need to embrace this because it is with change that we get to progress.

You need to prepare first before going into the process. While it is inevitable, it is something that can be planned and sometimes can be delayed until you see that all aspects are ready to track a rocky and long journey. It is only you who can detect the level of readiness to change. Forcing will just put all efforts into waste.

Sometimes too, during the process, there will be roadblocks that will signal you to back-off. Back-off if you must. Having a temporary retreat will give more room to prepare and continue the journey towards change. The road to change can be slippery, the challenges can be too big to handle, if that time comes, there is no better thing to do but to stop for a while; if you don't, then that's the end of it all.

The rate of change varies from person to person, business to business, or systems to systems. You must never compare the rate of change you need to undergo to the rate of change others are traversing. Comparing is just a waste of time. Instead, you must focus on the change you need to traverse and be ready for whatever may happen along the way.

Forces of Change
Change is going from one state to another state. There are forces behind this. These forces are sometimes misinterpreted especially if one is not yet ready to undergo change. Truth is, these forces will do good long term. You might not see the good benefits upfront but you will reap the good fruits long term. It is crucial that everybody in the organization recognize these forces so proper attention will be given.

Knowledge Economy
A growing organization must invest on knowledge. If you want the business to prosper, you need to upgrade the skills and competencies of your people to meet the demands of the competition. It is in your people's developing knowledge that you will find fresh juices to be used in managing the business. If you won't invest on knowledge, then don't expect to progress.

Virtual Organizations
Virtual organizations are highly dependent on computers or virtual processes. This is a cost efficient set-up since you need not allocate expenses on people. Organizations today invest on tools and computerized systems because of it long term benefits.

Merger and Acquisitions
One good tactical move in the business industry is through merging of companies and acquisitions of inferior competitors. Sticking to your own company and play the game alone is good but only for a time. You will need to go out and see what's going on the other side of the business. Very few businesses today continuously progressed by playing alone.

Electronic Commerce
Is your business on E-Commerce already? More to this, is you business going social online? This is the trend today. If your business is still behind, then waste no time and make a giant shift. A huge percentage of consumer-supplier partnership is in E-commerce form already. People of today, young and old are embracing the changes this digital age provide. Purchases, negotiations, education, and other processes are already done online. Money now cycles online than in conventional banks. Since E-commerce offers a higher level of convenience both consumer and suppliers, this is now the norm that every business must adapt.

Digital Convergence
Digital convergence revolutionalized a lot of conventional approaches in an organization. If you have multiple offices, how much time does it take before you can convey a very important implementation to execute?

Privatizations
Whether you like it or not, you should be ready to embrace the privatization set-up. This is just to make sure that you won't be at loss if something happens to the company. Privatization can be offering stocks to your own employees or to another private company. If worst comes to worse, this is one good move to salvage a failing business. Privatization though will not take everything from you, it will just transform your business into a set-up that is controlled by multiple people or by another entity. This change is difficult to embrace but it will be of value if you will be ready for it.

Regards,
UJ Consulting

Got a question about the product? Email us at support@flevy.com or ask the author directly by using the "Ask the Author a Question" form. If you cannot view the preview above this document description, go here to view the large preview instead.

Source: Best Practices in Change Management PowerPoint Slides: Corporate Change Management PowerPoint (PPTX) Presentation, UJ Consulting

ABOUT THE AUTHOR: UJ CONSULTING

UJ Consulting

Untung Juanto ST., MM. Founder of UJ Consulting. He is professionally experienced business and management consultant in several local and multinational companies. [read more] He has an experience in managing an effective and efficient company with various approach methods adapted to different industries because He had a career from the lower management level as Supervisor before finally being at the top management level. His Top Management experience started from the position of General Manager, VP Operation, HR Director and Business Development Director

He completed his undergraduate education majoring in Architecture at Diponegoro University, Semarang, Central Java, Indonesia. After that, He continued to Master of Management level majoring in Human Resource Management with cum laude predicate with a GPA of 3.94 at Mercubuana University, Jakarta, Indonesia.

His last work experience as Deputy President Director at Hutahaean Group in charge of 14 business units engaged in various industries including CPO Production, Oil Palm Plantation, Cassava Plantation, Tapioca flour production, 4 and 5 star hotels, waterparks, golf courses and housing with a total of employees more than 3,000 employees.

His biggest achievement was in 2021 when He served as Deputy President Director at Hutahaean Group Indonesia by increasing the company's revenue from IDR 700 billion to IDR 1.1 trillion (y/y) and increasing the profit margin by more than 20%. Doing a turn around on business units that have lost in the last 5 years become profits. In addition, He have also succeeded in creating an efficient and effective management system by redesigning the Business Process Management (BPM), reviewing Standard Operating Procedures (SOP) and Work Instructions and compiling the appropriate Key Performance Indicator Management (KPIM) to increase employee productivity.

He is currently active as a part-time business and management consultant (online) at Enquire Corp. and Flevy Corp. In addition, He also teach part-time at several universities for courses in strategic management, human resource management, project management, entrepreneurship and business.

UJ Consulting has published 170 additional documents on Flevy.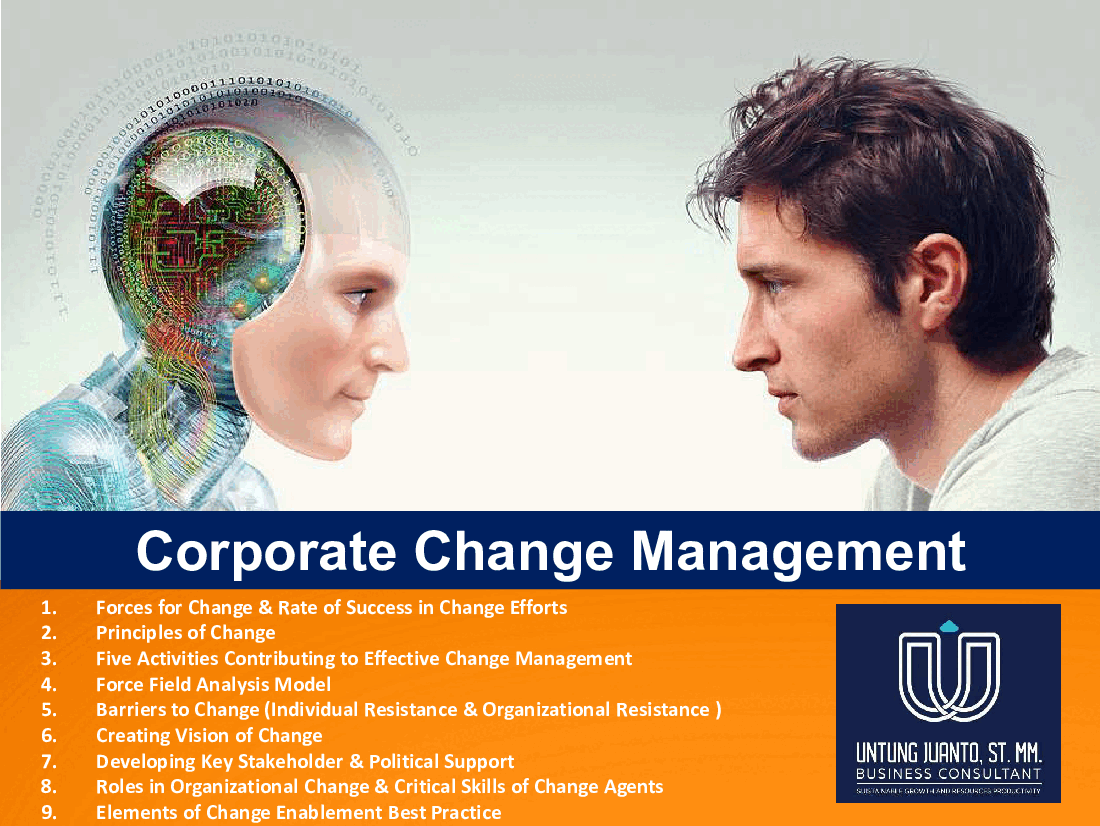 DETAILS
File Type: PowerPoint

(pptx)
File Size: 1.6 MB
Number of Slides: 45 (includes cover, transition, & marketing slides)
Related Topic(s): Change Management
This business document is categorized under the function(s): Operations Organization, Change, & HR
It applies to All Industries
Purchase includes lifetime product updates. After your purchase, you will receive an email to download this document.
This product contains a supplemental DOCX document.
Initial upload date (first version): Oct 30, 2022
Most recent version published: Nov 1, 2022