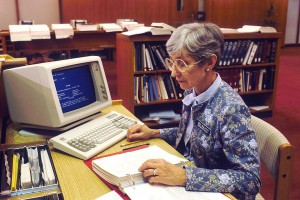 As the director of a large corporation, what is your reaction when you are advised that you should have a librarian on staff? Most of us still conjure up the image of a spinsterly older woman with granny glasses halfway down her nose, and the ever-ready admonishment to "Hush, people are reading."
Actually, today's librarian is as hi tech as they come, and you would be hard pressed to find anyone more knowledgeable in regards to data banks and digital inventories. Anyone with a library science masters degree is also well-versed in IT. The typical library science degree is called a Master of Management in Library and Information Science, MMLIS, and much of their knowledge is in the digital realm.
Librarians Are Not Just for Libraries!
While a large number of graduates with an online MMLIS degree from cutting edge universities, such as the University of Southern California, do hold jobs as head librarian in some of the nation's largest and most prestigious libraries, many library science graduates hold key positions in the private sector. Librarians are often employed as a:
Senior Business Intelligence or Technical Analyst
Digital Services Manager
Data Officer
Digital Manuscripts Manager
Document Control Manager
Database Programmer or Administrator
And, the list goes on and on and on. Sadly, too many company administrators have an archaic and highly stereotypical image of what a librarian is and does, and so they aren't taking advantage of the knowledge and skills that a graduate of an online library science program brings to the table.
So Why Do You Need a Librarian?
If you are still wondering why anyone would suggest hiring someone with an MMLIS degree, take a moment to think about just how important organization is to your business. Nothing wastes time as much as not having the ability to locate a document or resource when you need it, and this is where a 'librarian' would play an important role. By digitally cataloguing everything your company has, including intellectual property, a librarian can lay hands on a document quicker than you can even ask for it! Time is money and so there isn't a company out there that can afford to waste either time or money.
What an MMLIS Graduate Can Do
When it boils down to it, there's little that an MMLIS graduate can't do. Since they are masters in information and resource, if they don't know it, they know how to find it and where to learn it. But in reality, today's librarian is best suited in the digital world because that is the direction catalogues and data stores are moving. Few files are kept in hard copy anymore, so who better than a librarian to design and implement a system for cataloguing and 'filing' your digital records?
Looking to have data analyzed quickly and efficiently? Ask your on-staff librarian to sort it for you. This is one degree that can be utilized in literally every industry and as long as there is digital data, there will be library science masters keeping it tucked safely away where it belongs – in a digital file.