BENEFITS OF DOCUMENT
Provides a holistic framework for improving work methods based on the TWI Job Methods methodology.
Provides a complete training package that includes training slides, Job Breakdown Sheet, Improvement Proposal Template and JM Pocket Card.
Provides credible materials that are closely based on the original training manuals developed by the TWI Service (United States Department of War).
DOCUMENT DESCRIPTION
This product (
TWI Program: Job Methods [JM] Training

) is a 79-slide PowerPoint presentation (PPTX) with a supplemental Zip archive file document, which you can download immediately upon purchase.

The TWI Job Methods (JM) program trains supervisors in how to improve the way jobs are performed in order to consistently produce greater quantities of quality products in less time using available manpower, machines and materials.

Participants are taught how to break down jobs into their constituent operations. Every detail is questioned in a systematic manner to generate ideas for improvement. New methods are developed by eliminating, combining, rearranging, and simplifying steps in the process.

Job Methods yields significant benefits including reduced cost through productivity gains, increased throughput, and reduced work in process.

||||||||||||||||||||||||||||||||||||||||||||||||||||||||||||||||||||||||||||||||||||||||||||||||||||||||||||||||||||||||||||||||||||||||||||||||||||||
NOTE: This TWI Job Methods (JM) PPT training package includes:
1. TWI Introduction Slides (PowerPoint format)
2. TWI Job Methods Slides (PowerPoint format)
3. Job Methods Breakdown Sheets for Work Analysis (Word format)
4. Job Methods Improvement Proposal Sheet (Word format)
5. Printing Guidelines for JM Pocket Card
||||||||||||||||||||||||||||||||||||||||||||||||||||||||||||||||||||||||||||||||||||||||||||||||||||||||||||||||||||||||||||||||||||||||||||||||||||||

LEARNING OBJECTIVES

1. Improve job methods based on the 4-Step Process for JM
2. Apply the Job Breakdown Sheet to analyze the current method and develop the new method
3. Utilize the JM Improvement Proposal Sheet to communicate and gain buy in to the new method

CONTENTS

1. Introduction to TWI Job Methods (JM)
2. Definition of a Supervisor
3. 5 Basic Needs of Supervisors
4. Demonstration Job: Current Design & New Design
5. 4 Steps for Job Methods Improvement
6. Step 1: Breakdown the Job
7. Job Breakdown Sheet (JM)
8. Step 2: Question Every Detail
9. 5W1H Questions
10. Step 3: Develop the New Method
11. Eliminate, Combine, Rearrange & Simplify (ECRS Framework)
12. Principles Under Simplify
13. JM Improvement Proposal Sheet
14. Step 4: Apply the New Method
15. Examples of Ideas for Improvement
16. Practice Demonstrations: Job Breakdown for Present & Proposed Methods
17. Resistance & Resentment
18. Review of 4 Steps for JM
19. Summary & Closing

Got a question about the product? Email us at [email protected] or ask the author directly by using the "Ask the Author a Question" form. If you cannot view the preview above this document description, go here to view the large preview instead.

Source: Best Practices in Employee Training, Training within Industry PowerPoint Slides: TWI Program: Job Methods (JM) Training PowerPoint (PPTX) Presentation, Operational Excellence Consulting

ABOUT THE AUTHOR: OPERATIONAL EXCELLENCE CONSULTING

Operational Excellence Consulting is a leading management training and consulting firm dedicated to helping individuals and organizations improve their effectiveness and productivity in the post-pandemic new normal. Our mission is to drive lasting beneficial change by leveraging design thinking and lean management approaches. [read more]

We work with a diverse range of clients, including government bodies, multinational corporations, and small and medium-sized enterprises, across a wide spectrum of industries.

Our firm offers a comprehensive suite of capabilities, including Design Thinking, Customer Experience Management, Business Model Innovation, Lean Process Redesign, Total Quality Management (TQM), Total Productive Maintenance (TPM), Kaizen, Value Stream Improvement, Hoshin Kanri (Policy Deployment), Problem Solving Techniques & Tools (e.g. PDCA, 8D, A3, etc.), Training Within Industry (TWI), Suggestion System and Benchmarking.

To ensure the widespread adoption of operational excellence techniques and tools, we pride ourselves on developing high-quality, customizable training materials, presentations, frameworks, and templates to complement your training and business needs.

Operational Excellence Consulting has published 209 additional documents on Flevy.
---
$69.00
All fees included. Immediate download upon purchase.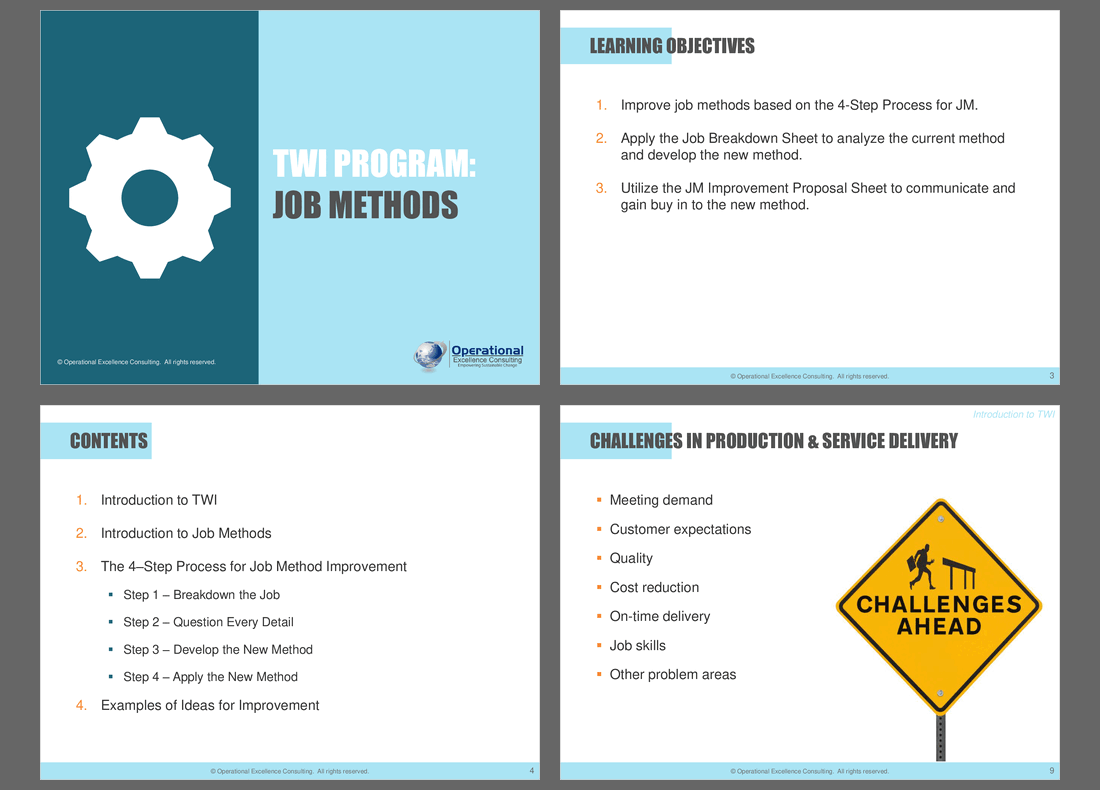 DOCUMENT DETAILS
File Type:
PowerPoint

(
pptx
)
File Size: 4.9 MB
Number of Slides: 79 (includes cover and all slides)
Immediate digital download upon purchase.
Lifetime document updates included with purchase.
Completely editable & customizable PPTX document.
Supplemental ZIP document also included.
Terms of usage
(for all documents from Operational Excellence Consulting)
Initial upload date (first version): May 30, 2015
Most recent version published: Feb 18, 2021
---