Editor's Note:  The Journey from the Age of the Tool to the Present is a 7-part series, tracing the journey humanity has taken from 2500 BC to modern times on the progress of Human Resources.  This is a very comprehensive narrative that touches upon numerous management philosophies and concepts.  To read the full series, take a look at the author's profile page found here.
* * * *
I have found that establishing Decision Domain Councils can be incredibly helpful.  Establish one called Human Performance Excellence and have the CEO and some individuals who are not the usual suspects such as the VP of Marketing or Product Development or the CTO or CIO involved with the HR Head who is Secretary and one of the other execs as Chairperson. This group is accountable for creating the employer of choice positioning to attract the best talent and keeping them.  They ensure special programs for developing the 'leaders of tomorrow' and having strategic succession planning such as offered by Rothwell. Each Council should be supported by a Strategic Business Improvement Team made up of high-potential cross-functional talented individuals.  Their assignments from the Council must be given priority and their performance evaluations and recognition must be linked to their success.
Requiring senior executives to have (1) back to the floor experiences – going out and working in their retail operations, branch banks, whatever for 3 days going hand-to-hand with real customers and rubbing shoulders with their employees does wonders; (2) mandating that every senior executive not only listen to calls coming into the call center (if they know where it is!), but take calls for information or deal with complaints like Xerox and others have done; and (3) giving each senior executive responsibility and accountability for building exceptional relationships with one key customer account and key supplier organisation – their bonus depending on their success/performance in doing so. The frequency which senior executives are tuned into needs to be changed and these will work – I have used all of them with great success. There are more, but allow me to stop there.  In each case at each Management Committee meeting, a sharing of learning from these experiences needs to happen and built upon.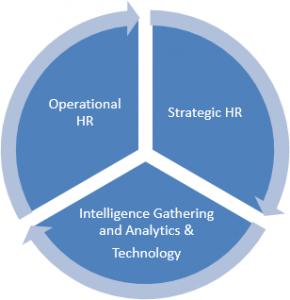 So, where do we go from here? Well if I were to paint a high level picture of what I believe the HR function should be in order to resolve the issues identified above and to move organisations more effectively and efficiently into the future, then I would propose this diagramme to the right.
For me, Strategic HR would probably be headed by an executive who knows absolutely nothing about HR other than how to manage people effectively in the position he or she has had in the past. It could be a CIO, CTO, CSO, CFO or others. The keys in my mind are these. Put someone in this position who is well respected by the CEO and leadership team and therefore can act a liaison with them and ensure things happen such as ensuring the right decisions are made to invest in people – help the organisation become more people-centric and unlock their full potential to contribute to the success of the organisation.
This position also would be on the career path of those whose aspirations are to move into a position of even greater responsibility.  This experience should broaden them and give them the necessary competency set to help secure the long-term sustainability of the business.
The Operational HR executive would be an HR professional – but not just an 'ordinary' one.  What do I mean?  Someone who possesses relationship mastery, creativity, capability to interpret analysis of data and information related to people, is up-to-date on the latest studies, surveys and books on the subject of HR.  They need to be someone who changes the image of HR from being a necessary evil or nuisance – something to be tolerated, to a true ally, coach and source of inspiration.  Focus and delivery – on engagement, empowerment, enablement, involvement, creativity/innovation and more should be part and parcel of their remit and capabilities.  They need to fully understand how to deliver value to the organisation which is clearly recognisable by the entire workforce and the CEO and leadership team.
The Strategic HR and Operational HR Executives would have joint ownership and evolution of the culture of the organisation.  Right now, no one owns the culture of an organisation – it just sort of happens and then we live with it. Yes, as said before, the culture of an organisation can either be the biggest enabler or inhibitor of success – not something to be ignored or taken-for-granted.
The last component is having a 'world-class sensing system' which is continuously collecting, 'refreshing' the organisation's understanding and insight into the people side of the organisation.  It should allow the 'new' HR function to be 'agile' – to identify, assess and act on issues – opportunities or problems at 'hyper-speed'. Optimising technology to enable people in the organisation to work more effectively and efficiently will be increasingly critical. Then to, as digitalisation, and even robots and artificial intelligence begin to play in more and more down the road eliminating some base level HR positions as well as those in other functions, transformation related to people and the HR Function will increasingly become an organisational priority.
In addition, the CIPD in the UK, one of the world's most respected Human Resource organisations did a study in 2013 which resulted in the following model being developed which is where I shall leave the discussion for now.  I leave this with you as 'food for thought' if you are an HR Professional reading this article: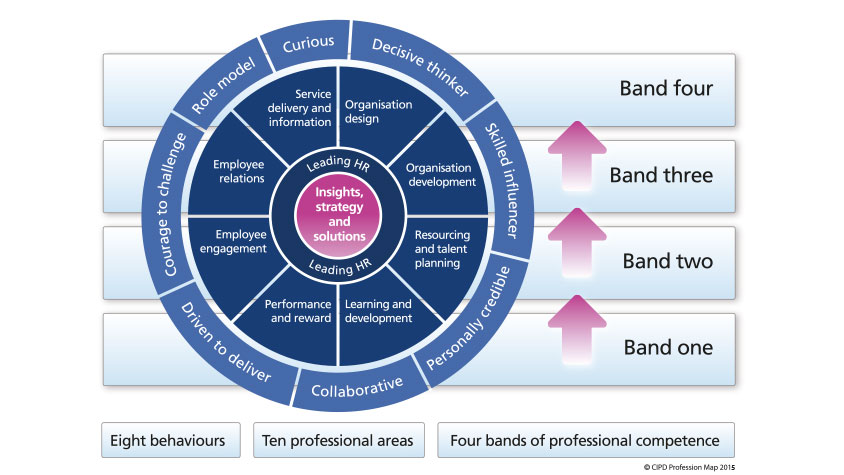 I hope that the above Article has shed some additional light on the challenge ahead for HR.  To me, at this point, HR is like a lifeboat of immigrants bobbing in a turbulent sea looking for a safe harbour and finding none. Let's help get this sorted!  It's too important an issue not to!