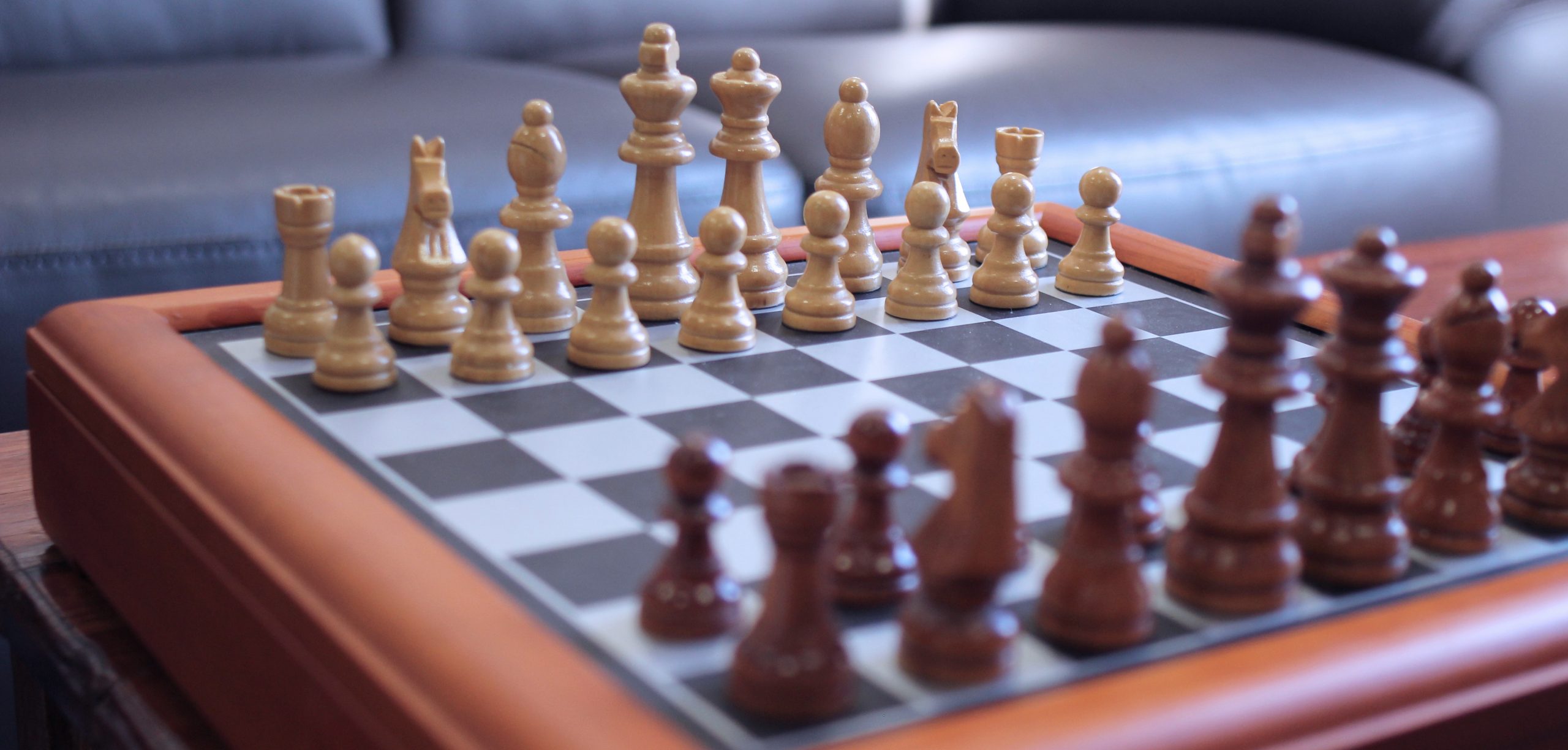 Listed companies share their strategic objectives for investors' and public consumption.  Websites, annual financial reports, and Form 10-K report are all critical resources to understand an organization, key offerings, competitive advantage, and market position.
Research into the public documents of listed companies brings to light key data about these companies, their Strategies, and their Strategic Priorities.  MIT Sloan Management Review carried out a research in 2014 on Strategy Implementation.  The research involved 494 organizations that had already a place in the S&P 500 Index.  The objective was to analyze how these enterprises outlined their Strategic Priorities in their annual and other reports.
The public documents that were evaluated to identify Strategic Priorities for the study included:
Fiscal year's Form 10-K report
Description of business from Part 1, Item 1 of 10-K report
Management's description of company operations (Part 2, Item 7).
Any mention of "strategy," "strategic," "focus," or "imperatives."
Companies' annual reports—especially letter from the CEO or chairman.
Investor Relations page of respective organizations' websites
Some organizations did not disclose their strategic priorities in any of the data sources identified above.  Those firms did not qualify for the research and were left out.
To understand an organization's prioritized actions to implement Strategy, MIT Sloan study employed 5 critical filters to assess the viability of strategic objectives.
All the documents that were reviewed as part of research had to pass the following 5 filters to be designated as viable "Strategic Priorities."
Clearly Labelled – In the study, strategic objectives were considered clearly defined only when labelled in the public documents as "strategies," "strategic objectives / initiatives;" listed as a separate section, underlined in bold, or as bullets.
Ranked – From a large list of objectives, the study qualified only those as Strategic Priorities when 6 or fewer prioritized objectives were included in the public documents. Of the 351 cases, 321 (91%) listed 6 or fewer strategic objectives.
Goal Directed – Strategic objectives qualified for the study were expressed with action verbs in the public reports—e.g. grow, improve, increase—or with a gerund—e.g. achieving, cutting—to guide how they will be achieved.
Referencing Implementation Approach – Priorities were deemed strategic when a description on the means to implement a company's strategy was itemized in the 10-K or Annual Report's "overview of business" or "management discussion" sections.
Differentiating Priorities from Annual / Quarterly Goals – It takes time to achieve strategic initiatives, so those were separated from quarterly or annual targets.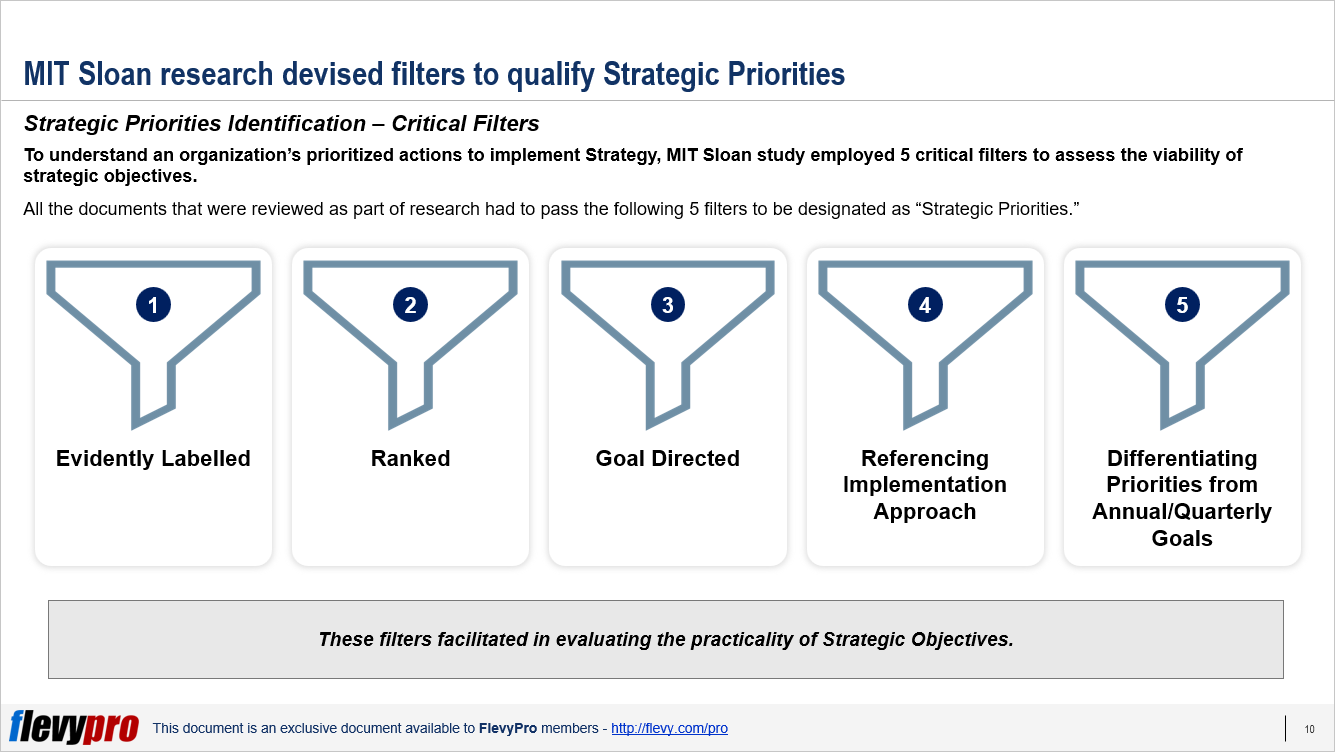 The study identified a total of 1,508 Strategic Priorities through the data gathered from annual and 10-K reports of 311 organizations.
Strategic Priorities were then classified into the following 4 categories:
Dominant Logic – This category of Strategic Priorities deals with elements such as products, costs, Innovation, customers, platforms, Operational Excellence, and growth. The objective of this category of strategic priorities is to improve the business portfolio.
Market Positioning – This category of Strategic Priorities pertains to markets, geographic expansion, positioning, discounted offerings, and price. The focus of this class is on furthering market position, geographical expansion, and growth.
Resources and Capabilities – The next category of strategic priorities entails key talent, values, technological, Sales, Marketing, Distribution, Branding, Supply Chain capabilities and resources.
Stakeholder Theory – This category of Strategic Priorities involves actions related to shareholder value, social / environmental / regulatory and safety goals. The main objective of this class of strategic priorities is to increase shareholder value.
Interested in learning more about the categories of Strategic Priorities and how to communicate them across the organization? You can download an editable PowerPoint on the Strategic Priorities Identification & Analysis here on the Flevy documents marketplace.
Do You Find Value in This Framework?
You can download in-depth presentations on this and hundreds of similar business frameworks from the FlevyPro Library. FlevyPro is trusted and utilized by 1000s of management consultants and corporate executives. Here's what some have to say:
"My FlevyPro subscription provides me with the most popular frameworks and decks in demand in today's market. They not only augment my existing consulting and coaching offerings and delivery, but also keep me abreast of the latest trends, inspire new products and service offerings for my practice, and educate me in a fraction of the time and money of other solutions. I strongly recommend FlevyPro to any consultant serious about success."
– Bill Branson, Founder at Strategic Business Architects
"As a niche strategic consulting firm, Flevy and FlevyPro frameworks and documents are an on-going reference to help us structure our findings and recommendations to our clients as well as improve their clarity, strength, and visual power. For us, it is an invaluable resource to increase our impact and value."
– David Coloma, Consulting Area Manager at Cynertia Consulting
"FlevyPro has been a brilliant resource for me, as an independent growth consultant, to access a vast knowledge bank of presentations to support my work with clients. In terms of RoI, the value I received from the very first presentation I downloaded paid for my subscription many times over! The quality of the decks available allows me to punch way above my weight — it's like having the resources of a Big 4 consultancy at your fingertips at a microscopic fraction of the overhead."
– Roderick Cameron, Founding Partner at SGFE Ltd