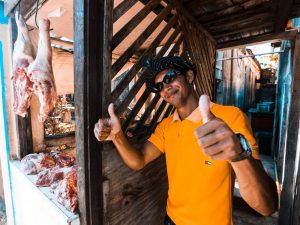 How do we acquire quality, actionable Market Intelligence for emerging markets?
To make good business decisions, we require good data—i.e. good Market Research & Intelligence.  For developed markets, the function of Market Intelligence is mature practice, where data can be reliably obtained.
This is the not the case for emerging markets. Many multi-national organizations, when entering into an emerging market, make the mistake of simply importing their domestic models into emerging markets. This rarely works due to the extreme differences and intricacies of how emerging markets operate.
Unfortunately, due to a variety of reasons, it has proven onerous for multinational organizations to acquire reliable Market Intelligence in emerging markets.  There are 3 primary reasons that make this task particularly difficult:
Disparities across all market segments.  Across all geographic and income segments of an emerging market, there are typically vast differences in all aspects of businesses (e.g. consumer behavior, market structure, customer profile, etc.).
Disparities across different emerging markets.  In other words, Market Intelligence methods, tools, and approaches cannot be readily transferred from one emerging market to another.  On the other hand, we typically can apply the same methodology across advanced economies.  Thus, organizations often mistakenly apply the same methodology used successfully to an emerging market.
Rapid change in emerging markets.  As we are all aware, emerging markets are rapidly changing and evolving.  This includes changing consumer behavior and market conditions.  Therefore, the lifespan of data is shortened considerably.  Data that may have been accurate 6 months ago cannot be reliably applied to make business decisions today.
Despite these difficulties, we can overcome the Market Intelligence challenge in emerging markets by following a 3-prong approach, outlined on the slide below.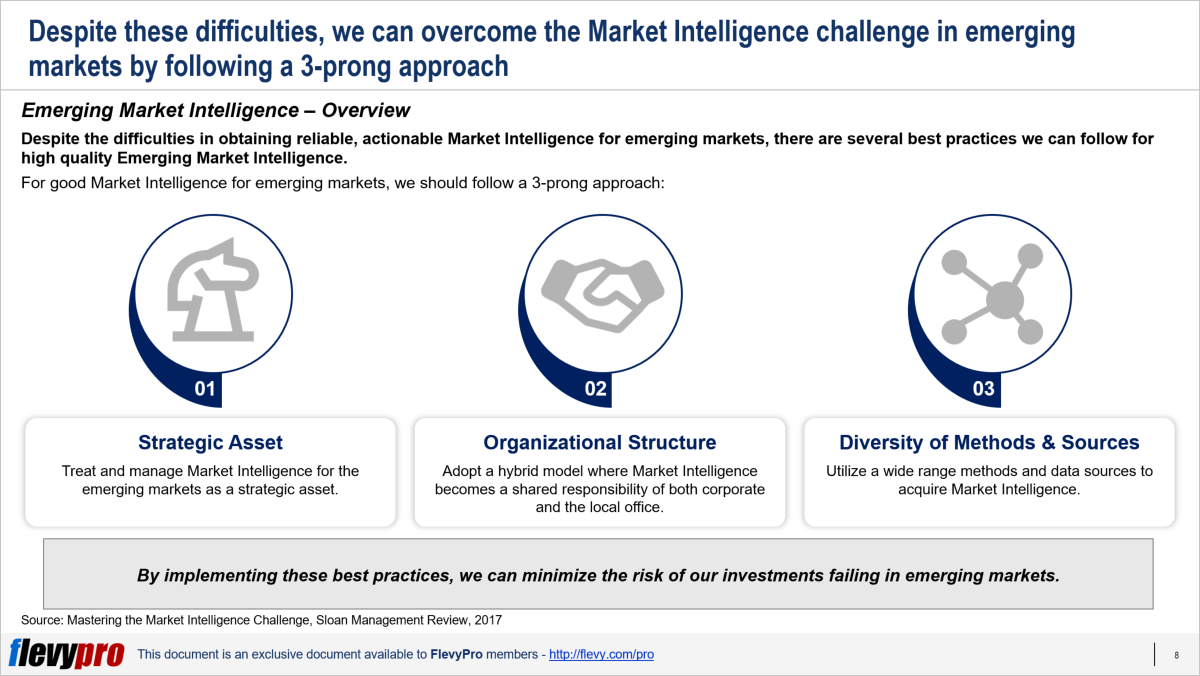 By implementing these best practices, we can minimize the risk of our investments failing in emerging markets.  Let's take a look at each one.
1. Strategic Asset
First, we must treat and manage Market Intelligence for the emerging markets as a strategic asset.  By treating Market Intelligence as a strategic asset, this means we must develop good Market Intelligence prior to making any strategic decisions related to emerging markets.  This implies we must invest continuously to update our intelligence and always leverage up-to-date market information to drive strategy within these markets.
This best practice is easier said than done. Investing in Market Intelligence within an emerging market requires much greater on-the-ground effort compared to developed markets, where data can be readily purchased from third parties.  This requires a strong local presence in the emerging market.  Such a presence facilitates better understanding through direct interaction and observation of customers.  A strong local presence can gather Market Intelligence through direct experience, experimentation, and even conduct focus groups.
Implementing this best practice requires continuous investment, such that the Market Intelligence is updated and reflected of the rapidly changing market conditions.  This also helps to identify market opportunities at the earliest chance, as soon as we observe changes in the market.  This also means proper Market Intelligence requires regular collection of information, instead of on an ad-hoc basis.
Since most multinational companies do not treat Market Intelligence in these markets as a strategic asset, they are left with information inadequate to make informed, strategic decisions.
2. Organizational Structure
The next best practice is to adopt a hybrid model where Market Intelligence is managed by both corporate and the emerging market country office.
There are 2 common models for Market Intelligence. It's either the responsibility of corporate or of the local regional office.  A comparison of centralization vs. decentralization reveals pros and cons for each.  When Market Intelligence is centralized at corporate, this allows the corporate department to develop sophisticated and standardized tools, techniques, and processes for Market Intelligence, as well as groom skilled personnel for this function.  On the other hand, when Market Intelligence is decentralized to local offices, the local office can decide on and use the most relevant methods, sources, and techniques catered to that market.
Due to the nature of emerging markets, it is optimal to adopt a hybrid model where Market Intelligence becomes the shared responsibility of both corporate and local.  This cross-functional approach ensures the legitimacy and validation of the intelligence.
3. Diversity of Methods & Sources
The final best practice to follow is to utilize a wide range of methods and sources for acquiring Market Intelligence.
Due to the lack of information sources and their unreliability, we require a wider range of data sources and methods to obtain quality Market Intelligence within an emerging market.  For a single data set, in fact, it is often the case we would need to synthesize multiple sources.
Is your organizational struggling with obtaining reliable, actionable Market Intelligence within 1 or more emerging markets?  You can learn more about this topic in our presentation framework, Emerging Market Intelligence.  This framework discusses each of the best practice areas in further depth, including case examples.