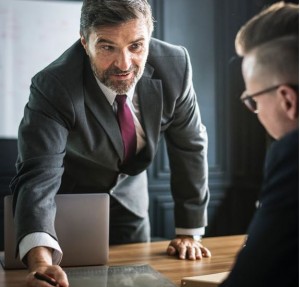 Leadership is the single most important human capital issue that organizations face. In fact, in today's 21st century business, leadership has become a vital element for companies striving to achieve global competitiveness. However, while Leadership can build a team, a department, or an organization, it can also "un-build" or destroy them.
A big responsibility has been put on HR to come up with programs that will build the kind of leadership 21st century companies need. Executives are put on a pedestal to meet the increasing demands of a very competitive world. Members of the team are increasingly hedging their leaders as leaders continue to push members to optimize performance.
But, a big unresolved issue has been hovering and putting an unclear cut on leadership. In the end, before anything else, we have to resolve what sort of Leadership Behavior should organizations encourage.
Is Leadership so contextual that it defies standard definition or development approaches?
 Should companies concentrate on priorities such as role modeling, making decisions, defining visions, and shaping leaders who are good at adapting?
Should companies stress the virtues of enthusiastic communication?
Leadership Study Results
A recent research showed that a small subset of Leadership skills closely correlates with Leadership success. A survey of 189,000 people in 81 diverse organizations around the world was conducted to assess how frequent certain kinds of Leadership Behavior were applied in organizations. A list of 20 distinct Leadership traits was first developed. The population was then divided into organizations whose Leadership performance was strong and those that were weak.
Leaders in organizations with high quality Leadership displayed 4 of the 20 possible Types of Leadership Behavior. The 4 Effective Leadership Behaviors that came out prominent amongst 189,000 people explain 89% of the variance between strong and weak organizations in terms of Leadership Effectiveness.
The 4 Types of Effective Leadership Behavior
Leaders in organizations with high quality Leadership teams display 4 Types of Effective Leadership Behavior.
The 4 Effective Leadership Behavior does not refute the centuries old debate about what distinguishes great leaders. Experience shows that different business situations often require different styles of Leadership.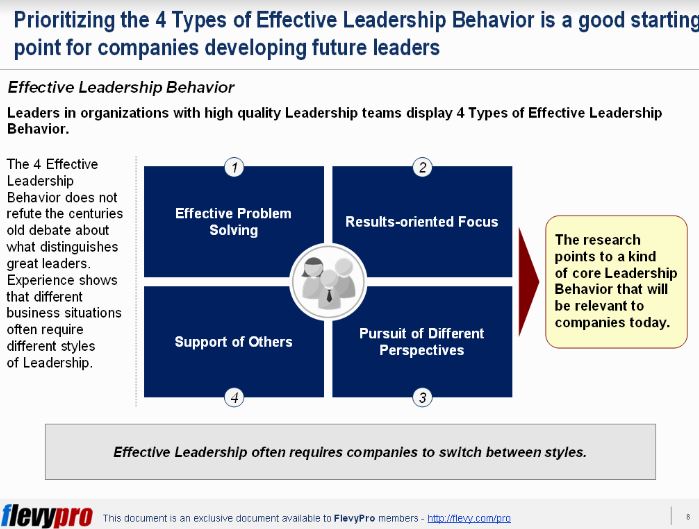 1. Effective Problem Solving
Effective Leadership starts with the ability to solve problems effectively and focus on results.  Problem solving is the process that precedes decision making. It is deceptively difficult to get right yet it is a key input to decision making. Leaders must learn to effectively gather, analyze and consider information to come up with informed decisions.
2. Results-oriented Focus
Leadership is not only about developing and communicating a vision and setting objectives. Effective leaders must also follow through to achieve results. To achieve this, Leaders must have strong results orientation, emphasize the importance of efficiency and productivity, and prioritize the highest value work.
3. Pursuit of Different Perspectives
Effective Leaders must consider different perspectives to be able to make decisions that are based on sound analysis. Leaders must avoid many biases to which decisions are prone.
This can be achieved when Leaders continue to monitor trends affecting the organization and grasp the changes in the environment. Leaders must be able to encourage employees to contribute ideas that could improve performance. They must be able to differentiate between important and unimportant issues and give appropriate weight to stakeholder concerns.
4. Supportive of Others
Leaders who are supportive can understand and sense how other people feel. Effective Leaders show authenticity and a sincere interest in those around them. They can build trust, inspire, and help colleagues to overcome challenges and intervene in group work to promote organizational efficiency. Unwarranted fears about external threats are allayed and energies of employees are prevented from dissipating into internal conflict.
Having the right Effective Leadership Behavior lays the groundwork for companies to achieve sustained growth. The current Leadership behavior situation of your organization can still be improved. Using the Situational-Leadership Staircase is the way to go.
Interested in gaining more understanding on how to develop and hone your leadership skills? You can learn more and download an editable PowerPoint about Effective Leadership Behavior here on the Flevy documents marketplace.
Do You Find Value in This Framework?
You can download in-depth presentations on this and hundreds of similar business frameworks from the FlevyPro Library. FlevyPro is trusted and utilized by 1000s of management consultants and corporate executives. Here's what some have to say:
"My FlevyPro subscription provides me with the most popular frameworks and decks in demand in today's market. They not only augment my existing consulting and coaching offerings and delivery, but also keep me abreast of the latest trends, inspire new products and service offerings for my practice, and educate me in a fraction of the time and money of other solutions. I strongly recommend FlevyPro to any consultant serious about success."

– Bill Branson, Founder at Strategic Business Architects
"As a niche strategic consulting firm, Flevy and FlevyPro frameworks and documents are an on-going reference to help us structure our findings and recommendations to our clients as well as improve their clarity, strength, and visual power. For us, it is an invaluable resource to increase our impact and value."

– David Coloma, Consulting Area Manager at Cynertia Consulting
"As a small business owner, the resource material available from FlevyPro has proven to be invaluable. The ability to search for material on demand based our project events and client requirements was great for me and proved very beneficial to my clients. Importantly, being able to easily edit and tailor the material for specific purposes helped us to make presentations, knowledge sharing, and toolkit development, which formed part of the overall program collateral. While FlevyPro contains resource material that any consultancy, project or delivery firm must have, it is an essential part of a small firm or independent consultant's toolbox."

– Michael Duff, Managing Director at Change Strategy (UK)
"FlevyPro has been a brilliant resource for me, as an independent growth consultant, to access a vast knowledge bank of presentations to support my work with clients. In terms of RoI, the value I received from the very first presentation I downloaded paid for my subscription many times over! The quality of the decks available allows me to punch way above my weight – it's like having the resources of a Big 4 consultancy at your fingertips at a microscopic fraction of the overhead."

– Roderick Cameron, Founding Partner at SGFE Ltd
"Several times a month, I browse FlevyPro for presentations relevant to the job challenge I have (I am a consultant). When the subject requires it, I explore further and buy from the Flevy Marketplace. On all occasions, I read them, analyze them. I take the most relevant and applicable ideas for my work; and, of course, all this translates to my and my clients' benefits."

– Omar Hernán Montes Parra, CEO at Quantum SFE