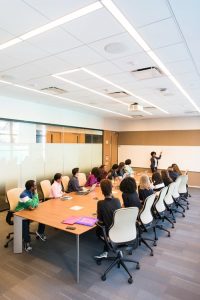 Making the right investments is key for business owners in any industry. Companies that are large and successful are often the ones that are prepared to invest the right amount of money, time, and effort into a range of different channels, including employee satisfaction and engagement.
Employees are the lifeblood of any business and without them, it would be impossible to keep operations running smoothly. When any business hires an employee, they ideally want that worker to stick around for as long as possible. However, with more opportunities available and competitors that might have something better to offer, there is often nothing stopping your best employees from finding a better work deal somewhere else.
Offering training and education for your employees to help them get the most out of their careers and work up the career ladder in the business can boost employee satisfaction, productivity, loyalty, and more.
Here are some of the main reasons why the top companies are investing in employee education.
Save Money
Good employees are expensive to replace, and the cost of hiring a new employee that matches the skillset and knowledge of the previous one can end up costing more than the salary that you paid them. Many employees today will not be satisfied if they are working in a job where they do not feel that they have the opportunity to learn more and move up the career ladder with their employer. It is only natural for ambitious and talented people to start looking elsewhere if they feel that they have been stagnant in their careers for too long.
This can be very expensive for employers, and it's often much cheaper and much more effective to invest in training your employees.
Flexible Training Options
One of the main things that might hold businesses back from investing in employee training is the fact that they believe it might cost them more over time.
If an employee needs to cut their hours down to part-time or take some time off so that they can get a degree, for example, the employer will need to consider the cost of a temporary replacement for them. However, learning while working is easier than ever today with a wide range of flexible online programs like this business management course from Aston University.
This method of study allows employees the option to study from home at times that suit them best, making it possible for them to fit getting their degree around their regular work hours and avoid disruption for both employee and employer.
Attract Better Applicants
When applying for a new career position, most talented and ambitious people will be attracted to a job where they will be supported in improving their knowledge even further and given help to move up the career ladder. Potential employees who are interested in the further development of their career and want to progress as much as possible in their chosen field are always going to be more interested in a position that promises them the option to learn more, get an advanced degree, or get certifications and qualifications that will improve their resume and boost their chance of working their way up to a higher-paid position with more responsibilities.
Improve Employee Retention
Today, the best employees are often looking for work that stimulates their minds and provides them with new goals and objectives to work towards. You are at risk of losing your best talent if you are not providing them with something to better themselves and improve their career path – many people are going to look elsewhere, which can bring employee retention rates down and put your business in a situation where you are constantly looking for new people to hire, which can be incredibly costly over time.
Instead, providing employee education and training makes it easier for you to hire from within when it comes to the higher-paid positions that become available in your workplace and encourages employees to stick around for longer and be loyal to your company since they will not see the need to look elsewhere when they are getting the growth and progression that they want from their current employer.
Increase Productivity
Employees who have a clear goal to work towards in the workplace tend to be more productive and motivated when it comes to the tasks and projects that they take on. By providing your employees with the opportunity to learn more and work their way up the career ladder, you will encourage them to put their best foot forward at work and be more productive in order to improve the impression that they make.
Employees who are enrolled in a workplace training program or are taking a degree course that is funded by their employer tend to be striving for bigger and better things, which is going to come across in the work that they do. In addition, improving their knowledge and skills can help your employees become more confident in what they do, which in turn can improve productivity and results.
Easier Delegation
Finally, finding the right people to take on the tasks that your business is going to be working on is easier when you have a lot of well-trained and highly knowledgeable employees to choose from. Whether you are looking for somebody who is suitable for a new role that is going to be available in the company soon or want to delegate more responsibility and tasks to employees to reduce the workload of the management, investing in employee training and education means that delegation is easier than ever.
As a company grows and expands, being able to delegate responsibilities to more employees is crucial – and investment in their education will ensure that the business is provided with employees who are up for the task.
Many businesses are up against a lot of competition when it comes to hiring the best talent and investing in education and training is one of the best ways to encourage the best professionals to choose one workplace over another, increase productivity, and get better results.