5 Stages of Tuckman's Group Development Model
Featured Best Practice on Team Management
111-slide PowerPoint presentation
In today's flexible working model where employees work from home and the office, the ongoing challenges of creating the magical bond between team members can be elusive. Moreover, it has become increasingly challenging, since we have been moving from the emphasis on social skills to technical
[read more]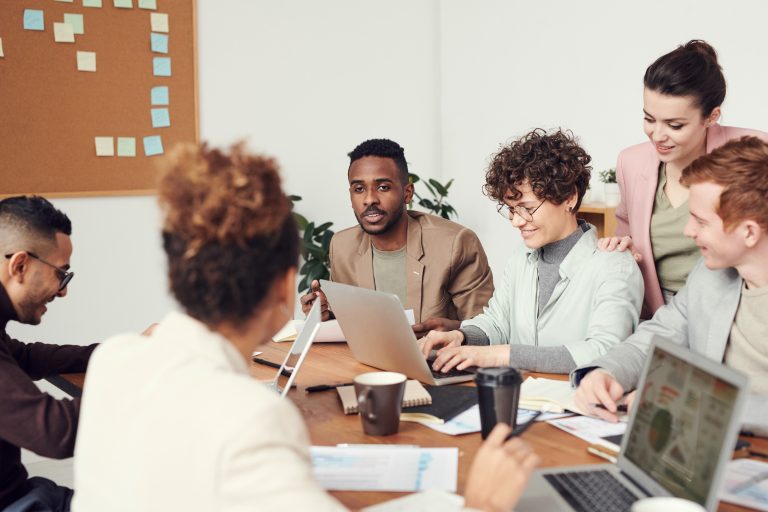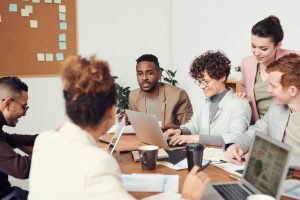 Studies on Team Motivation and Building Effective Teams stem from the research carried out in Psychology and Sociology.  Wilhelm Wundt (1832-1920), the Founder of Modern Psychology, is credited with conducting the 1st research on the subject.
The Social Psychologist Kurt Lewin (1890-1947) is credited with introducing the term "Group Dynamics." The term defined the constructive and destructive forces within Groups of people.  Lewin pioneered the Group Dynamics Research Center at the Massachusetts Institute of Technology, first of its kind dedicated to the study of Group Dynamics and how it could be applied to real-world and social issues.
The latter half of the 20th century saw attention shifted more towards studying how Group Performance could be improved in the workplace to foster an Organizational Culture of cohesiveness, and Tuckman's study proved significant in this regard.
Bruce Tuckman's Model on Group Development became one of the most influential studies on the subject.  Originally conducted in 1965, the Model was further improved by Tuckman and his colleague in 1977.
Tuckman's assertion was that each of the phases of the model is indispensable and unavoidable for the team to grow, face up to challenges, tackle problems, find solutions, plan strategically, and deliver results.  Tuckman's model has become the foundation for following models and commonly used by management consultants for Team Management and Client Management.  For the model to be applicable in the work place, it is vital to comprehend the process at each stage and its concepts.
Tuckman's Group Development Model comprises the following 5 stages:
Forming
Storming
Norming
Performing
Adjourning
The 5th stage of Group Development called "Adjourning" was added in 1977, by Tuckman and his colleague Mary Ann Jensen.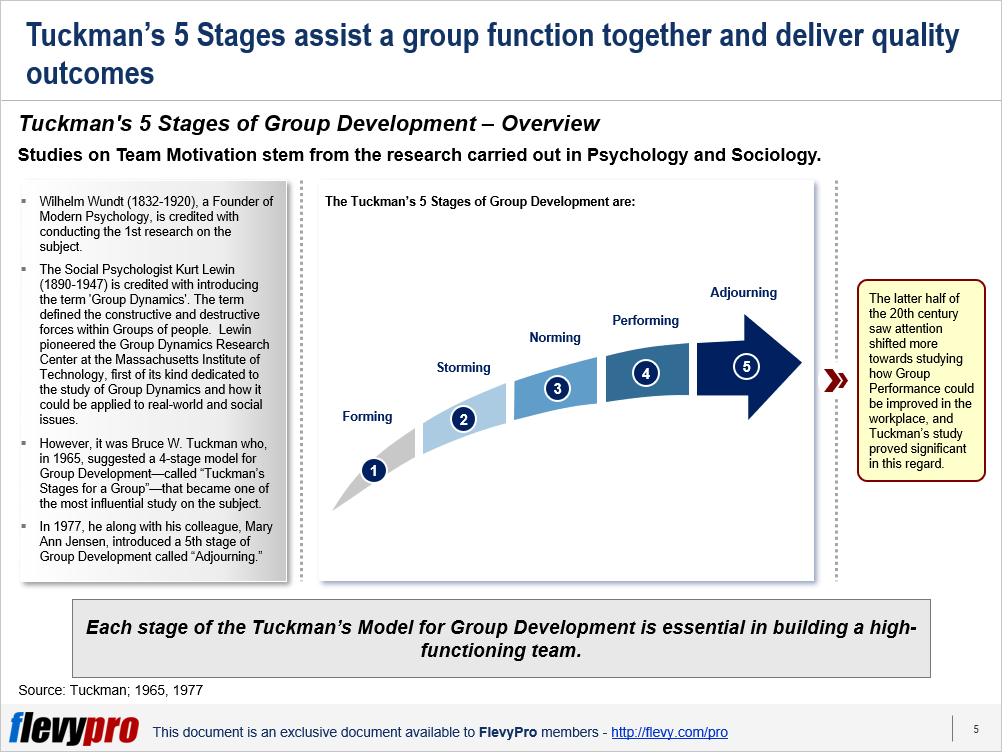 Let us examine some of the stages of Tuckman's model for Group Development in a little more detail.
Forming
The key dynamic of the first stage is Orientation.  This is the stage where people are brought together in a Group.  How quickly the group's transition to the 2nd stage takes place depends on the clarity and complexity of the goal and members' previous experience of working in groups.  Some of the key characteristics of this stage include:
An upbeat outlook of group members about what is to be accomplished.
Anxiousness on part of members about what the other team members will be like.
Managers of the group at this stage have to be directly and intimately involved.  Clear guidelines and structure by the manager are necessary to ensure that the team builds strong relationships. 
Storming
The key dynamic of this stage is Power Struggle.  At this 2nd stage team members feel more at ease voicing and questioning opinions, and that is when internal conflict flares up.  Channeling this conflict in a positive direction will make for a cohesive team.  Some of the key characteristics of this stage are:
Perception formation about other team members' abilities.
Alliance formation among team members and discussions regarding the goal and the approach to achieve it.
The group leader has to show a Problem Solving Mindset at this stage, swiftly channel conflict between teams in order to avoid demoralization.  Among many other actions at this stage, the leader also has to guide the team in decision-making and proffering explanations on how decisions transpired.
Norming
The key dynamic of the 3rd stage of team development is Cooperation.  The members concentrate on settling differences to make way for clear definition of organizational mission and objectives.  Manager's role within the team transforms from that of leader to that of a team member.
Interested in learning more about Tuckman's 5-Stage Group Development Model?  You can download an editable PowerPoint on Tuckman's 5 Stages of Group Development here on the Flevy documents marketplace.
Do You Find Value in This Framework?
You can download in-depth presentations on this and hundreds of similar business frameworks from the FlevyPro Library.  FlevyPro is trusted and utilized by 1000s of management consultants and corporate executives. Here's what some have to say:
"My FlevyPro subscription provides me with the most popular frameworks and decks in demand in today's market.  They not only augment my existing consulting and coaching offerings and delivery, but also keep me abreast of the latest trends, inspire new products and service offerings for my practice, and educate me in a fraction of the time and money of other solutions.  I strongly recommend FlevyPro to any consultant serious about success."

– Bill Branson, Founder at Strategic Business Architects
"As a niche strategic consulting firm, Flevy and FlevyPro frameworks and documents are an on-going reference to help us structure our findings and recommendations to our clients as well as improve their clarity, strength, and visual power.  For us, it is an invaluable resource to increase our impact and value."

– David Coloma, Consulting Area Manager at Cynertia Consulting
"FlevyPro has been a brilliant resource for me, as an independent growth consultant, to access a vast knowledge bank of presentations to support my work with clients. In terms of RoI, the value I received from the very first presentation I downloaded paid for my subscription many times over!  The quality of the decks available allows me to punch way above my weight – it's like having the resources of a Big 4 consultancy at your fingertips at a microscopic fraction of the overhead."

– Roderick Cameron, Founding Partner at SGFE Ltd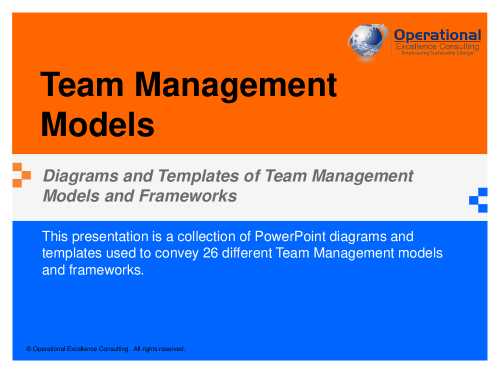 128-slide PowerPoint presentation
This presentation is a collection of PowerPoint diagrams and templates used to convey 26 different Team Management models and frameworks. INCLUDED MODELS/FRAMEWORKS: 1. Mintzberg's Management Roles Model 2. Butler & Waldroop's Four Dimensions of Relational Work Model 3. Lencioni's
[read more]
Readers of This Article Are Interested in These Resources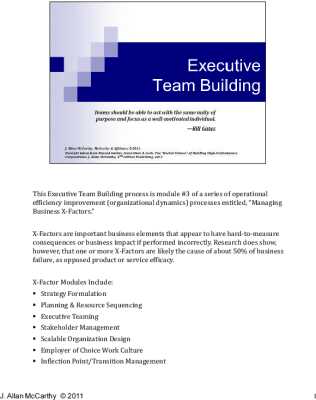 38-slide PowerPoint presentation
Is your company being led by a group or a team? There is a big difference in top and bottom line performance between the two. More often than not, the teaming ability at the top of the organization is the determinant of success or failure as opposed to the technology, product, or idea on which
[read more]
51-slide PowerPoint presentation

22-slide PowerPoint presentation
About Mark Bridges
Mark Bridges is a Senior Director of Strategy at Flevy. Flevy is your go-to resource for best practices in business management, covering management topics from
Strategic Planning
to
Operational Excellence
to
Digital Transformation
(
view full list here
). Learn how the Fortune 100 and global consulting firms do it. Improve the growth and efficiency of your organization by leveraging Flevy's library of best practice methodologies and templates. Prior to Flevy, Mark worked as an Associate at McKinsey & Co. and holds an MBA from the Booth School of Business at the University of Chicago. You can
connect with Mark on LinkedIn here.
Top 10 Recommended Documents on Team Management
111-slide PowerPoint presentation
128-slide PowerPoint presentation
38-slide PowerPoint presentation
51-slide PowerPoint presentation
22-slide PowerPoint presentation
18-slide PowerPoint presentation
31-slide PowerPoint presentation
54-page PDF document
23-slide PowerPoint presentation
55-slide PowerPoint presentation

» View more resources Team Management here.
» View the Top 100 Best Practices on Flevy.