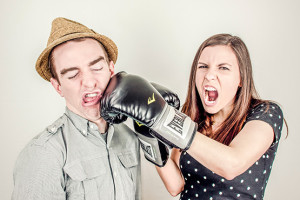 As a manager in big companies I hated workplace politics. Among colleagues you compete for scarce budgets, scarce people and scarce promotion opportunities. This does not bring out the best in people, creating a lot of wrangling and maneuvering. Sometimes it even seems that internal competitors are more vicious than competitors in the market. Individual agendas and self-interest are everywhere around you in the workplace. All the power play, games, gossip and rumors tired me out; you too? All the negative energy creates a corporate culture full of aggression, distrust and fear.
Innovation will flourish in a culture of trust, collaboration and freedom, where you can make mistakes without "your head being chopped off". Workplace politics kills innovation. What can you do?
Stop Negative Politics from Spreading
To deal effectively with workplace politics you must first accept the reality of it. I tried to avoid it, but that didn't work at all. When you don't participate in the political game, you risk not having a say in what happens. I found eight great standards you could apply yourself to stop negative politics from spreading.
Don't pass on gossip, questionable judgments, spread rumors – when you hear something, take a day to consider how much credibility it has.
Rise above interpersonal conflicts – do not get sucked into arguments.
Maintain your integrity at all times – always remain professional, and always remember the organization's interests.
Be positive – avoid whining and complaining.
Be confident and assertive but not aggressive.
When voicing objections or criticism, make sure you take an organizational perspective not a personal one.
Don't rely on confidentiality – assume things will be disclosed and so decide what you should reveal accordingly.
Be a model of integrity to your team, and discourage politics within it.
Pick the Right Moment to Spark Innovation
Once you can deal with the office politics, be sure to pick the right moment to start an innovation project. The right moment to get support for a breakthrough innovation project in a big political company is when doing nothing is a bigger risk. When the people 'steering the tanker' know that they have to change course soon.
These now-we-really-need-to-innovate moments often coincide with incidents, like:
Three continuous quarters without any growth in turnover;
A competitor just introduced a great new product, that envies everyone;
One of your biggest clients just left;
A new competitor entered the market with a revolutionary business model;
You just lost three tenders in a row for a big assignment.
To be really effective as innovator, these are the moments you should wait for to get support for your breakthrough initiatives. An effective innovator in a large organization has to act with the patience of a hunter. You cannot wait too long though. You know completion of the innovation process in a big company takes at least 18-36 months from idea to market introduction.
Remember you can only start an innovation project once for the first time.