BENEFITS OF DOCUMENT
Impress your audience with a more enhanced and professional powerpoint presentation.
Over 1100 wide-ranging diagrams, templates, graphics and icons that are easily adaptable to your specific applications.
Fully-editable diagrams, templates, graphics and icons.
DOCUMENT DESCRIPTION
This product (
1000+ Consulting Diagrams, Templates, Graphics & Icons

) is a 1150-slide PowerPoint presentation (PPTX), which you can download immediately upon purchase.

This presentation is a mega-collection of over 1100 fully editable consulting diagrams, templates, graphics and icons to enhance your PowerPoint presentations, increase productivity and create visual impact. Simply copy and paste, resize or change the color according to your preference.

The above preview only displays less than 10% of the slides.

As a visual tool, they are useful for consulting projects and business presentations. Applications include:

• Communicating organization vision and strategic goals
• Current state to future state transformation
• Stages of transformation or project
• 2x2 quadrant analysis (e.g. BCG matrix)
• Levels of organizational maturity
• Strategic planning and SWOT analysis
• Highlighting key elements in a plan, process, system or framework
• Process flow
• Process improvement cycle (e.g. PDCA, DMAIC)
• Communicating high-level project milestones and project status, etc.

The types of diagrams, templates, graphics and icons in this document include:

30-60-90 day plan template
3D bar charts
4 boxes template
A3 report templates
Affinity diagram templates
Agile roadmaps, process and iterations
Arrow diagrams
Approach diagrams
Balance scorecard templates
Balance sheet templates
BCG matrix disgrams
Break-even analysis curves
Buckets templates
Buzzwords
Change management icebergs
Chess board template
Chevron arrows templates
Circle cubes
Circular diagrams
Circular triangle diagrams with arrows
Cluster analysis diagrams
Comparison of two objects
Continuous improvement diagrams
Coronavirus flattening the curve
Cost reduction diagram
Critical path charts
Cubic diagrams
Customer journey mapping template
Cycle chain process
Cycle diagrams
De Bono's thinking hats
Decline curves
Donut chart templates
Downward sloping curve templates
Empathy map template
FIFO templates
Filter process diagram
Fishbone diagrams
Flowchart templates
Funnel diagrams
Future planning templates
Gantt charts
Gear diagrams
Grass charts
Harvey ball matrix diagram
Healthcare icons
Hierarchy templates
House chart templates
Iceberg diagrams
Icons
Infographics
Inverted yield curves
J-curve
Jigsaws
Lean implementation roadmap template
Lego blocks
LIFO templates
Line chart comparison templates
List diagrams
Marginal utility curves
Market share templates
Matrix diagrams (2x2 and 3x3)
Milestones charts
Normal yield curves
Octagon diagrams
Pentagon templates
Pentagram templates
Persona silhouettes
Pipeline templates
Process flow diagrams
Project plan templates
Pyramid templates
Rating matrix
Rectangular matrix
Relationship diagrams
Rubik cube templates
Rubric template
Scenario analysis
Score meters
Scrum diagram and template
Segment diagrams
Simple growth curves
Simple PERT charts
Six Sigma diagrams
Spiral process templates
Stages diagrams
Stairway diagrams
Standard bell curves
Step boxes
Steps chart templates
Strategy map template
SWOT analysis diagrams
Tachometer templates
Target shapes
Test tubes shapes
Timelines
Traffic lights shapes
Transformation diagrams
Tree diagrams
Triangle diagrams
U-curves
Urgent-Important matrix
V-model template
Value chain diagrams and templates
Value stream mapping template
Venn diagrams
Waterfall diagrams
World maps
Other diagrams, templates, graphics and icons

Got a question about the product? Email us at [email protected] or ask the author directly by using the "Ask the Author a Question" form. If you cannot view the preview above this document description, go here to view the large preview instead.

Source: Best Practices in PowerPoint Diagrams Compilation PowerPoint Slides: 1000+ Consulting Diagrams, Templates, Graphics & Icons PowerPoint (PPTX) Presentation, Operational Excellence Consulting

ABOUT THE AUTHOR: OPERATIONAL EXCELLENCE CONSULTING

Operational Excellence Consulting is a leading management training and consulting firm dedicated to helping individuals and organizations improve their effectiveness and productivity in the post-pandemic new normal. Our mission is to drive lasting beneficial change by leveraging design thinking and lean management approaches. [read more]

We work with a diverse range of clients, including government bodies, multinational corporations, and small and medium-sized enterprises, across a wide spectrum of industries.

Our firm offers a comprehensive suite of capabilities, including Design Thinking, Customer Experience Management, Business Model Innovation, Lean Process Redesign, Total Quality Management (TQM), Total Productive Maintenance (TPM), Kaizen, Value Stream Improvement, Hoshin Kanri (Policy Deployment), Problem Solving Techniques & Tools (e.g. PDCA, 8D, A3, etc.), Training Within Industry (TWI), Suggestion System and Benchmarking.

To ensure the widespread adoption of operational excellence techniques and tools, we pride ourselves on developing high-quality, customizable training materials, presentations, frameworks, and templates to complement your training and business needs.

Operational Excellence Consulting has published 209 additional documents on Flevy.
---
$49.00
All fees included. Immediate download upon purchase.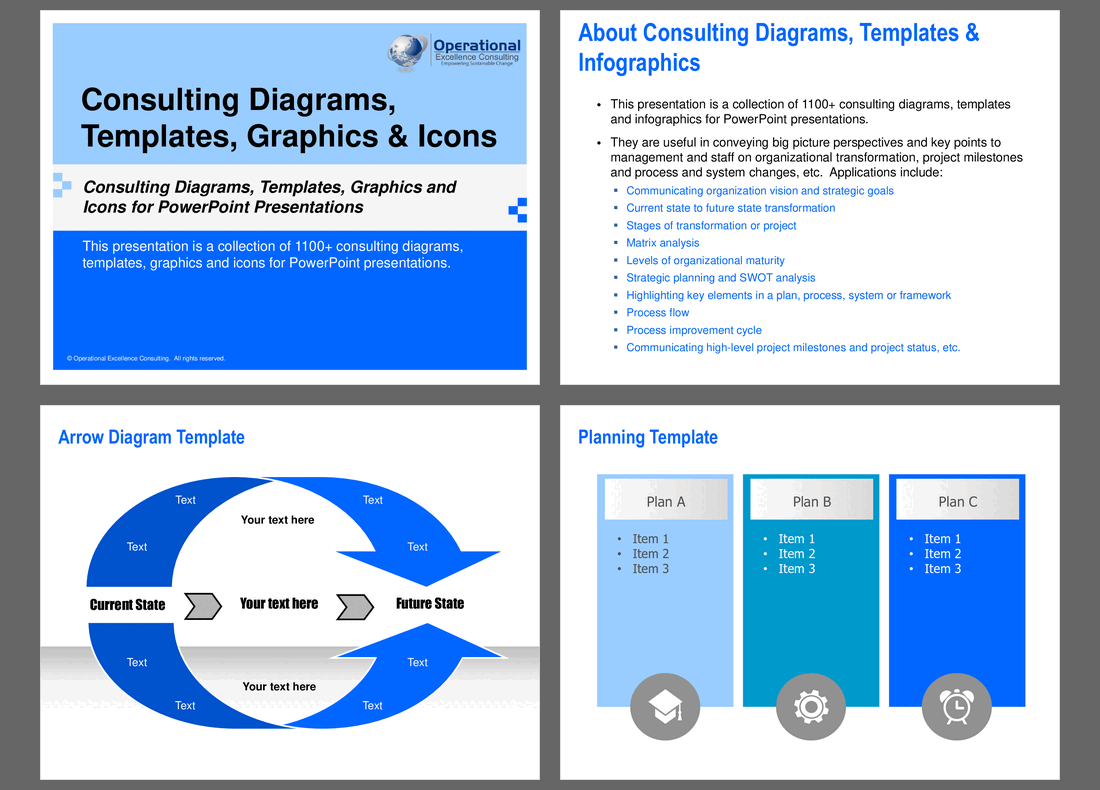 DOCUMENT DETAILS
File Type:
PowerPoint

(
pptx
)
File Size: 22.1 MB
Number of Slides: 1,150 (includes cover and all slides)
Immediate digital download upon purchase.
Lifetime document updates included with purchase.
Completely editable & customizable PPTX document.
Terms of usage
(for all documents from Operational Excellence Consulting)
Initial upload date (first version): Feb 2, 2014
Most recent version published: Jun 24, 2020
---