The Data Analytics Revolution is here. It is transforming how companies organize, operate, manage talent, and create value. In fact,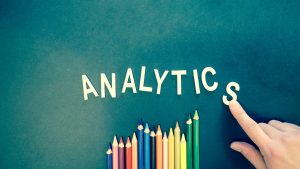 advanced data analytics is now a quintessential business matter. It is important for CEOs and top executives to be able to clearly articulate its purpose and translate it into action. Yet, this is not so.
CEOs and top executives are finding it difficult to articulate the clarity of purpose and act on it. It must not just stay in an Analytics department but must be embedded throughout the organization where the insights will be used. Leaders with strong intuition do not just become better equipped to kick the tires on their analytics efforts.  Leadership Development now calls for leaders to be capable of addressing many critical top management challenges. It now requires employing a range of tools, employing the right personnel, applying hard metrics, and asking hard questions.
Data Analytics is a means to an end. It is a discriminating tool for identifying and implementing a value-driving answer. It can unleash insights that could be the very core of your organization's approach to improving performance. This, however, cannot be achieved if there is no clarity in the purpose of your data.
Data Analytics Revolution: Are We Ready?
The Data Analytics Revolution is transforming how companies organize, operate, manage talents, and create value. But are we ready for this? A number of companies are reaping major rewards from Data Analytics. But this is far from the norm. More CEOs and top executives are avoiding getting dragged into the esoteric weeds.
Data Analytics have complex methodologies and there is a sheer scale of data sets. Machine Learning is becoming increasingly more important. For us to be ready in the onset of Data Analytics Revolutions, we need to be capable of addressing many critical and complimentary top management challenges. We need to be able to ground even the highest analytical aspirations in traditional business principles and deploy a range of tools and people.
To be properly equipped on the proper use of Data Analytics, we just need to develop a mindset for Purpose-driven Analytics anchored on 4 guiding principles.
The 4 Guiding Principles of Purpose-driven Analytics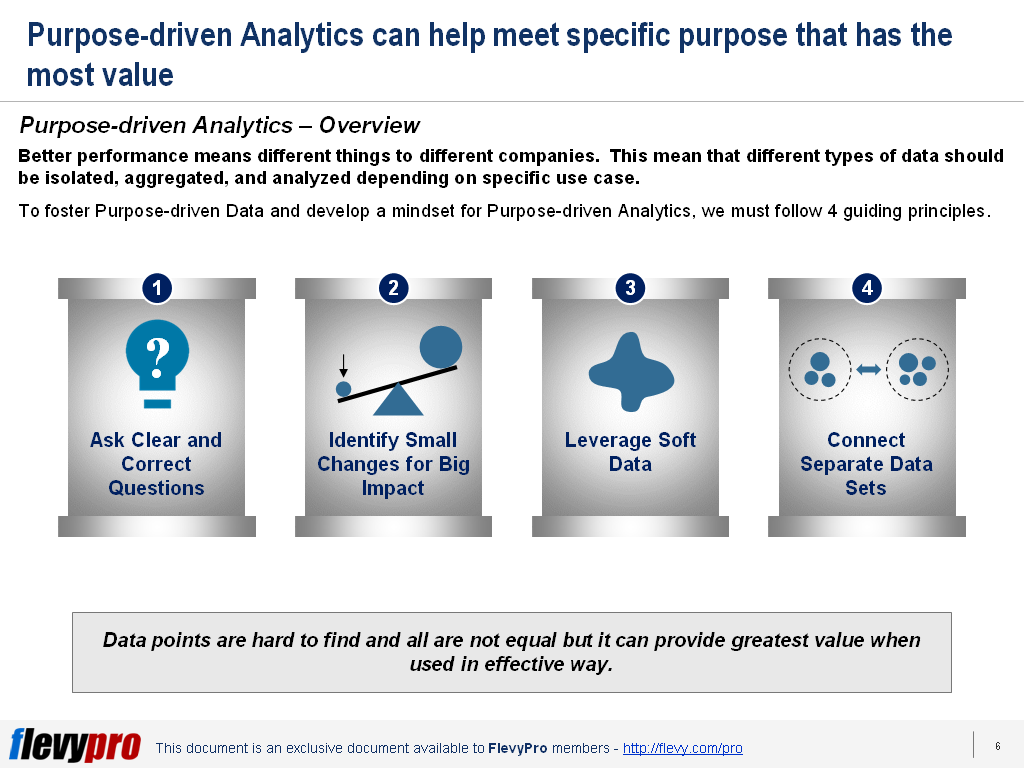 Ask Clear and Correct Questions. The first principle focuses on generating impact the soonest. Hence, precise questions are asked based on the company's best-informed priorities. Here, clarity is essential.
 Identify Small Changes for Big Impact. The second principle focuses on generating gains even on small improvements. There is a need to identify small points of difference to amplify and exploit because the smallest edge can make the biggest difference.
Leverage Soft Data. The third principle focuses on getting quality insights and generating sharper conclusions. It is at this point wherein the use of softer inputs such as industry forecasts, predictions from product experts, and social media commentary are given more emphasis. Soft data is essential when trying to connect the dots between more exact inputs.
Connect Separate Data Sets. The fourth principle focuses on capturing the untapped value. This principle emphasizes the need to combine sources of information to make sharper insights. When different data sets are examined, the greater is the probability that problems can easily be fixed.
From Learning to Doing: Connecting the Dots
It is not enough that organizations learn about Purpose-driven Analytics. One also needs to be able to put these into effective use. Companies undergoing Digital Transformation must take a multi-faceted approach to analyze data to minimize overwhelming complexity. There are 4 guiding principles for Purpose-driven Analytics implementation. Using these principles will facilitate the effective use of analytics and transform outputs into action.
Interested in gaining more understanding of Purpose-driven Analytics? You can learn more and download an editable PowerPoint about Purpose-driven Analytics here on the Flevy documents marketplace.
Do You Find Value in This Framework?
You can download in-depth presentations on this and hundreds of similar business frameworks from the FlevyPro Library. FlevyPro is trusted and utilized by 1000s of management consultants and corporate executives. Here's what some have to say:
"My FlevyPro subscription provides me with the most popular frameworks and decks in demand in today's market. They not only augment my existing consulting and coaching offerings and delivery, but also keep me abreast of the latest trends, inspire new products and service offerings for my practice, and educate me in a fraction of the time and money of other solutions. I strongly recommend FlevyPro to any consultant serious about success."

– Bill Branson, Founder at Strategic Business Architects
"As a niche strategic consulting firm, Flevy and FlevyPro frameworks and documents are an on-going reference to help us structure our findings and recommendations to our clients as well as improve their clarity, strength, and visual power. For us, it is an invaluable resource to increase our impact and value."

– David Coloma, Consulting Area Manager at Cynertia Consulting
"As a small business owner, the resource material available from FlevyPro has proven to be invaluable. The ability to search for material on demand based our project events and client requirements was great for me and proved very beneficial to my clients. Importantly, being able to easily edit and tailor the material for specific purposes helped us to make presentations, knowledge sharing, and toolkit development, which formed part of the overall program collateral. While FlevyPro contains resource material that any consultancy, project or delivery firm must have, it is an essential part of a small firm or independent consultant's toolbox."

– Michael Duff, Managing Director at Change Strategy (UK)
"FlevyPro has been a brilliant resource for me, as an independent growth consultant, to access a vast knowledge bank of presentations to support my work with clients. In terms of RoI, the value I received from the very first presentation I downloaded paid for my subscription many times over! The quality of the decks available allows me to punch way above my weight – it's like having the resources of a Big 4 consultancy at your fingertips at a microscopic fraction of the overhead."

– Roderick Cameron, Founding Partner at SGFE Ltd
"Several times a month, I browse FlevyPro for presentations relevant to the job challenge I have (I am a consultant). When the subject requires it, I explore further and buy from the Flevy Marketplace. On all occasions, I read them, analyze them. I take the most relevant and applicable ideas for my work; and, of course, all this translates to my and my clients' benefits."

– Omar Hernán Montes Parra, CEO at Quantum SFE