Forging collaboration among persons, teams, and organizations can sometimes be a perfect storm. Often, we expect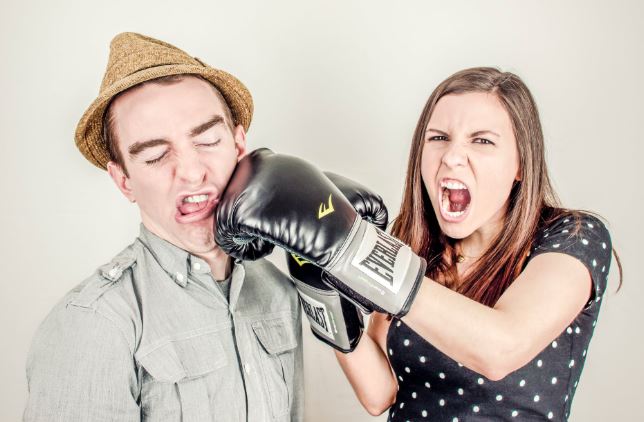 that members who oppose each other will just blend in when working together on their most crucial and difficult mutual problems. Yet, situations like these can cause circumstances to veer out of control. Conflicts can erupt that may be unresolvable.
The conventional model of collaboration can be a faux pas when it comes to these situations. Yet, the importance of collaboration is more emphasized today where problems have become more global and magnified.
Collaboration with enemies is a skill worth retooling.
Asking the Right Questions
Business confrontations can be dramatic, but most are not. There are circumstances that might veer out of control. There are conflicts that seem to be unresolvable. We cannot apply more basic principles, such as building effective teams.  This can be a dilemma for companies on how to move forward and initiate collaboration in situations like this.
Collaboration is often initiated by asking the right questions. Leadership must learn to ask 5 crucial questions to initiate collaboration. Answering these questions can involve a delicate dance of managerial authority and employee adaptation. The boss can lead everyone to see the problem the same way and then agree on a way forward. But, what if the opposite occurs. When this happens, it is time to introduce Stretch Collaboration.
What Is Stretch Collaboration?
Collaborating under normal circumstances may be easy. But today where business is so volatile and disruptive, every player may take an opposing end.
What if the people in the room are working at cross-purposes?
What if they cannot even agree on what the problem is, must less how to solve it?
What if there is low trust among the people and there is no one who can control the situation?
What if the only thing people can agree on is that the situation is unacceptable and must be changed?
Placed in a difficult situation, the best approach is to find a way to collaborate despite disagreements.
Agreement is off the table in a situation like this. Stretch Collaboration is just the way to go.
The 3 Principles of Stretch Collaboration
The 3 Stretch Collaboration Principles are crucial in addressing the key questions of collaboration.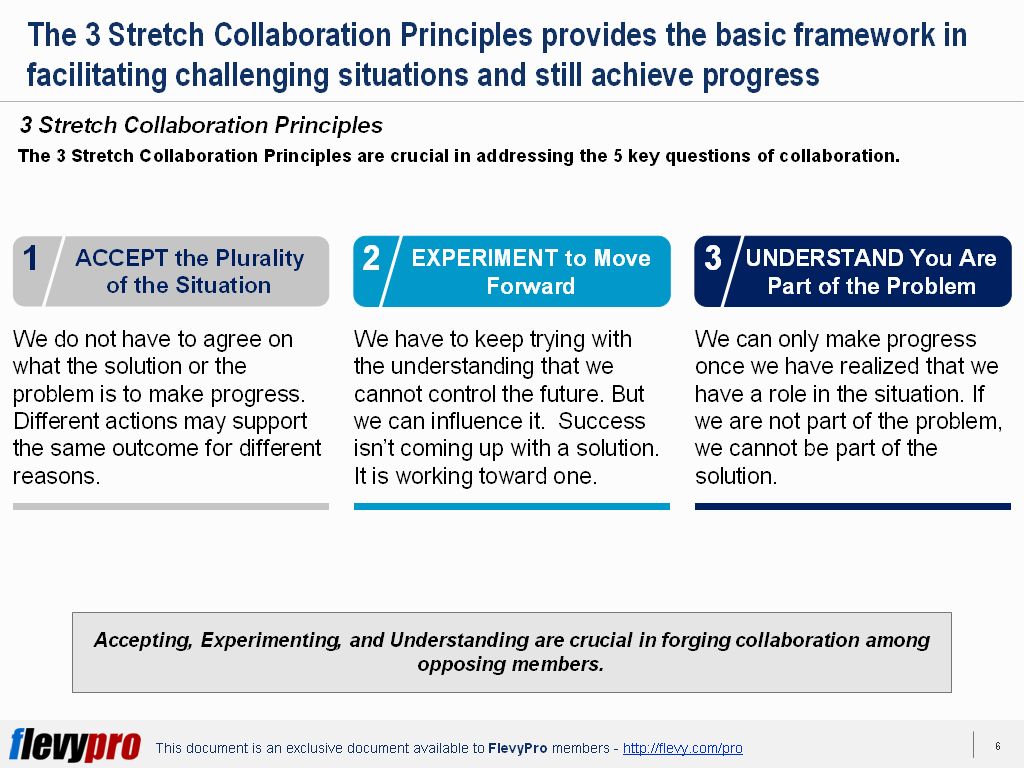 1st Principle: Accept the Plurality of the Situation
Every participating person, team, and organization is a whole. Interacting with other wholes, each person, team, and organization carries a different idea of what is and what should be.
By working together, collaboration gets shaped depending on the situation that people, teams, and organizations are confronted with.
2nd Principle: Experiment to Find a Way Forward
Success is not achieved by coming up with a solution. Success is achieved when everyone is working toward it. Stretch collaboration requires a good understanding that we cannot control the future but we can influence it.
3rd Principle: Understand You are Part of the Problem
Progress is impossible until we recognize that we are part of the situation. If we are not part of the problem then we cannot be part of the solution.
Putting the principles into action can be a challenge. But, it has shown successful results when applied in addressing crucial problems and conditions. It has been effective when it involves high-level positions having opposing views and opinions.
In the truest sense, Stretch Collaboration is collaborating with the enemy. It is a skill that companies must learn today. In a volatile world where discord has become a natural occurrence, it is one skill that is most crucial in management. While we cannot control the future, we can still influence it.
Interested in gaining more insights on Stretch Collaboration and how we can better manage it? You can learn more and download an editable Powerpoint about Stretch Collaboration here on the Flevy documents marketplace.
Do You Find Value in This Framework?
You can download in-depth presentations on this and hundreds of similar business frameworks from the FlevyPro Library. FlevyPro is trusted and utilized by 1000s of management consultants and corporate executives. Here's what some have to say:
"My FlevyPro subscription provides me with the most popular frameworks and decks in demand in today's market. They not only augment my existing consulting and coaching offerings and delivery, but also keep me abreast of the latest trends, inspire new products and service offerings for my practice, and educate me in a fraction of the time and money of other solutions. I strongly recommend FlevyPro to any consultant serious about success."

– Bill Branson, Founder at Strategic Business Architects
"As a niche strategic consulting firm, Flevy and FlevyPro frameworks and documents are an on-going reference to help us structure our findings and recommendations to our clients as well as improve their clarity, strength, and visual power. For us, it is an invaluable resource to increase our impact and value."

– David Coloma, Consulting Area Manager at Cynertia Consulting
"As a small business owner, the resource material available from FlevyPro has proven to be invaluable. The ability to search for material on demand based our project events and client requirements was great for me and proved very beneficial to my clients. Importantly, being able to easily edit and tailor the material for specific purposes helped us to make presentations, knowledge sharing, and toolkit development, which formed part of the overall program collateral. While FlevyPro contains resource material that any consultancy, project or delivery firm must have, it is an essential part of a small firm or independent consultant's toolbox."

– Michael Duff, Managing Director at Change Strategy (UK)
"FlevyPro has been a brilliant resource for me, as an independent growth consultant, to access a vast knowledge bank of presentations to support my work with clients. In terms of RoI, the value I received from the very first presentation I downloaded paid for my subscription many times over! The quality of the decks available allows me to punch way above my weight – it's like having the resources of a Big 4 consultancy at your fingertips at a microscopic fraction of the overhead."

– Roderick Cameron, Founding Partner at SGFE Ltd
"Several times a month, I browse FlevyPro for presentations relevant to the job challenge I have (I am a consultant). When the subject requires it, I explore further and buy from the Flevy Marketplace. On all occasions, I read them, analyze them. I take the most relevant and applicable ideas for my work; and, of course, all this translates to my and my clients' benefits."

– Omar Hernán Montes Parra, CEO at Quantum SFE