What's the Best Way to Manage and Communicate with Virtual Teams?
Featured Best Practice on Team Management
111-slide PowerPoint presentation
In today's flexible working model where employees work from home and the office, the ongoing challenges of creating the magical bond between team members can be elusive. Moreover, it has become increasingly challenging, since we have been moving from the emphasis on social skills to technical
[read more]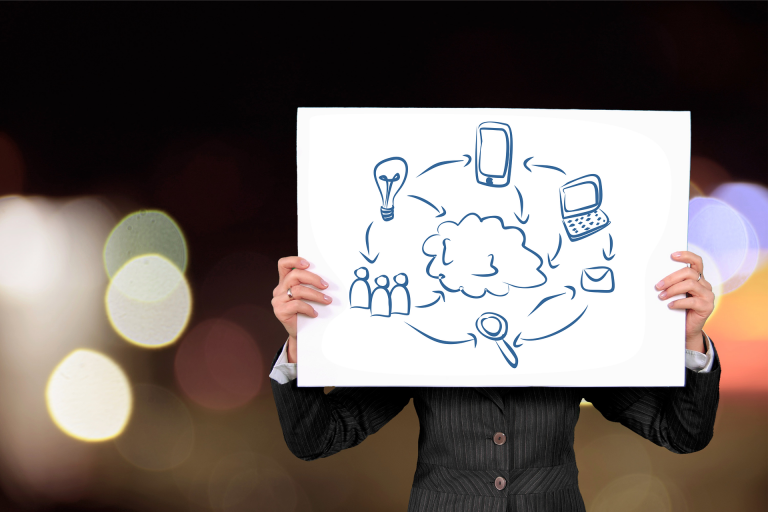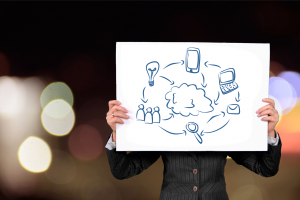 The number of people working remotely has been increasing progressively across the globe.  An employee benefits report narrates that around 60% companies in the US offer telecommuting opportunities.  Telecommuting not only benefits people but also presents several advantages for organizations.  Research has attributed an increase in savings of around $2000 per employee each year on real estate costs, enhanced productivity, and lower attrition rates to telecommuting.  Employees have been found to focus better on work and take less days off while operating remotely.
Building effective teams is difficult, more so when these teams are remotely managed.  For managers and leaders who constantly deal with virtual teams, it is communication that is one of their biggest concerns, in the absence of face-to-face settings.  Some of their other concerns include ensuring all team members are connected and striving towards the same organizational goal, recording accurate hours, assigning appropriate tasks, trust, and teamwork.  Therefore, having a Communications Strategy and structured approach becomes critical.
Addressing these challenges and properly managing a virtual team requires the managers to establish clear goals, conduct frequent team meetings, leverage team members' strengths, and communicate clearly.  However, most leaders believe that the increasing sophistication and proliferation of collaborative technologies enable better virtual communication.  On the other hand, studies on globally scattered teams relate performance not with technologies but with effective utilization of these technologies.
Research has revealed 5 best practices to enable effective communication between virtual teams.  The teams who embraced these communication approaches were found to produce quality deliverables, complete tasks timely, collaborate productively, and meet or exceed their targets:
Select the Fitting Technology
Be Clear
Stay in Sync
Be Responsive
Be Inclusive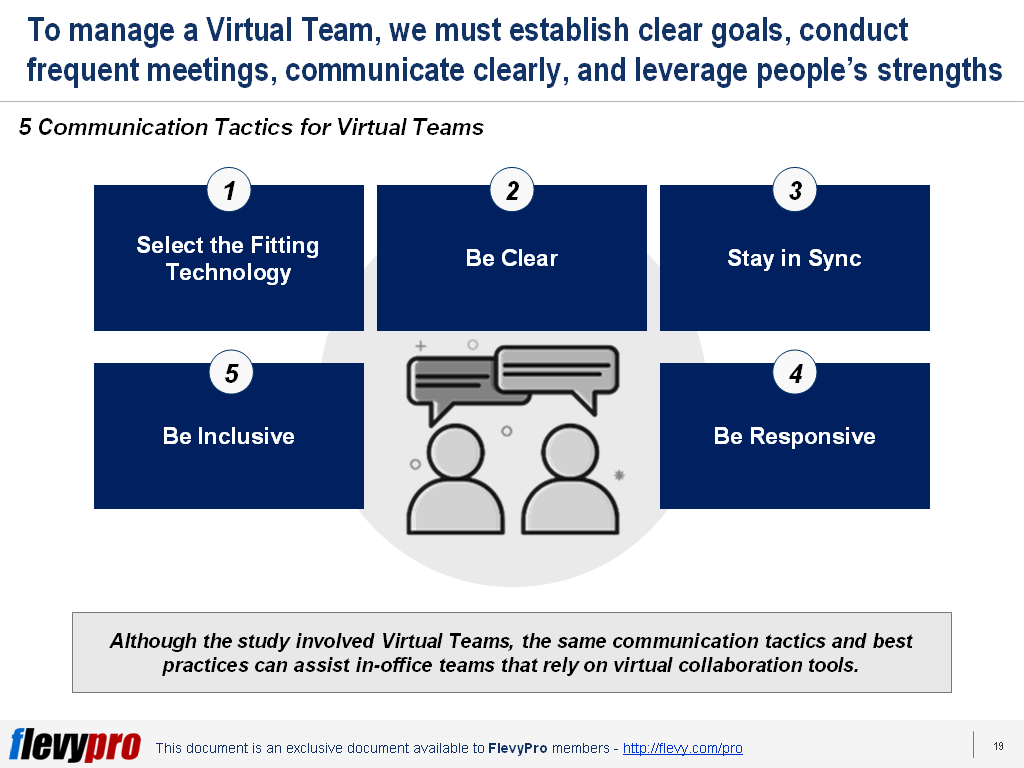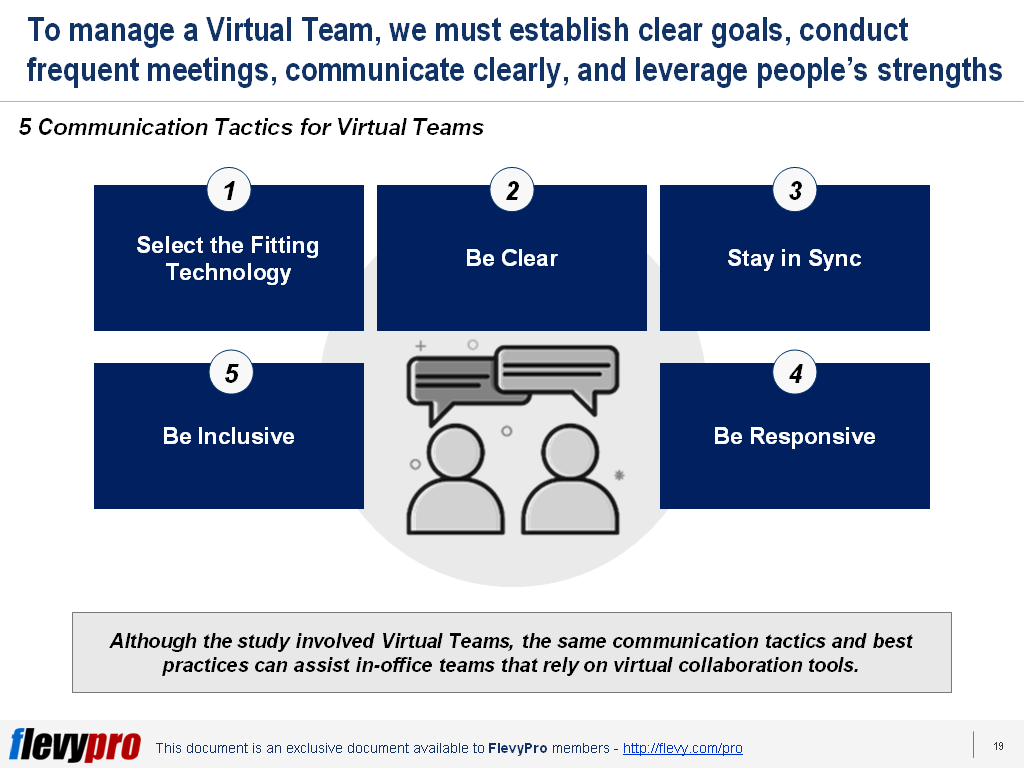 Now, let's take a deeper look at the first 3 approaches to facilitate effective communication with virtual teams.
Select the Fitting Technology
To enable proper interaction between virtual teams, leaders need to develop communication protocols and choose appropriate communication technologies.  A variety of communication tools are available to teams—e.g., email, chat platforms, web conferencing, and videoconferencing—yet most people prefer those that they are proficient in instead of other better-suited options, which causes problems.
The selection of technology should complement the purpose of communication.  Text-based media—e.g., email or chat—should be used to convey routine information, ideas, and to gather simple data.  For more complex tasks—including problem solving, negotiations, or to settle arguable interpersonal matters—richer media tools such as web conferencing and videoconferencing should be preferred.  Team managers need to arrange proper training of their people to ensure all the team members can use the tools to their best.
Be Clear
A major portion of communication around the globe is text-based.  While using email communication, the intentions of the sender are often misunderstood by the recipient, causing assumptions, biases, and disputes that are not destructive for team performance.  The reasons for this misinterpretation can be attributed to unintentional negative tone by the sender, absence of nonverbal cues, and difference in perceptions of the sender and recipient.
To avoid misinterpretation, biases, and disputes, virtual teams should try and outline their intentions as clearly as possible in the message, ensure appropriateness of the message tone, use emojis to convey emotions, and emphasize the important information.
Stay in Sync
Virtual teams are more likely to lose track of each other and become out of sync due to a number of reasons.  This could be due to the absence of in-person meetings, the inability to tell if the messages have been received and read, unintentional exclusion of certain team members from an email, and the inability to keep the virtual coworkers constantly informed of all in-office events.
Globally dispersed teams can overcome these challenges and effectively in sync with each other by maintaining consistent flow of information to all teammates, avoiding silence, acknowledging the receipt of important messages, clarifying others' intentions, maintaining a favorable opinion about others, and keeping negativity at bay.
Interested in learning more about the 5 best practices to effective communication with virtual teams?  You can download an editable PowerPoint on Effective Communication with Virtual Teams here on the Flevy documents marketplace.
Do You Find Value in This Framework?
You can download in-depth presentations on this and hundreds of similar business frameworks from the FlevyPro Library. FlevyPro is trusted and utilized by 1000s of management consultants and corporate executives. Here's what some have to say:
"My FlevyPro subscription provides me with the most popular frameworks and decks in demand in today's market. They not only augment my existing consulting and coaching offerings and delivery, but also keep me abreast of the latest trends, inspire new products and service offerings for my practice, and educate me in a fraction of the time and money of other solutions. I strongly recommend FlevyPro to any consultant serious about success."

– Bill Branson, Founder at Strategic Business Architects
"As a niche strategic consulting firm, Flevy and FlevyPro frameworks and documents are an on-going reference to help us structure our findings and recommendations to our clients as well as improve their clarity, strength, and visual power. For us, it is an invaluable resource to increase our impact and value."

– David Coloma, Consulting Area Manager at Cynertia Consulting
"As a small business owner, the resource material available from FlevyPro has proven to be invaluable. The ability to search for material on demand based our project events and client requirements was great for me and proved very beneficial to my clients. Importantly, being able to easily edit and tailor the material for specific purposes helped us to make presentations, knowledge sharing, and toolkit development, which formed part of the overall program collateral. While FlevyPro contains resource material that any consultancy, project or delivery firm must have, it is an essential part of a small firm or independent consultant's toolbox."

– Michael Duff, Managing Director at Change Strategy (UK)
"FlevyPro has been a brilliant resource for me, as an independent growth consultant, to access a vast knowledge bank of presentations to support my work with clients. In terms of RoI, the value I received from the very first presentation I downloaded paid for my subscription many times over! The quality of the decks available allows me to punch way above my weight – it's like having the resources of a Big 4 consultancy at your fingertips at a microscopic fraction of the overhead."

– Roderick Cameron, Founding Partner at SGFE Ltd
"Several times a month, I browse FlevyPro for presentations relevant to the job challenge I have (I am a consultant). When the subject requires it, I explore further and buy from the Flevy Marketplace. On all occasions, I read them, analyze them. I take the most relevant and applicable ideas for my work; and, of course, all this translates to my and my clients' benefits."

– Omar Hernán Montes Parra, CEO at Quantum SFE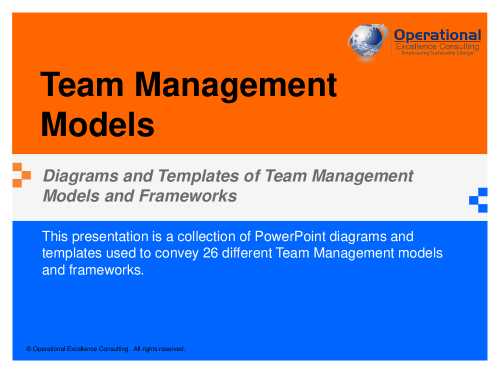 128-slide PowerPoint presentation
This presentation is a collection of PowerPoint diagrams and templates used to convey 26 different Team Management models and frameworks. INCLUDED MODELS/FRAMEWORKS: 1. Mintzberg's Management Roles Model 2. Butler & Waldroop's Four Dimensions of Relational Work Model 3. Lencioni's
[read more]
Readers of This Article Are Interested in These Resources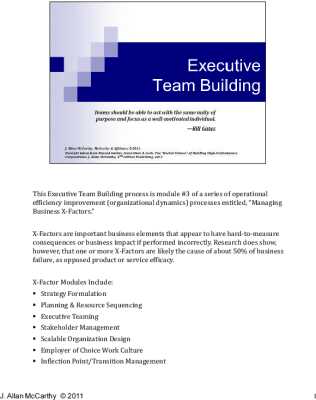 38-slide PowerPoint presentation
Is your company being led by a group or a team? There is a big difference in top and bottom line performance between the two. More often than not, the teaming ability at the top of the organization is the determinant of success or failure as opposed to the technology, product, or idea on which
[read more]
51-slide PowerPoint presentation

22-slide PowerPoint presentation
About Mark Bridges
Mark Bridges is a Senior Director of Strategy at Flevy. Flevy is your go-to resource for best practices in business management, covering management topics from
Strategic Planning
to
Operational Excellence
to
Digital Transformation
(
view full list here
). Learn how the Fortune 100 and global consulting firms do it. Improve the growth and efficiency of your organization by leveraging Flevy's library of best practice methodologies and templates. Prior to Flevy, Mark worked as an Associate at McKinsey & Co. and holds an MBA from the Booth School of Business at the University of Chicago. You can
connect with Mark on LinkedIn here.
Top 10 Recommended Documents on Team Management
111-slide PowerPoint presentation
128-slide PowerPoint presentation
38-slide PowerPoint presentation
51-slide PowerPoint presentation
22-slide PowerPoint presentation
18-slide PowerPoint presentation
31-slide PowerPoint presentation
54-page PDF document
23-slide PowerPoint presentation
55-slide PowerPoint presentation

» View more resources Team Management here.
» View the Top 100 Best Practices on Flevy.