If you're familiar with the strategic management framework Balanced Scorecard, you may have also come across the concept of a Strategy Map.  After all, a Strategy Map is a core element of the formulation of a Balanced Scorecard.  Both frameworks were developed by Robert Kaplan and David Norton.
Wikipedia defines a Strategy Map as:
A diagram that is used to document the primary strategic goals being pursued by an organization or management team.
More specifically, a Strategy Map describes how our organization creates value  by connecting strategic objectives in explicitly cause-and-effect relationship with each other in the four Balanced Scorecard objectives:
Financial
Customer
Processes
Learning and Growth
The diagram below captures how the Strategic Map (along with the Balanced Scorecard) fits within the full process of translation corporate mission into strategic outcomes.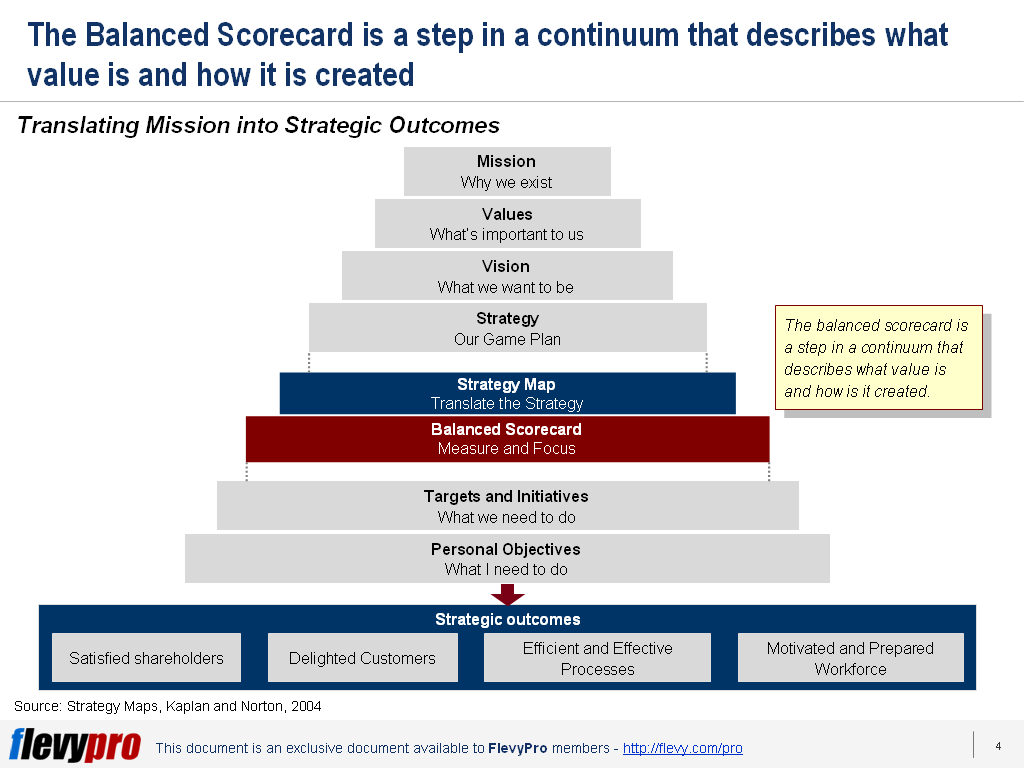 Strategy Maps enable managers to capture their plans in an easy-to-read one-page visual.  It also connects vision, strategy, and resources at all organization levels.   A core feature of this framework is its emphasis on communication strategy to the whole workforce.  In fact, a Strategy Map can help tremendously in describing the strategy and to communicate the strategy among executives and to their employees.
This slide below shows how a Strategy Map is structured and presented: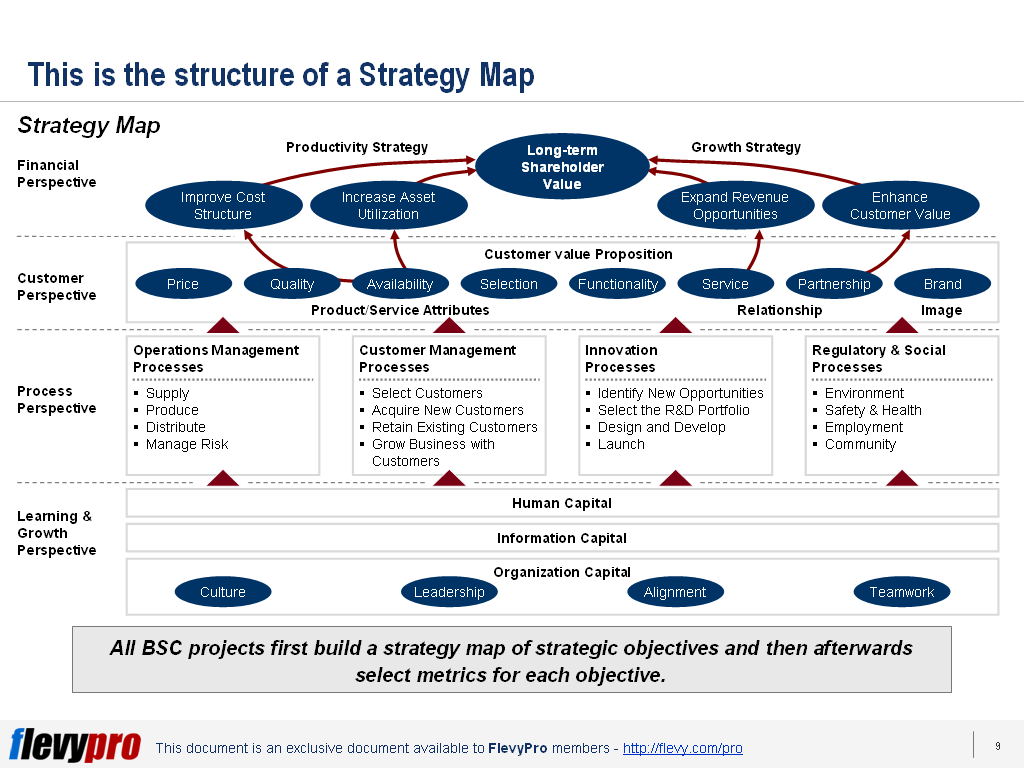 As we can see, the Strategy Map provides a visual to connect all of the following elements:
You can learn more about Strategy Maps and download an editable PowerPoint about the Strategy Maps here on the Flevy documents marketplace.
Do You Find Value in This Framework?
You can download in-depth presentations on this and hundreds of similar business frameworks from the FlevyPro Library. FlevyPro is trusted and utilized by 1000s of management consultants and corporate executives. Here's what some have to say:
"My FlevyPro subscription provides me with the most popular frameworks and decks in demand in today's market. They not only augment my existing consulting and coaching offerings and delivery, but also keep me abreast of the latest trends, inspire new products and service offerings for my practice, and educate me in a fraction of the time and money of other solutions. I strongly recommend FlevyPro to any consultant serious about success."

– Bill Branson, Founder at Strategic Business Architects
"As a niche strategic consulting firm, Flevy and FlevyPro frameworks and documents are an on-going reference to help us structure our findings and recommendations to our clients as well as improve their clarity, strength, and visual power. For us, it is an invaluable resource to increase our impact and value."

– David Coloma, Consulting Area Manager at Cynertia Consulting
"As a small business owner, the resource material available from FlevyPro has proven to be invaluable. The ability to search for material on demand based our project events and client requirements was great for me and proved very beneficial to my clients. Importantly, being able to easily edit and tailor the material for specific purposes helped us to make presentations, knowledge sharing, and toolkit development, which formed part of the overall program collateral. While FlevyPro contains resource material that any consultancy, project or delivery firm must have, it is an essential part of a small firm or independent consultant's toolbox."

– Michael Duff, Managing Director at Change Strategy (UK)
"FlevyPro has been a brilliant resource for me, as an independent growth consultant, to access a vast knowledge bank of presentations to support my work with clients. In terms of RoI, the value I received from the very first presentation I downloaded paid for my subscription many times over! The quality of the decks available allows me to punch way above my weight – it's like having the resources of a Big 4 consultancy at your fingertips at a microscopic fraction of the overhead."

– Roderick Cameron, Founding Partner at SGFE Ltd
"Several times a month, I browse FlevyPro for presentations relevant to the job challenge I have (I am a consultant). When the subject requires it, I explore further and buy from the Flevy Marketplace. On all occasions, I read them, analyze them. I take the most relevant and applicable ideas for my work; and, of course, all this translates to my and my clients' benefits."

– Omar Hernán Montes Parra, CEO at Quantum SFE