The Competing Values Framework (CVF), developed by Robert Quinn and Jon Rohrbaugh in the 1980s, is a management theory that was developed initially from research done on the major indicators of effective organizational performance. Based on statistical analyses of a comprehensive list of effectiveness indicators, Quinn and Rohrbaugh discovered 2 major dimensions underlying conceptions of effectiveness, focused on:
Organizational focus
Organizational preference for structure
Together, the 2 dimensions form 4 quadrants, with each quadrant unique and defining sets of values and implications.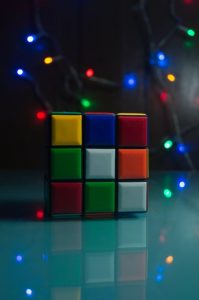 This model has been found useful for organizing and understanding a variety of topics related to Organizational Design, and extending beyond, including Leadership Development and Organizational Culture. Here is a broad list of topics where we can apply CVF:
Organizational Design
Organizational Effectiveness
Leadership Competencies
Organizational Culture
Stages of Life Cycle Development
Organizational Quality
Leadership Roles
Financial Strategy
Information Processing
Brain Functioning
Below is a diagram capturing the essence of this framework:
Now, let's take a deeper dive into each of the quadrants.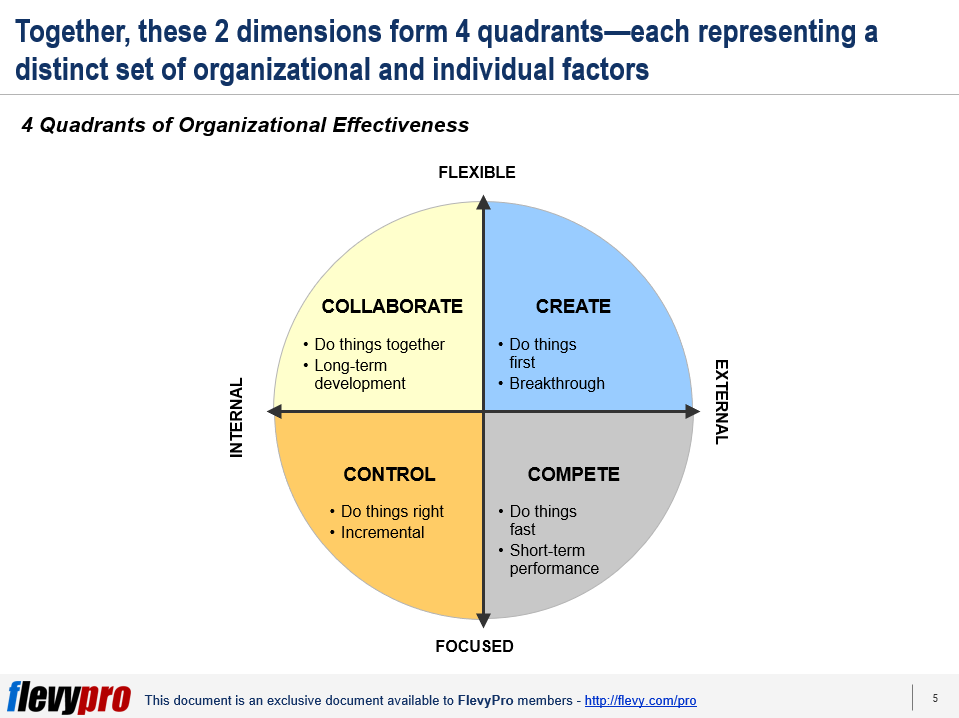 Collaborate – Human Relations Model
The top-left quadrant places a lot of emphasis on flexibility and internal focus. It stresses cohesion, morale, and human resources development as criteria for effectiveness.
General competences and attributes for organizations in this quadrant include teamwork, collaboration, talent management, empowerment, or inter-personal relationships.  Key value drivers include commitment, communication, and development.
Leaders fitting this collaborative orientation tend to fit the profile of facilitators, mentors, and team builders.  Facilitators tend to manage conflict well, using participative decision making.
Create – Open System Model
The top-right quadrant emphasizes flexibility and external focus, and stresses readiness, growth, resource acquisition, and external support. Tools and techniques, including innovation, creativity, articulating future vision, transformation change, or entrepreneurship, are highlighted here.
Control – Internal Process Model
The bottom-left quadrant emphasizes control and an internal focus; and stresses the role of information management, communication, stability, and control. Tools and techniques, including assessing and measuring, controlling processes, structuring, efficiency improvement, or quality enhancement, are highlighted here.
Compete – Rational Goal Model
The final quadrant emphasizes control and an external focus. It regards planning, goal setting, productivity, and efficiency as being effective. Tools and techniques, including competitiveness, fast response, decisiveness, driving through barriers, or goal achievement, are highlighted here.
Interested in gaining more understanding of CVF?  You can learn more and download an editable PowerPoint about the Competing Values Framework (CVF) here on the Flevy documents marketplace.
Do You Find Value in This Framework?
You can download in-depth presentations on this and hundreds of similar business frameworks from the FlevyPro Library. FlevyPro is trusted and utilized by 1000s of management consultants and corporate executives. Here's what some have to say:
"My FlevyPro subscription provides me with the most popular frameworks and decks in demand in today's market. They not only augment my existing consulting and coaching offerings and delivery, but also keep me abreast of the latest trends, inspire new products and service offerings for my practice, and educate me in a fraction of the time and money of other solutions. I strongly recommend FlevyPro to any consultant serious about success."

– Bill Branson, Founder at Strategic Business Architects
"As a niche strategic consulting firm, Flevy and FlevyPro frameworks and documents are an on-going reference to help us structure our findings and recommendations to our clients as well as improve their clarity, strength, and visual power. For us, it is an invaluable resource to increase our impact and value."

– David Coloma, Consulting Area Manager at Cynertia Consulting
"As a small business owner, the resource material available from FlevyPro has proven to be invaluable. The ability to search for material on demand based our project events and client requirements was great for me and proved very beneficial to my clients. Importantly, being able to easily edit and tailor the material for specific purposes helped us to make presentations, knowledge sharing, and toolkit development, which formed part of the overall program collateral. While FlevyPro contains resource material that any consultancy, project or delivery firm must have, it is an essential part of a small firm or independent consultant's toolbox."

– Michael Duff, Managing Director at Change Strategy (UK)
"FlevyPro has been a brilliant resource for me, as an independent growth consultant, to access a vast knowledge bank of presentations to support my work with clients. In terms of RoI, the value I received from the very first presentation I downloaded paid for my subscription many times over! The quality of the decks available allows me to punch way above my weight – it's like having the resources of a Big 4 consultancy at your fingertips at a microscopic fraction of the overhead."

– Roderick Cameron, Founding Partner at SGFE Ltd
"Several times a month, I browse FlevyPro for presentations relevant to the job challenge I have (I am a consultant). When the subject requires it, I explore further and buy from the Flevy Marketplace. On all occasions, I read them, analyze them. I take the most relevant and applicable ideas for my work; and, of course, all this translates to my and my clients' benefits."

– Omar Hernán Montes Parra, CEO at Quantum SFE