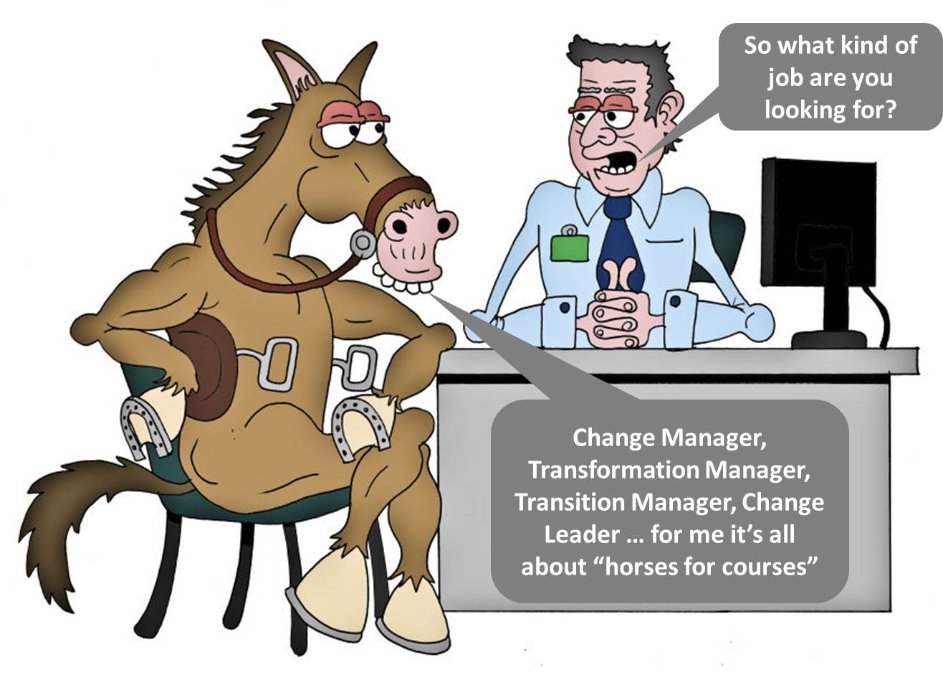 Just as a "starter for 10," when you type in "Change Management" as a search string into Google, you get in excess of 2 million hits.
I have published many of my previous articles, because the issues I have tackled all seem to be the subject of continuing debates on LinkedIn and this one is no different. In my article called Project Management vs Change Management, I said Change and Change Management are widely recognised terms, but unfortunately misunderstood ones… therein is probably the subject of another article.
So, here is that article.
First of all let's go with a few definitions (as usual) but I am not going to quote some of the better known sources; e.g. Prosci rather I have chosen some lesser known sources at random:
It seems that although they all define the term differently, they all have essentially the same/similar message:
Moving from Old to New.
Achievement of Success and Benefits.
People and Individuals.
Structured and Systematic.
Expanding on the last bullet, the Change Management "NO" fraternity will argue that–yes, you guessed it–change cannot be managed! Well, I kind of agree and disagree. Why? Because:
You can manage all of the following which can be included in a plan and have associated timescales and deliverables:

Organisational Change.
Training.

What you cannot manage and include in a plan and have associated timescales and deliverables for (but will clearly impact them) is:

Change Resistance.
Corporate Culture.
Business Readiness.
Leadership Styles.
NOTE: It is arguable that these should form part of a Change Management Risk plan!
So for me, there are two sides of Change Management… the hard side and the soft side. Whether these can be managed by a single individual is the key issue. I have made my view on this subject abundantly clear in the PM vs CM post I referred to earlier.
But let's move on to the wider debate of what can we replace the term with!
There are those that argue their case for Change Leadership… 900,000 + hits on Google by the way.
Forbes published an article by John Kotter in 2011 called Change Management vs. Change Leadership — What's the Difference? in which he distinguishes between the two:
Change Management is a set of processes and a set of tools and a set of mechanisms that are designed to make sure that when you do try to make some changes, A, it doesn't get out of control, and B, the number of problems associated with it—you know, rebellion among the ranks, bleeding of cash that you can't afford–doesn't happen. So it is a way of making a big change and keeping it, in a sense, under control.
Change Leadership associated with putting an engine on the whole change process, and making it go faster, smarter, more efficiently. It's more associated, therefore, with large scale changes.
Interesting that he differentiates between the two yet I think he is also saying that the two go hand-in-hand … that's my take anyhow.
Then there are those that would go with Transformation Management (note the use of the word management). Just let's complicate matters for a short while by referring you to the following article in The Change Leader's Network in which they talk about:
Developmental Change.
Transitional Change.
Transformational Change.
Started to get a headache yet? Yes? Good!
And just to make matters worse let's talk about Transition Management which the Business Dictionary explains as the "Systematic planning, implementing, and monitoring change in an organization."
Wait a minute have we now turned full circle because we are talking about change again!
Sometimes I associate things with music and all of a sudden I have started singing the Beatles song "Help" in my head … note the use of the word "changed" in the lyrics! Sorry a slight digression… let's continue.
So we have Leadership, Change, Transformation and Transition. It is interesting when you run these words through the "MS Word" Thesaurus:
Leadership – management, control, guidance, headship, direction, governance.
Change – alteration, modification, variation, transformation, revolution, conversion, adjustment, amendment, difference.
Transformation – alteration, change, conversion, revolution, renovation, makeover.
Transition – change, changeover, evolution, conversion, shift, move, switch, alteration, modification.
What this tells me is that Change, Transformation and Transition really all mean the same thing but Leadership is a bit different although you will note the words management, control and direction.
Finally …
I think I may have used this phrase before … "horses for courses". That to me sums up this whole debate. If you, or an organisation, feel comfortable with the words Change Management then what the hell, carry on using it. Equally so for the words Leadership, Transformation and Transition!
Me, I am a Change Manager, always have been and always will be but I can be a leader and I can also get involved in transformation and transition work.
In reference to the term Change Management, another Beatles song has just come into my mind … "Let It Be."