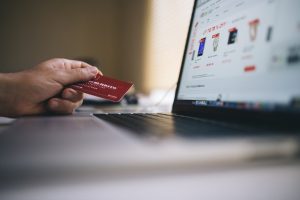 The constant advancement in technology has raised the expectations of customers in terms of their interaction with companies.  This digital disruption is also forcing businesses to develop new capabilities and explore innovative ways and means to deliver improved Customer Experiences.
Organizations can overhaul their Customer Journeys by embracing latest digital insights and practices.  To develop a truly exceptional, breakthrough Customer Experience, organizations should work towards adopting 7 key imperatives:
Develop Customer Empathy
Design the Complete Customer Experience
Reinvent the Customer Experience
Lead the Way with Industry Rules
Become an Agile Organization
Continuously Improve and Iterate
Foster a Culture of Collaboration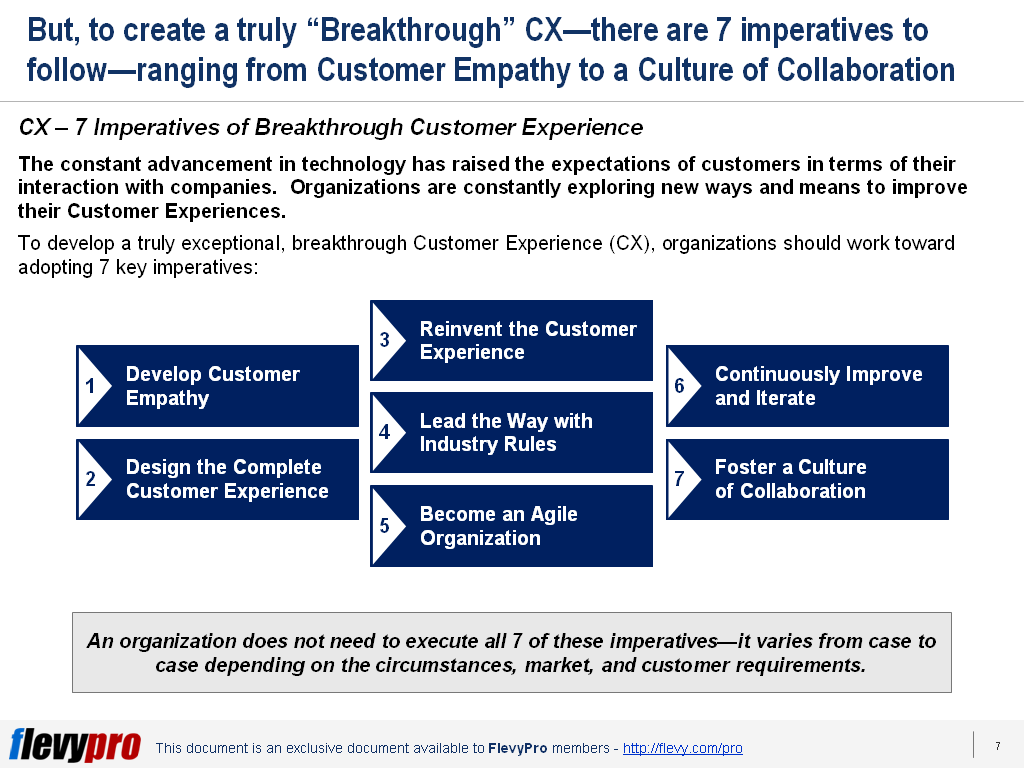 An organization does not need to execute all 7 of these imperatives—it varies from case to case depending on the circumstances, market, and customer requirements.
Let's, now, discuss the first 4 imperatives in further detail.
Develop Customer Empathy
Many firms use surveys and face-to-face interviews to gather firsthand customer insights to enhance their Customer Experiences.
However, when designing Customer Journeys—in addition to customer data—companies need to understand their customers' behaviors deeply and put themselves in their customers' shoes.  This entails knowing the complexities the customers face during various journeys and developing new ways to understand Customer Journeys—for instance, by making researchers accompany customers while shopping, by asking customers to report their activities and provide feedback as they interact with various offerings, and involving customers to provide their input on early versions of proposed offerings.
Design the Complete Customer Experience
Most people consider that design pertains only to good artwork, outlook, and appearance of products.
However, it involves not just the look and feel of a product but also the way it operates.  To render breakthrough Customer Experience, companies need to fundamentally shift the way design is perceived—not just the user interface design rather designing the overall Customer Experience.
Great Customer Experience design encompasses crafting every interface the customers have with the provider from the minute they consider a purchase.  It warrants enrolling all people that can make a difference to the customer (especially from the operations and IT units), mapping out customer touchpoints, and transforming fundamental systems and processes.
Reinvent the Customer Experience
Improving current Customer Journeys enables achieving incremental cost reductions and quality enhancements.
However, to improve Customer Journeys there is a need to shift the way Customer Journeys are perceived—from merely addressing the issues in a Customer Journey and streamlining a process to completely transforming the entire Customer Experience.
This should be done by carefully deliberating on and thoroughly analyzing all journeys from a customer's perspective, drawing inspirations and studying benchmarks from other industries, and addressing customers' needs.
Lead the Way with Industry Rules
Financial institutions are, to this day, quite cautious of utilizing technology to verify customers' identification documents for deposit account opening.  Compliance teams at these institutions often resist the efforts to transform customer account opening journeys, as they exercise extreme care to ensure regulatory compliance.  Some banks make the customers fill their applications online but ask them to visit a branch with the completed paperwork, resulting in a cumbersome Customer Experience that is no longer acceptable as we enter the Fourth Industrial Revolution.
Leading organizations strictly adhere to laws but demonstrate to the regulatory authorities how technology has helped them break the status quo surrounding regulatory compliance and develop innovative solutions to manage risks and compliance better.
Interested in learning more about the other imperatives key to developing a breakthrough Customer Experience?  You can download an editable PowerPoint on Breakthrough Customer Experience (CX) here on the Flevy documents marketplace.
Do You Find Value in This Framework?
You can download in-depth presentations on this and hundreds of similar business frameworks from the FlevyPro Library. FlevyPro is trusted and utilized by 1000s of management consultants and corporate executives. Here's what some have to say:
"My FlevyPro subscription provides me with the most popular frameworks and decks in demand in today's market. They not only augment my existing consulting and coaching offerings and delivery, but also keep me abreast of the latest trends, inspire new products and service offerings for my practice, and educate me in a fraction of the time and money of other solutions. I strongly recommend FlevyPro to any consultant serious about success."

– Bill Branson, Founder at Strategic Business Architects
"As a niche strategic consulting firm, Flevy and FlevyPro frameworks and documents are an on-going reference to help us structure our findings and recommendations to our clients as well as improve their clarity, strength, and visual power. For us, it is an invaluable resource to increase our impact and value."

– David Coloma, Consulting Area Manager at Cynertia Consulting
"As a small business owner, the resource material available from FlevyPro has proven to be invaluable. The ability to search for material on demand based our project events and client requirements was great for me and proved very beneficial to my clients. Importantly, being able to easily edit and tailor the material for specific purposes helped us to make presentations, knowledge sharing, and toolkit development, which formed part of the overall program collateral. While FlevyPro contains resource material that any consultancy, project or delivery firm must have, it is an essential part of a small firm or independent consultant's toolbox."

– Michael Duff, Managing Director at Change Strategy (UK)
"FlevyPro has been a brilliant resource for me, as an independent growth consultant, to access a vast knowledge bank of presentations to support my work with clients. In terms of RoI, the value I received from the very first presentation I downloaded paid for my subscription many times over! The quality of the decks available allows me to punch way above my weight – it's like having the resources of a Big 4 consultancy at your fingertips at a microscopic fraction of the overhead."

– Roderick Cameron, Founding Partner at SGFE Ltd
"Several times a month, I browse FlevyPro for presentations relevant to the job challenge I have (I am a consultant). When the subject requires it, I explore further and buy from the Flevy Marketplace. On all occasions, I read them, analyze them. I take the most relevant and applicable ideas for my work; and, of course, all this translates to my and my clients' benefits."

– Omar Hernán Montes Parra, CEO at Quantum SFE