Account-based Marketing (ABM) Solutions
Featured Best Practice on ABM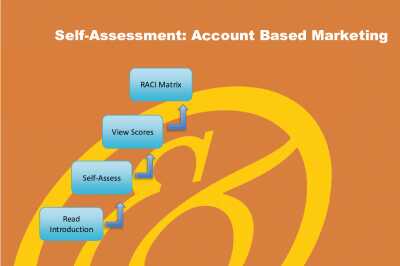 Excel workbook
The Account-Based Marketing (ABM) Implementation Toolkit includes a set of best-practice templates, step-by-step workplans, and maturity diagnostics for any Account-Based Marketing related project. Please note the above partial preview is ONLY of the Self Assessment Excel Dashboard,
[read more]
Account-based Marketing (ABM) solutions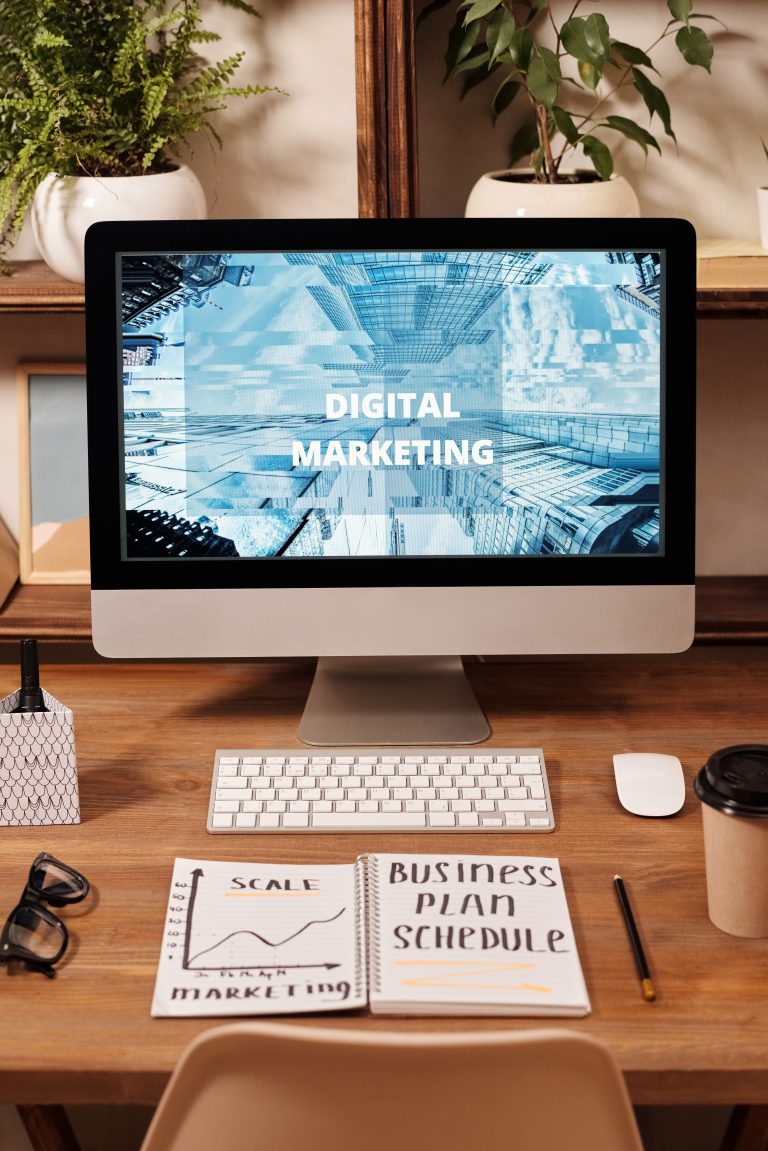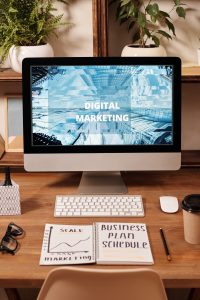 are valuable to implement the ABM approach.  By using the ABM approach, we can mechanize and trim down the protracted process of finding target accounts and minimize the effort, time, and cost involved in courting these prospective accounts.
ABM systems facilitate the stakeholders in creating the most qualified leads, developing tailored purchasing journeys, enhancing the lifetime value of customers, and maintaining a healthy pipeline of promising accounts.  These solutions can be combined with other Sales and Marketing systems, e.g. CRM or any Marketing Automation platforms, to better target and prioritize communications with key accounts.
ABM solutions calibrate Marketing and Sales units beyond the typical branding and lead generation strategies.  These systems aid in distinguishing the right target accounts before executing a personalized Marketing Strategy.  ABM solutions are employed to gain new customers, develop existing and future prospects, and enhance enterprise accounts.
ABM solutions have the 4 core functions:
Account Management
Account Intelligence
Account-based Advertising
Digital Personalization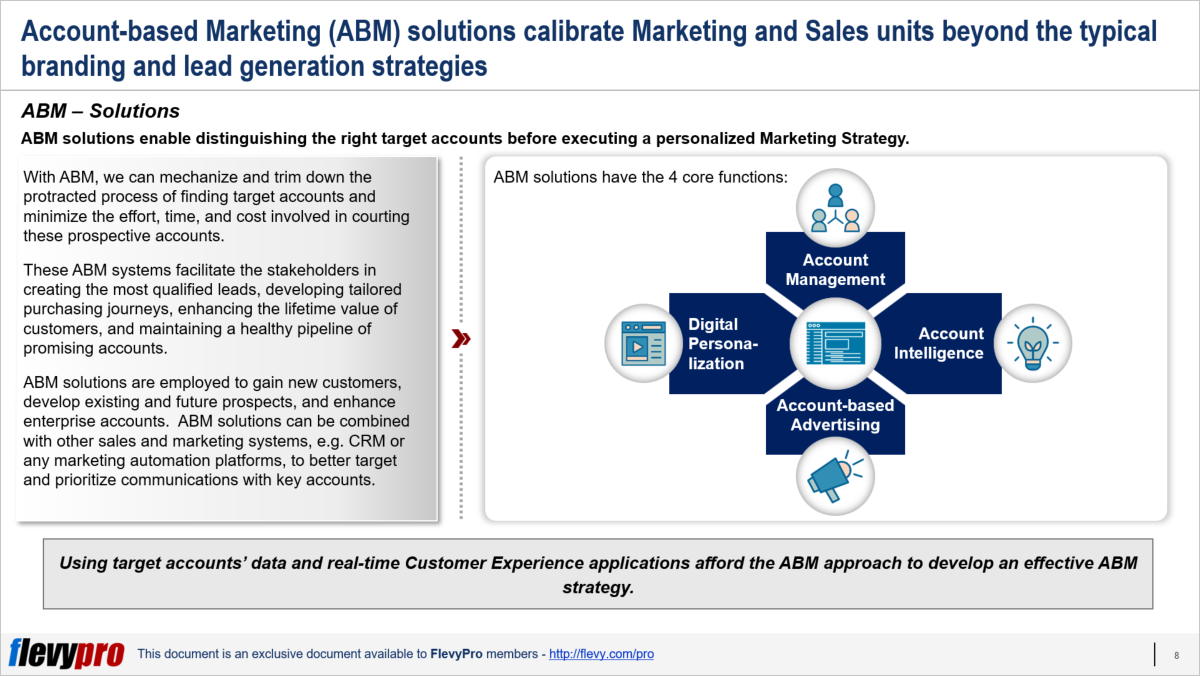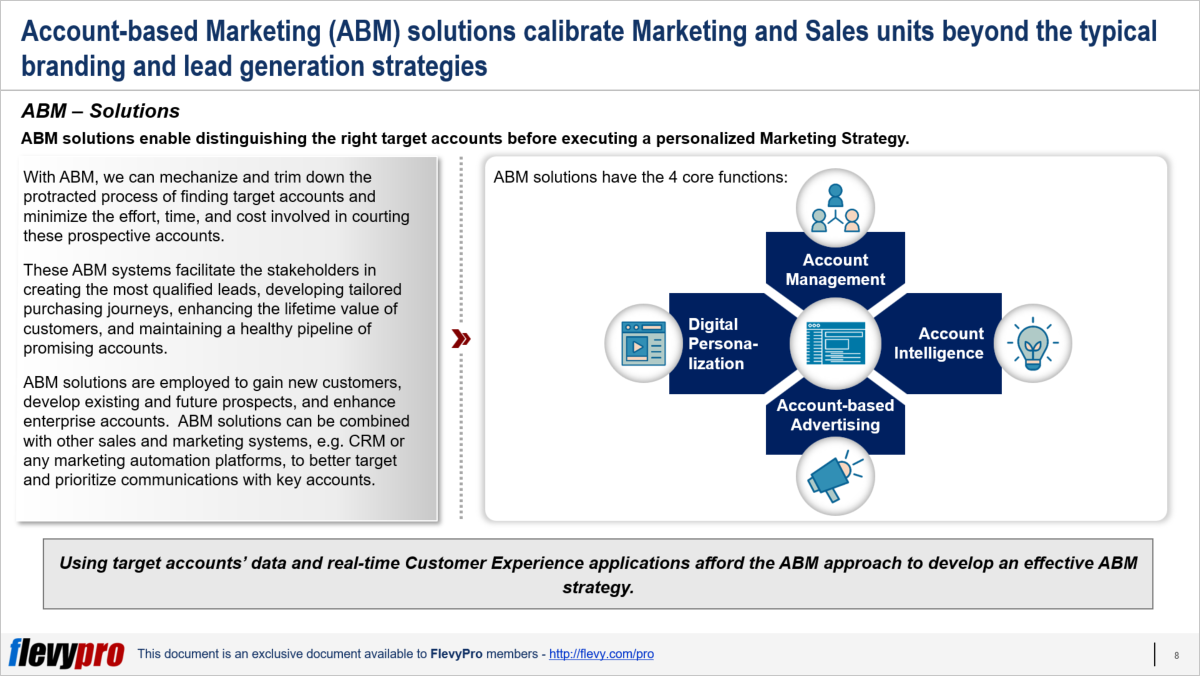 Let's delve deeper into these core functions.
Account Management
The foremost critical function of the ABM solutions is to effectively manage key accounts. ABM Strategy necessitates strong collaboration between Marketing and Sales, recognition of potential accounts and their fit for our offerings, and prompt information on the outcome of talks with the account for a deal.  ABM systems document this data, automate sharing it between various units, and maintain Marketing funnels or sales pipelines.
ABM software allows integration with Sales and Marketing automation systems and stores customer information in databases.  This is done by adding the account info as a record in the CRM system.  ABM offers stringent administrative control over where the account information, its source, updates, duplicate entries, and missing information.  Account Management Solution offers target list creation, tools to discontinue poor-fit accounts, purchase decisions, engagement and conversion data, and storage & assessment of clicks.
Account Intelligence
The next critical function of the ABM solutions is to evaluate account relevant data to qualify leads.
ABM has replaced the conventional "large funnel" concept with a thinner Marketing funnel based on data and a more focused evaluation of accounts before they become leads.  Account Intelligence systems facilitate in qualifying leads by analyzing pertinent qualifying data, link marketers to potential accounts, and allow for maintaining an improved target account list. 
These solutions focus on sales intelligence data (e.g. target account's contact details and organizational chart) as well as account intelligence data (sector, geography, IT setup, capital spending history, IP addresses, and customer intent data).  Account Intelligence systems are typically inundated by lack of—old—or unrelated data.  Advanced Account Intelligence systems use automatically updated account data feeds to work around this issue.  To discern between buying signals and industry noise Account Intelligence system manufacturers have introduced lead qualifying systems to track ideal accounts.  They accomplish this by employing distinct company and buying signal criteria, algorithms based on benchmarks and behaviors, or Machine Learning to highlight prospects with high close rates or high engagement levels.
Interested in learning more about the categories of Strategic Priorities and how to communicate them across the organization? You can download an editable PowerPoint on the Strategic Priorities Identification & Analysis here on the Flevy documents marketplace.
Do You Find Value in This Framework?
You can download in-depth presentations on this and hundreds of similar business frameworks from the FlevyPro Library. FlevyPro is trusted and utilized by 1000s of management consultants and corporate executives. Here's what some have to say:
"My FlevyPro subscription provides me with the most popular frameworks and decks in demand in today's market. They not only augment my existing consulting and coaching offerings and delivery, but also keep me abreast of the latest trends, inspire new products and service offerings for my practice, and educate me in a fraction of the time and money of other solutions. I strongly recommend FlevyPro to any consultant serious about success."

– Bill Branson, Founder at Strategic Business Architects
"As a niche strategic consulting firm, Flevy and FlevyPro frameworks and documents are an on-going reference to help us structure our findings and recommendations to our clients as well as improve their clarity, strength, and visual power. For us, it is an invaluable resource to increase our impact and value."

– David Coloma, Consulting Area Manager at Cynertia Consulting
"FlevyPro has been a brilliant resource for me, as an independent growth consultant, to access a vast knowledge bank of presentations to support my work with clients. In terms of RoI, the value I received from the very first presentation I downloaded paid for my subscription many times over! The quality of the decks available allows me to punch way above my weight — it's like having the resources of a Big 4 consultancy at your fingertips at a microscopic fraction of the overhead."

– Roderick Cameron, Founding Partner at SGFE Ltd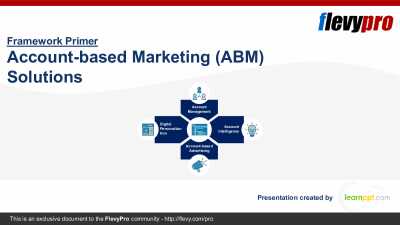 28-slide PowerPoint presentation
With Account-based-Marketing, we can mechanize and trim down the protracted process of finding target accounts and minimize the effort, time, and cost involved in courting these prospective accounts. These ABM systems facilitate the stakeholders in creating the most qualified leads, developing
[read more]
Readers of This Article Are Interested in These Resources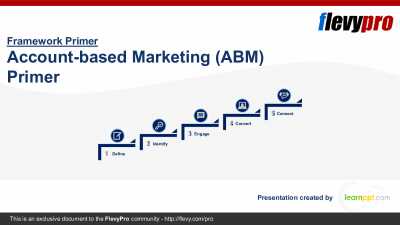 21-slide PowerPoint presentation
Enterprise level sales organizations utilize Account-based Marketing (ABM), or Key Account Marketing, a conscious approach to Marketing based on selected accounts that are a good fit to buy an organization's products or services. Once a target account has been identified, ABM demands
[read more]
About Mark Bridges
Mark Bridges is a Senior Director of Strategy at Flevy. Flevy is your go-to resource for best practices in business management, covering management topics from
Strategic Planning
to
Operational Excellence
to
Digital Transformation
(
view full list here
). Learn how the Fortune 100 and global consulting firms do it. Improve the growth and efficiency of your organization by leveraging Flevy's library of best practice methodologies and templates. Prior to Flevy, Mark worked as an Associate at McKinsey & Co. and holds an MBA from the Booth School of Business at the University of Chicago. You can
connect with Mark on LinkedIn here.