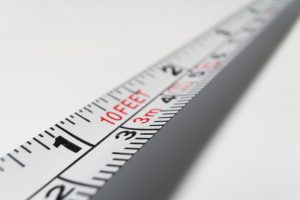 Creating a culture that measures productivity objectively is a sensitive matter.  Key Performance Indicators (KPIs) are being employed extensively by organizations across the globe to monitor and track performance.  KPIs provide valuable metadata to improve top-down and bottom-up vertical efficiency.
Analytics-driven firms are aware that KPIs are much more than a tool to evaluate performance.  Utilizing KPIs, they gather valuable insights, create enterprise-wide accountability, and develop a goal-oriented culture.
However, most executives typically fall short of utilizing KPIs to their full potential.  They have to realize that the effectiveness of KPIs depends on two distinct yet important elements: KPI transparency for the entire workforce—making the core metrics available across the board at all levels—and alignment of KPIs—determining the KPIs most relevant to the people and organizational purpose, and taking action based on the results of performance monitoring.  Leading organizations share KPIs with all stakeholders and use algorithms to gauge the contribution of KPIs to critical functions, e.g., Marketing and Customer Experience.
To create an objective-driven culture, the senior leadership should work on developing capabilities to outline key performance and putting in place accurate metrics to measure it.  The selection and prioritization of most relevant indicators is something that the leadership needs to carefully think about.
When defining KPIs, there are 5 KPI focus areas.  Each focus area is unique and critical, but collectively they have a profound impact on each other and on the organizations that are aiming to undergo Digital Transformation.  Leading Data and Analytics-driven organizations devise KPIs that cover all 5 of these focus areas:
Enterprise KPIs
Customer KPIs
Workplace Analytics
Partner and Supplier KPIs
Quantified-self KPIs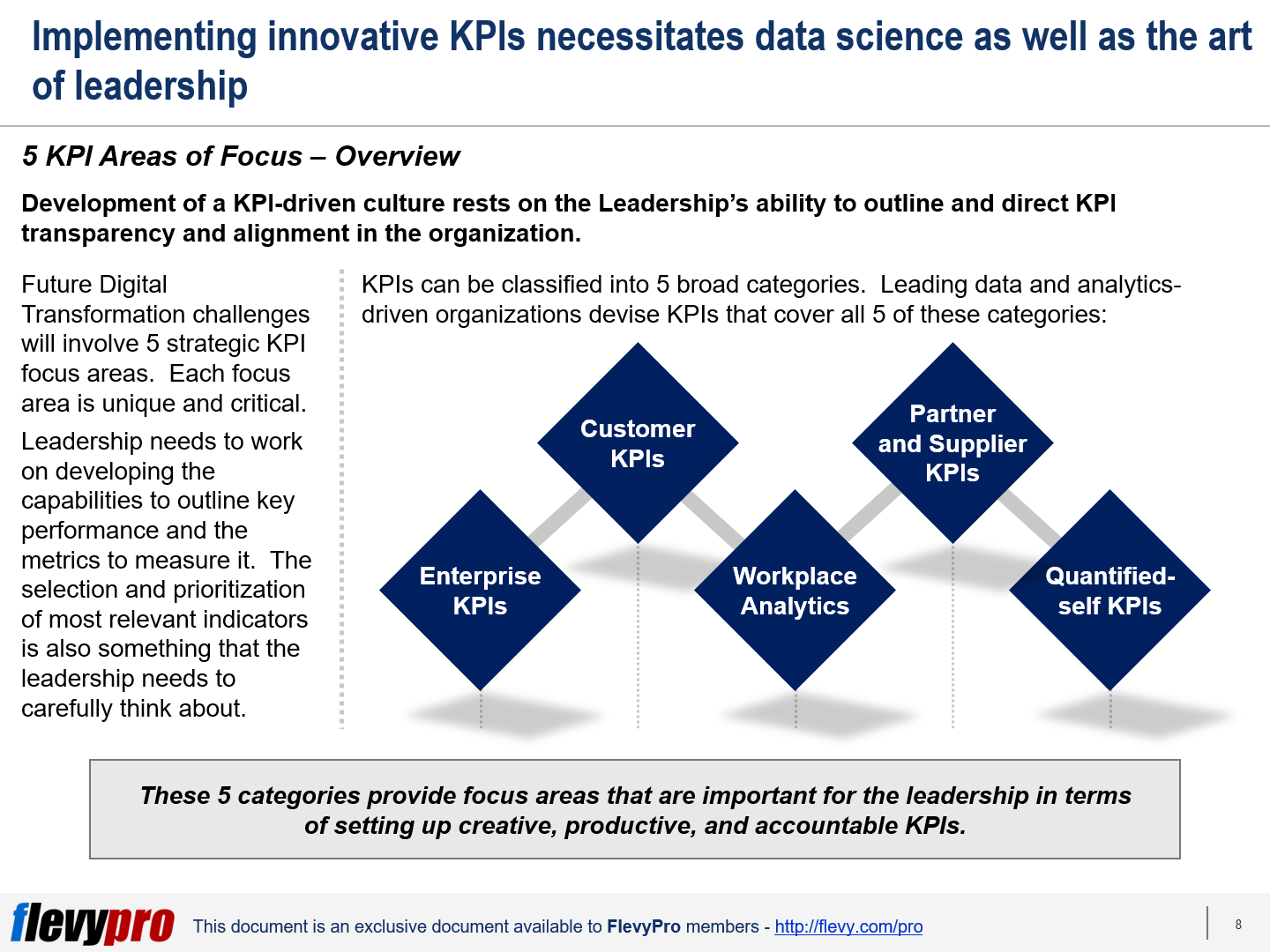 Let's discuss the first 3 focus areas in detail, for now.
Enterprise KPIs
The Enterprise KPIs benchmark the effectiveness of core functions of an organization.  These indicators are important to determine the accountability of the leadership and workforce, and are vital for strategic as well as routine decision-making and investment.  Examples of these indicators include Risk-Adjusted Return On Capital (RAROC) and Net Promoter Score (NPS).
Customer KPIs
The Customer KPIs facilitate in measuring the knowledge and impact of all leads, prospects, and customers. These metrics are used to calculate the actual and likely financial contributions of business prospects and clients.  The Customer KPIs assist in analyzing and ranking the relationships that organizations aspire to develop with the customers and better understanding each segment and sales funnel the customers belong.  Customer lifetime value is an example of these indicators.
Workplace Analytics
The Workplace Analytics pertain to quantifying the efficiency and commitment level of organizational people.  These analytics are used to isolate leadership tools and methodologies helpful in enhancing customer focus, and capture and quantify process outcomes and outputs feeding organizational KPIs.  These metrics are valuable in measuring collaboration across the organization, gauging the proficiency of managers in motivating their teams, and highlighting the elements that demoralize people.
Interested in learning more about the 5 KPI areas of focus?  You can download an editable PowerPoint on Key Performance Indicators (KPIs): 5 Areas of Focus here on the Flevy documents marketplace.
Do You Find Value in This Framework?
You can download in-depth presentations on this and hundreds of similar business frameworks from the FlevyPro Library. FlevyPro is trusted and utilized by 1000s of management consultants and corporate executives. Here's what some have to say:
"My FlevyPro subscription provides me with the most popular frameworks and decks in demand in today's market. They not only augment my existing consulting and coaching offerings and delivery, but also keep me abreast of the latest trends, inspire new products and service offerings for my practice, and educate me in a fraction of the time and money of other solutions. I strongly recommend FlevyPro to any consultant serious about success."

– Bill Branson, Founder at Strategic Business Architects
"As a niche strategic consulting firm, Flevy and FlevyPro frameworks and documents are an on-going reference to help us structure our findings and recommendations to our clients as well as improve their clarity, strength, and visual power. For us, it is an invaluable resource to increase our impact and value."

– David Coloma, Consulting Area Manager at Cynertia Consulting
"As a small business owner, the resource material available from FlevyPro has proven to be invaluable. The ability to search for material on demand based our project events and client requirements was great for me and proved very beneficial to my clients. Importantly, being able to easily edit and tailor the material for specific purposes helped us to make presentations, knowledge sharing, and toolkit development, which formed part of the overall program collateral. While FlevyPro contains resource material that any consultancy, project or delivery firm must have, it is an essential part of a small firm or independent consultant's toolbox."

– Michael Duff, Managing Director at Change Strategy (UK)
"FlevyPro has been a brilliant resource for me, as an independent growth consultant, to access a vast knowledge bank of presentations to support my work with clients. In terms of RoI, the value I received from the very first presentation I downloaded paid for my subscription many times over! The quality of the decks available allows me to punch way above my weight – it's like having the resources of a Big 4 consultancy at your fingertips at a microscopic fraction of the overhead."

– Roderick Cameron, Founding Partner at SGFE Ltd
"Several times a month, I browse FlevyPro for presentations relevant to the job challenge I have (I am a consultant). When the subject requires it, I explore further and buy from the Flevy Marketplace. On all occasions, I read them, analyze them. I take the most relevant and applicable ideas for my work; and, of course, all this translates to my and my clients' benefits."

– Omar Hernán Montes Parra, CEO at Quantum SFE