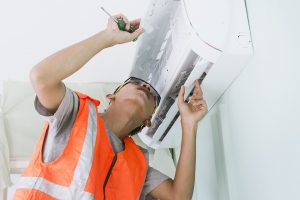 Maintenance workers can work at factories, manufacturing plants, construction sites, or any type of place where equipment, buildings, and grounds require maintenance.
A maintenance worker, also known as a maintenance technician or repair worker, basically ensures all equipment is checked, cleaned, and in full working order to help prevent any problems and ensure equipment lasts a long time.
Depending on the industry, maintenance workers may require specialist knowledge of machinery and maintenance processes.
If you need to hire a skilled maintenance worker, here's what you should look for.
Identify the Precise Skills You Need a Maintenance Worker to Have
When looking for a skilled maintenance worker, you first need to identify the skills he or she must have for your specific type of workplace and industry.
Different positions will require different skills. For instance, at a manufacturing plant, a maintenance worker will need to know how to use maintenance work order software to ensure maintenance operations continually run smoothly and efficiently.
The duties of skilled maintenance workers can include conducting routine maintenance, installing new equipment, performing inventory on repair supplies, and ensuring all safety systems are functioning correctly.
A skilled maintenance worker will typically inspect, diagnose, and solve problems with equipment, perform repairs, and take preventative measures to ensure the long life of machinery and tools.
General Skills That All Good Maintenance Workers Should Have
While you need to make sure the person you hire has the appropriate skills needed for your workplace and industry, there are some skills that all experienced maintenance workers should have.
First off, the person you hire should have the appropriate technical skills to repair and maintain equipment and the relevant knowledge about specific machines and tools.
You should also look for the following skills in any maintenance worker you employ.
Diagnostic Skills
A skilled maintenance worker needs to have critical thinking and problem-solving skills. That's because he or she will need to diagnose issues with equipment and find effective solutions as a key part of the role.
Precision Skills
Maintenance work often requires the utmost precision. Therefore, it's important that the person you hire has fantastic attention to detail. There's little room for mistakes in the maintenance sector, so don't underestimate how important having a keen eye for detail is.
Communication Skills
A maintenance worker will have to interact with numerous people, from supervisors to machine operators. So, it's vital that maintenance workers are skilled in effective communication. That includes being clear and friendly.
Time Management Skills
Even with helpful software that can help workers to manage their time, maintenance workers need to have the ability to employ time management skilfully. That includes time management for daily tasks and long-term projects. Look for skilled maintenance workers who are able to create schedules, prioritise tasks, and organise their time well.
Physical Skills
Maintenance work can take a lot of physical effort, so make sure the skilled maintenance worker you hire is physically fit enough to perform the job well. Maintenance workers often need to lift heavy objects, walk on elevated platforms, and get into tight spaces, so they need to have a good level of fitness.
Versatile Skills
Because a maintenance worker's tasks and responsibilities can change from one day to another, the person you employ must have the versatility skills required for the position. For instance, some days could be spent dealing with paperwork while other days could be completely hands-on. So, make sure your maintenance worker has a diverse set of skills and is happy to work in a flexible way.