BENEFITS OF DOCUMENT
Provides of Complete Sample, Guidelines and Template Competency Matrix and Model (37 pages Word Doc)
Provides of Competency Model Framework and Core Competency Development Guideline
Provides of Developing Competency Catalog : Step by Step
DOCUMENT DESCRIPTION
This product (
Competency Model & Matrix Development

) is a 37-page Word document, which you can download immediately upon purchase.

Competency Model & Matrix Development

Table of Contents:

Introduction
Section 1: Brief Theoretical Background
Section 2: Concepts of Competency
Section 3: Developing Competency Catalogue : Step by Step

Appendix 1 : Competency Workshop Guideline
Appendix 2 : Core Competency Development Guideline
Appendix 3 : Focus Group Discussion Guideline
Appendix 4 : Behavioral Event Interview Guideline
Appendix 5 : Samples of Behavioral Terms – Bloom's Taxonomy
Appendix 6 : Samples of Competency Model and Matrix

This manual is aimed at providing a general guideline in developing competency model. The manual will be started by brief description about the research background upon which the concept of competence was originally invented and developed.

Then, section two will provide a general understanding of competency concepts. Several issues that will be addressed are: definition and elements of competency; types of competency and competency model framework.

Section three will explore detailed activity for each step in developing competency catalogue and competency profile. Specifically, there are four elements addressed in each step:
• Description of activity
• Key inputs to the process
• Key activities performed (including tools and template used)
• Key deliverables

In the appendix section, we will provide interview guideline for focus group discussion and behavioral event interview technique.

What is Competency?
Competency is the vital behavioral skills, knowledge and personal attributes that are translations of organizational capabilities and are deemed essential for success. They distinguish exemplary performers from adequate performers.

In that regard, competencies offer a highly descriptive means of discussing job performance. They go beyond traditional job descriptions because they focus on how employees perform their jobs, not simply on what they do. While job descriptions detail specific tasks, competencies encompass the tangible and intangible abilities employees possess. For instance, a necessary competency for a marketing professional might be the ability to perform detailed market analysis while another competency might be leadership qualities, as evidenced through the ability

Competency Modeling Matures: The Work of Richard Boyatzis. Boyatzis wrote the first empirically-based and fully-researched book on competency model developments. It was with Boyatzis that job competency came to widely understood to mean an underlying characteristic of a person that leads or causes superior or effective performance. Boyatzis was explicit in describing the importance of clearly-defined competency as reflected in specific behavior and clearly defined performance outcomes when he wrote that "the important points is that specific actions cause, or lead to, the specified results. Certain characteristics or abilities of the person enable him or her to demonstrate the appropriate specific actions"(Boyatzis, 1982, p. 12).

As founding developer of competency modeling in the United States, Boyatzis grounded competency interventions on documented behavioral indicators that caused or influenced effective job performance. Boyatzis, like Flanagan, stressed the importance of systematic analysis in collecting and analyzing examples of the actual performance of individuals doing the work. The method for documenting the actual performance was collected through the behavioral event interview (BEI), an intensive face-to-face interview that involves soliciting critical incidents from performers and documenting what the performers thinking and doing during the incidents (BEI technique will be explained further in Appendix section).

Components of Competency
There are four major components of competency:
1. Skill: capabilities acquired through practice. It can be a financial skill such as budgeting, or a verbal skill such as making a presentation.
2. Knowledge: understanding acquired through learning. This refers to a body of information relevant to job performance. It is what people have to know to be able to perform a job, such as knowledge of policies and procedures for a recruitment process.
3. Personal attributes: inherent characteristics which are brought to the job, representing the essential foundation upon which knowledge and skill can be developed.
4. Behavior: The observable demonstration of some competency, skill, knowledge and personal attributes. It is an essentially definitive expression of a competency in that it is a set of action that, presumably, can be observed, taught, learned, and measured.

Regards,

UJ Consulting

Got a question about the product? Email us at support@flevy.com or ask the author directly by using the "Ask the Author a Question" form. If you cannot view the preview above this document description, go here to view the large preview instead.

Source: Best Practices in Core Competencies Word: Competency Model & Matrix Development Word (DOCX) Document, UJ Consulting

ABOUT THE AUTHOR: UJ CONSULTING

UJ Consulting

Untung Juanto ST., MM. Founder of UJ Consulting. He is professionally experienced business and management consultant in several local and multinational companies. [read more] He has an experience in managing an effective and efficient company with various approach methods adapted to different industries because He had a career from the lower management level as Supervisor before finally being at the top management level. His Top Management experience started from the position of General Manager, VP Operation, HR Director and Business Development Director

He completed his undergraduate education majoring in Architecture at Diponegoro University, Semarang, Central Java, Indonesia. After that, He continued to Master of Management level majoring in Human Resource Management with cum laude predicate with a GPA of 3.94 at Mercubuana University, Jakarta, Indonesia.

His last work experience as Deputy President Director at Hutahaean Group in charge of 14 business units engaged in various industries including CPO Production, Oil Palm Plantation, Cassava Plantation, Tapioca flour production, 4 and 5 star hotels, waterparks, golf courses and housing with a total of employees more than 3,000 employees.

His biggest achievement was in 2021 when He served as Deputy President Director at Hutahaean Group Indonesia by increasing the company's revenue from IDR 700 billion to IDR 1.1 trillion (y/y) and increasing the profit margin by more than 20%. Doing a turn around on business units that have lost in the last 5 years become profits. In addition, He have also succeeded in creating an efficient and effective management system by redesigning the Business Process Management (BPM), reviewing Standard Operating Procedures (SOP) and Work Instructions and compiling the appropriate Key Performance Indicator Management (KPIM) to increase employee productivity.

He is currently active as a part-time business and management consultant (online) at Enquire Corp. and Flevy Corp. In addition, He also teach part-time at several universities for courses in strategic management, human resource management, project management, entrepreneurship and business.

UJ Consulting has published 169 additional documents on Flevy.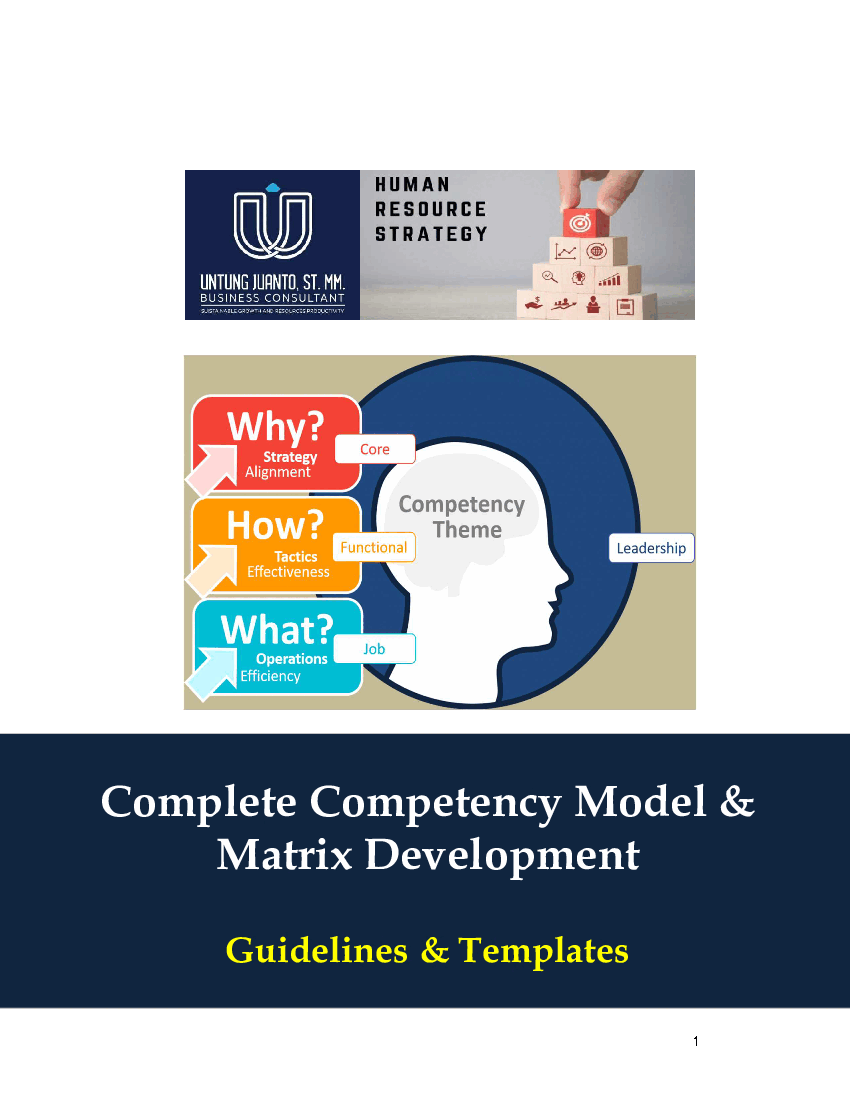 DETAILS
This business document is categorized under the function(s): Operations Organization, Change, & HR
It applies to All Industries
File Size: 746.2 KB
Number of Pages: 37
Related Topic(s): Core Competencies
Purchase includes lifetime product updates. After your purchase, you will receive an email to download this document.
Initial upload date (first version): Oct 31, 2022
Most recent version published: Nov 1, 2022