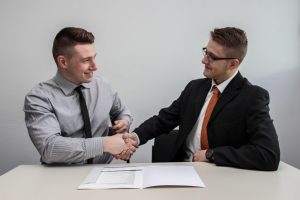 POS systems have been around for a number of years, but with so much information (and misinformation) available, it can be challenging to sift through it all to get to the truth. What is a POS system, anyway? A POS system is simply a point of sale option that allows you to process payments, among other things. Many POS systems come loaded with extra features, including inventory management and customer profile tools. Here's everything merchants need to know about POS systems and how they work.
Software and Hardware
POS systems either come with their own hardware, but some systems offer software-only options that are compatible with pre-existing hardware. You'll need to check your new POS software's compatibility, of course, because the level of compatibility will differ across different POS systems.
Point of sale software is usually compatible across both Android and iOS devices, but some systems are designed specifically for the iPad. Mobile terminals offer a certain level of versatility to your POS experience, allowing you to take your POS wherever you go. For businesses that like to frequent trade shows or other events, a mobile terminal operating on an iPad or other mobile device offers a chance to process payments securely on the go.
POS hardware comes in all shapes and sizes, from full cash-register terminals to card readers that plug into the auxiliary jack on your tablet. The hardware you choose for your business will depend largely on your size and specific needs; not all businesses need a full terminal at their disposal. Understand that full-size terminals are usually much more expensive as well, so up-front costs will be higher should you choose this option.
Inventory Control
Inventory control is one of the most important parts of running a successful business. If your inventory management system is poor, you'll suffer from errors, incorrect counts, and frustration across the board. While there exists inventory management software, it's much simpler to have your inventory managed within your POS software instead. This way, all of your operations can be accessed from a single interface, and your inventory management will be connected to sales and integrated with other third-party software (like your ordering catalog software for stock).
Keeping your inventory organized is just good business. Not only will customers appreciate an organized and accurate inventory system, but employees will as well. Not to mention, you'll save both time and money with real-time inventory tracking. You'll know as soon as a problem arises, and your inventory won't require endless recounts due to human error. POS software operates across all channels as well, so if you're running both a brick and mortar and eCommerce store, the numbers will match up.
Payment Processing
The core function of POS software is, of course, to process payments. If you're still stuck in the days of only accepting cash and credit cards, your POS software can help bring you into the modern world of payment processing. Touchless payments, online payments, and more have changed the way we exchange money, and it's important that merchants keep up with the trends so they're not missing out on any potential business.
Everyone has their favorite way to pay for the items they love. Some people prefer a cash-only approach, where others only use credit cards or touchless payments. Catering to your customers' needs is the best way to keep them loyal and improve your overall relationship with your customer base. You could potentially be missing out on a lot of sales by only accepting one or two different methods of payment! 
Customer Management
Speaking of customers, a POS system can also help you manage your customers' information in one secure and accessible location. You'll be able to collect customer information at the point of sale, making the process feel more natural. You'll be able to access customer purchasing habits, outstanding balances, and personal information directly from your POS interface.
What better way to improve your customer relationship than to know what they're buying? Once you're aware of which items your customers love the most, you can create specific promotions or discounts based on their personal tastes. Not to mention, many POS systems allow you to create a loyalty program, which can be managed directly from your POS interface. Reward your loyal customers with discounts, promotions, and more!
The relationship you share with your customers is absolutely critical to the success of your business, and a good POS system can help you improve it across the board. Whether you're a small business that's just starting to grow its fan base or a large corporation with thousands of customers, you can always improve your customer relations.
Conclusion
Essentially, a POS system is an all-in-one tool that can help you manage and improve several aspects of your business. Keep in touch with customers, manage your inventory, and process all types of payments with modern POS software.