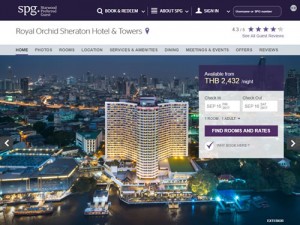 User experience (UX) is so important to websites these days and if business owners don't spend time and money on perfecting UX, their profits are going to drop considerably. If you run an online hotel booking system and you're looking to improve the experience for your clients, consider the following ideas.
Increased Website Performance
The first step should be to ensure the website is quick and page loading times aren't slow. Increasing your website's performance could be the difference in your customers booking another hotel down the road, so ensure you spend time increasing the speed. This can be done by optimising images, investing in one of the best web hosting providers with better hardware, or even revamping the site altogether with better coding techniques – there are plenty of tasks you can do to increase site performance.
An Easier Booking Process
If your booking process has too many steps or it's not well coded, it's not going to be very easy for customers to make a booking. Consider taking steps out of the process or increasing the performance of the form itself by re-coding it using better coding practices. Look at this helpful guide that will point you in the right direction when it comes to increasing the user experience during the booking process.
Improved Form Validation
There are always things you can do to improve the form validation stage of the booking process. When you're requesting a client's email and personal details, give them a helping hand by ensuring they insert the right data before they submit it. The use of JavaScript would prove to be handy in this instance, so users can have instant access to error-reporting.
Ask Your Customers What You Can Do to Improve
There's never anything wrong with asking your previous customers what they thought of the booking process. Ask them how well the booking form worked and if they had any problems entering data. This will give you an idea of what needs improving to boost the whole booking process. You can send out emails to your previous customers to ask them for their help and in return, they can have a small discount on hospitality services.
The Inclusion of a Booking App
The software or scripts you use for the booking process will determine how you go about creating an app. However, if it is a viable option for you to do so, a booking app could really help your mobile users. It would save mobile and tablet users from having to go on their laptop to book if responsiveness of booking forms on a mobile device isn't that great. This will increase user experience considerably and it'll also give you the chance to get more custom.
The steps you take to improve user experience will depend on how serious you are about your business. The above steps are just some of the key elements that could prove to be the difference in your business failing or succeeding.