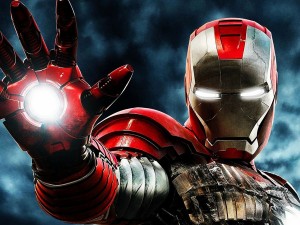 Developed by John Kay, the Distinctive Capabilities Framework captures those capabilities our organization has, which cannot be replicated by competition.  Through his research, he identified 3 such "Distinctive Capabilities:"
Architecture
Reputation
Innovation
These 3 capabilities are the source of superior performance and sustainable competitive advantage for successful firms.
This framework was developed after extensive research by Kay into the origin of corporate and industrial success.  He interviewed many successful business owners and analyzed corporate earnings, annual reports and case studies.  Through his research, he determined success is dependent on the relationship a business maintains with its suppliers, customers, shareholders, and employees.  Continuity and stability in these relationships is essential for a flexible and collaborative response to change.
Note that Key's strategy framework differs from traditional Resource-based Strategy theory, which focus on establishing competitive advantage by commanding strategic assets.  The Distinctive Capabilities Framework, rather, takes a Relationship-based Strategy view.
This framework can be used in the process of defining a company's strategy, to broaden awareness of the sources of competitive advantage, and to find ways to sustain them.
Let's take a deeper look at each of the 3 distinctive capabilities.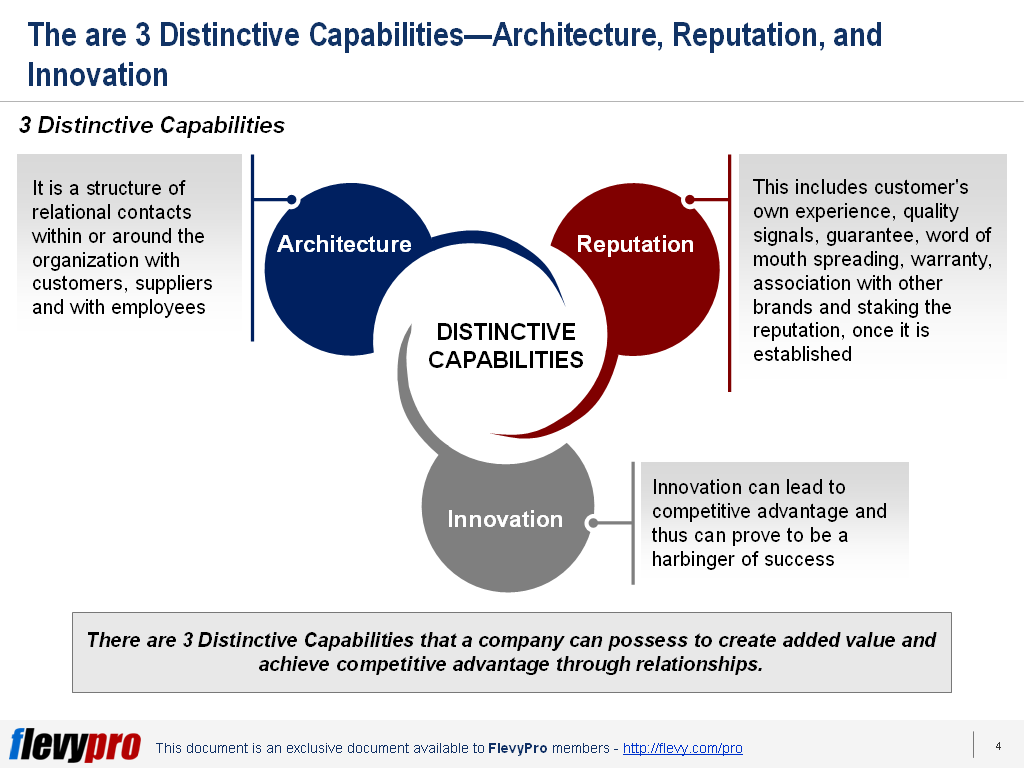 Architecture
Architecture refers to the structure of relational contacts within or around the organization with customers, suppliers, and employees. Architecture can add value with organizational knowledge and routines, flexible response to change, and an easy and open exchange of information.
Distinctive Capabilities related to Architecture depend on relational contracting.  There is a collective interest in coordinating efforts for the benefit of the organization. The structure relies on continued mutual commitment to monitor and enforce its terms
An organization with distinctive architecture gains strength from the ability to transfer firm product and market specific information within the organization and to its customers and suppliers.
If we have possess the Architecture Distinctive Capability, we can respond quickly and flexibly to changing circumstances.
Reputation
Reputation is the most powerful method of conveying information to consumers in a business relationship and includes customers' own experience, quality signals (e.g. price, promotion), guarantees, warranties, word of mouth, association with partner brands, etc. When customers search for and experience goods and services, the seller wants to signal quality and to start a sequence of transactions on which to build a relationship.
If a seller has an established reputation, it will help assure the buyer of high quality when unfamiliarity with the product or service means that an informed decision cannot be made.
Reputation is built over time.   It is much easier to maintain, than to create.
Innovation
Innovation is an obvious source of Distinctive Capability.  In fact, it is often the most innovative companies who are proven to be the most successful in the long run. However, innovation is less often a sustainable or appropriable source, because successful innovation quickly attracts imitation.
Typically, transforming an innovation into a competitive advantage requires the development of a powerful range of supporting strategies.  This is especially true due to the uncertainty of whether demand for a product will remain and whether there will be an increase in competition within the marketplace as a result of the original innovation.
Many successful companies have transformed of an initial Distinctive Capability based on Innovation or Architecture to a more enduring one derived from Reputation.
Do You Find Value in This Framework?
You can download in-depth presentations on this and hundreds of similar business frameworks from the FlevyPro Library. FlevyPro is trusted and utilized by 1000s of management consultants and corporate executives. Here's what some have to say:
"My FlevyPro subscription provides me with the most popular frameworks and decks in demand in today's market. They not only augment my existing consulting and coaching offerings and delivery, but also keep me abreast of the latest trends, inspire new products and service offerings for my practice, and educate me in a fraction of the time and money of other solutions. I strongly recommend FlevyPro to any consultant serious about success."

– Bill Branson, Founder at Strategic Business Architects
"As a niche strategic consulting firm, Flevy and FlevyPro frameworks and documents are an on-going reference to help us structure our findings and recommendations to our clients as well as improve their clarity, strength, and visual power. For us, it is an invaluable resource to increase our impact and value."

– David Coloma, Consulting Area Manager at Cynertia Consulting
"As a small business owner, the resource material available from FlevyPro has proven to be invaluable. The ability to search for material on demand based our project events and client requirements was great for me and proved very beneficial to my clients. Importantly, being able to easily edit and tailor the material for specific purposes helped us to make presentations, knowledge sharing, and toolkit development, which formed part of the overall program collateral. While FlevyPro contains resource material that any consultancy, project or delivery firm must have, it is an essential part of a small firm or independent consultant's toolbox."

– Michael Duff, Managing Director at Change Strategy (UK)
"FlevyPro has been a brilliant resource for me, as an independent growth consultant, to access a vast knowledge bank of presentations to support my work with clients. In terms of RoI, the value I received from the very first presentation I downloaded paid for my subscription many times over! The quality of the decks available allows me to punch way above my weight – it's like having the resources of a Big 4 consultancy at your fingertips at a microscopic fraction of the overhead."

– Roderick Cameron, Founding Partner at SGFE Ltd
"Several times a month, I browse FlevyPro for presentations relevant to the job challenge I have (I am a consultant). When the subject requires it, I explore further and buy from the Flevy Marketplace. On all occasions, I read them, analyze them. I take the most relevant and applicable ideas for my work; and, of course, all this translates to my and my clients' benefits."

– Omar Hernán Montes Parra, CEO at Quantum SFE