E-Commerce is growing fast. Keeping up with the growing volume of e-commerce now requires delivery companies to disrupt their long-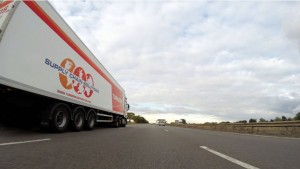 standing business model. This can bring peril to retailers and transportation companies who are now faced with challenges in this fast-changing marketplace.
With the boom in e-commerce, there is the urgency for companies to retool their Retail Strategy. Failing to do so will leave companies to fall behind in competition.
The Emerging Trends in Today's Retail
Retailers and transportation providers are now faced with a systemic threat. The traditional way of delivering packages are not any more suited to the emerging realities of expanded e-commerce. Trips of less than 50 miles are fast growing at a 25% annual rate.
Today, companies are experiencing the difficulties of managing demand within the current e-commerce ecosystem.
Transportation providers do not know about the purchase until the online transaction is complete.
 Information is often siloed in the retail companies themselves.
 Delivery information comes in later in the project.
Tremendous pressures on fulfillment and shipping resources are placed on transportation providers during shipping surges. The new delivery approach now requires stores to hire its own delivery personnel and startups crowd sourcing delivery vehicles and drivers. Companies must devise a better solution to Last-Mile Delivery. This is the next major battle in e-commerce supremacy.
Despite the growth and evolution of e-commerce, the fundamental economics of the Last-Mile have not changed. Profitability remains highly dependent on the transportation provider's route density and the drop size.
There is a need to revolutionize the delivery experience to make it efficient. This can result to less cost for consumers and increased margins for retailers and transportation providers.
What is The Last-Mile Exchange?
The Last-Mile Exchange is a system of delivering packages from an online retailer to the customer's home. It connects consumers, retailers, and transportation companies through a digital platform. The system can evolve into a complex network informed by data that would yield improved convenience, transparency, efficiency, and cost of savings.
The Last-Mile Exchange Solution
The effective solution to the Last-Mile Delivery is to build a Last-Mile Exchange platform that drives delivery decisions. The Last-Mile Exchange Solution can drive several benefits to retailers and transportation providers. Companies can collectively shape delivery demand. Continuous adjustments can be done to the inherent variability of the last-mile and the exchange can deliver a win for consumers, retailers, and transportation providers.
The Last-Mile Exchange Solution in Retail Strategy can beat out the competition from aggressive market players or upstarts working of the proverbial garage
The 5 Stages of The Last-Mile Exchange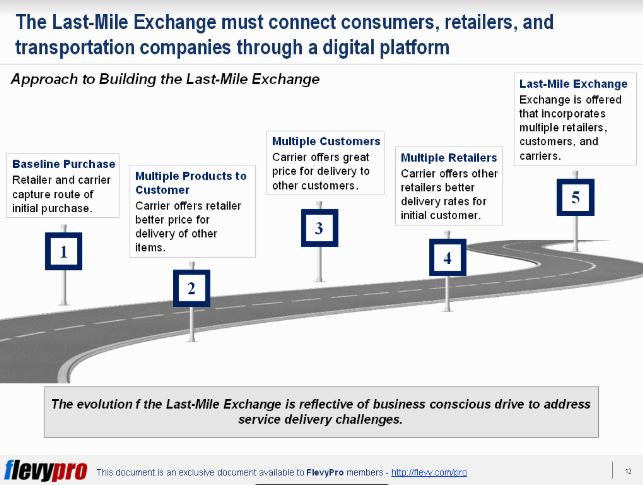 Stage 1: The Baseline Purchase
In the Baseline Purchase, the retailer and carrier capture route of initial purchase. When a customer orders an item online for delivery, the "from" and "to" addresses, which are traditionally instructions for a carrier, are also valuable data points.
Involving consumers right from the start of purchase will generate greater consumer interest.
Stage 2: Multiple Products to Customer
In Stage 2, carrier offers retailer better price for delivery of other items. The platform designed for e-commerce package delivery is multi-sided. It involves both the retailer and the last-mile transportation provider. Information is not passed on from point to point in linear fashion. Data is dynamically shared among all the players.
Stage 3: The Multiple Customers
In Stage 3, the carrier offers great price for delivery to other customers. Exchange participants have sophisticated algorithm to decide how much to bid to deliver a given package to a particular location on a particular day at a particular time.
Multiple customers require setting up a systematic approach to delivery.
Stage 4: The Multiple Retailers
In Stage 4, the carrier offers other retailers better delivery rates for initial customer. Under this stage, the retailer or its warehouse might have neighbors as well. The carrier can offer nearby sellers better delivery rates for delivering to the initial customer.
Operational efficiency is achieved as retailers benefit from the power of aggregation.
Stage 5: The Last-Mile Exchange
The Last-Mile Exchange is offered that incorporates multiple retailers, customers, and carriers. This allows a dynamic pricing model to open to multiple retailers, targeting a host of consumers, bid on by a host of carriers.
The Last-Mile Exchange allows retailers to build better shipping options that can rival even the biggest commercial companies. Walmart, Target, and Amazon have already taken a variety of Last-Mile Exchange Solutions to keep up with the rising demand of e-commerce. Not one company wants to be left out and left behind.
Interested in gaining more understanding on The Last-Mile Exchange? You can learn more and download an editable Powerpoint about The Last-Mile Exchange here on the Flevy documents marketplace.
Are you a management consultant?
You can download this and hundreds of other consulting frameworks and consulting training guides from the FlevyPro library.