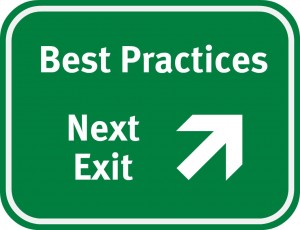 No matter what your business issue is, you can always find some "best practices" to analyze, by examining the companies or organizations that have had the most success in dealing with that issue. And many of us think that if we want to have more success ourselves, then all we really need to do is pattern our own policies and practices after those companies that have already had success.
If you want your company to do a better job when it comes to online marketing, then survey the most successful online marketers and note the strategies and tactics they have in common. If you want it to be financially successful over a long period of time, then look for companies that have in fact accomplished this feat, and identify the strategies they followed or the traits they possess.
In business, identifying best practices is a straightforward strategy for improvement. Hundreds, if not thousands, of business books, management tracts, and business journal articles are constructed around the idea that by carefully looking at those companies that have been highly successful in any given industry or task, other businesses can copy their strategies and practices in order to be successful too.
But while studying best practices sounds imminently logical, there's a fatal flaw in this kind of analysis, because it's actually based on a logical fallacy. You cannot predict how effective any business practice will be in the future by examining its past successes, unless you also look at its past failures.
Imagine, just for argument's sake, that you are trying to devise a strategy for getting more "heads" on your coin tosses. If you carefully analyze a thousand coin tosses by different people who did get heads on their tosses, you will discover that about 90% of them were flipped with the right hand, rather than the left, which makes right-handed coin tossing a best practice.
Think that sounds ridiculous? Well let's say you were to read in some business guru's best-selling book that those companies that have achieved the most exceptional growth in innovative fields tended to be those that were willing to face up to disruptive forces and "bet the company" on new and equally disruptive plans or strategies. The book then catalogs five or ten of these success stories, outlining each of their cases in more detail and drawing comparisons, point by point, which gives us – voila! – a set of best practices.
It might sound logical at first, but what if you could find ten other companies that had adopted the same bet-the-company strategy and ended up going out of business, or being bought by their competitors? This would mean that the strategy isn't actually a best practice at all. It's simply a gamble not much different from a coin toss.
Rather than identifying firms that have been successful in the past and studying their practices, the right way to learn anything useful is to start with a hypothesis about some business practice that you think tends to make a firm successful, and then find a large sample of companies that have adopted this practice in the past, in order to see what proportion of them were, in fact, successful.
Of course, no books are written about failures, so failures are not as easy to identify. Few people are willing to talk at any length to a researcher, reporter or business writer about why they failed, or what it was like, and most business gurus don't seem very interested in documenting the universe of failures, near failures, and successes just to be more "scientific" with their advice.
But that's exactly my point. In most cases, the study of "best practices" isn't scientific at all.