Recent McKinsey research results showed that many companies today are in a nearly permanent state of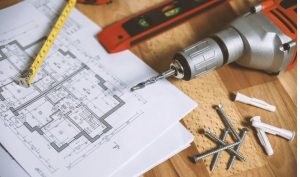 organizational influx.  Within the past 2 years, almost 60% of the companies interviewed experienced a redesign while an additional 25% 3 or more years ago.
This Organizational Design flurry is due to the accelerating pace of strategic change driven by the disruption of industries.  As a result, companies alter the organization every time it switches direction to deliver the hope for results.
Frustratingly, only less than a quarter of the Organizational Designs are successful. Actually, companies can do better – much much better.
The 9 Principles of Organizational Design
Organizational Redesign goes beyond traditional tinkering with lines and boxes.  It comprises the processes that people follow, the management of individual performance, the recruitment of talent, and the development of employees' skills.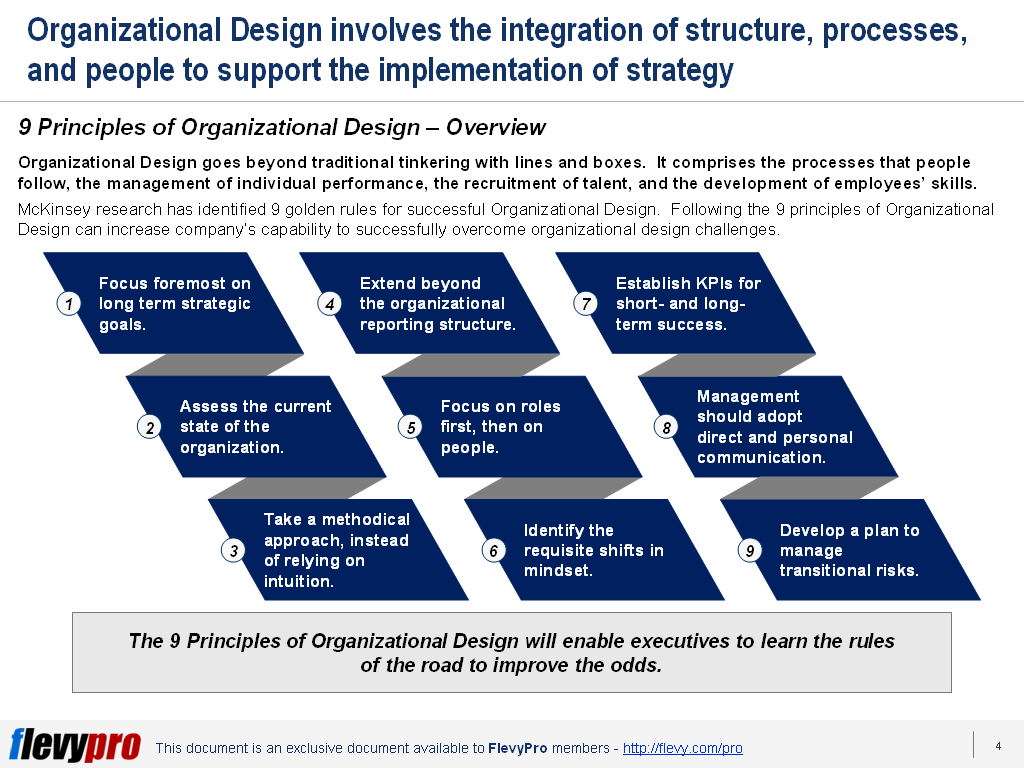 Following the 9 Principles of Organizational Design in a structured approach can increase the percentage of success and generate a greater impact on the company.
Focus foremost on long-term strategic goals. Coming up with more specific goals can provide greater results.
Assess the current state of the organization. A new organizational reality can radically change the scope and numbers targeted in the redesign effort.
Take a methodical approach, instead of relying on intuition. When this is undertaken, a flexible operating model is established with a unique mix of strategy, people, and other assets within the company.
Extend beyond the organizational reporting structure. This will allow CEOs to see which part of the company is embracing change and which is doing business as usual.
Focus on roles first, then on people. When this happens, companies get to expand the number of people involved in placing talent, accelerate the pace, and increase the level of rigor and discipline.
Identify the requisite shifts in mindset. Momentum is sustained when mindsets are shifted towards creating greater value.
Establish KPIs for short- and long-term success. Key Performance Indicators measures the long-term impact of changes made. When these are established, companies can better track performance, new innovations, and effective allocation of resources.
Management should adopt direct and personal communication. Establishing a two-way communication opens opportunities for employees to be informed of changes the company will undertake.
Develop a plan to manage transitional risks. Clear Leadership accountability for developing and executing risk mitigation plans is so important. In fact, it should be built-in in the regular appraisals of managers.
The rate of success in effecting Organizational Change is greater as more principles are applied. Companies with an in-depth understanding of the 9 principles are more likely to apply more than 6 principles. These are the companies that are more likely to declare victory in gaining greater results in Organizational Design.
Interested in gaining more understanding on how to achieve success in Organizational Design?  You can learn more and download an editable PowerPoint about 9 Principles of Organizational Design here on the Flevy documents marketplace.
Do You Find Value in This Framework?
You can download in-depth presentations on this and hundreds of similar business frameworks from the FlevyPro Library. FlevyPro is trusted and utilized by 1000s of management consultants and corporate executives. Here's what some have to say:
"My FlevyPro subscription provides me with the most popular frameworks and decks in demand in today's market. They not only augment my existing consulting and coaching offerings and delivery, but also keep me abreast of the latest trends, inspire new products and service offerings for my practice, and educate me in a fraction of the time and money of other solutions. I strongly recommend FlevyPro to any consultant serious about success."

– Bill Branson, Founder at Strategic Business Architects
"As a niche strategic consulting firm, Flevy and FlevyPro frameworks and documents are an on-going reference to help us structure our findings and recommendations to our clients as well as improve their clarity, strength, and visual power. For us, it is an invaluable resource to increase our impact and value."

– David Coloma, Consulting Area Manager at Cynertia Consulting
"As a small business owner, the resource material available from FlevyPro has proven to be invaluable. The ability to search for material on demand based our project events and client requirements was great for me and proved very beneficial to my clients. Importantly, being able to easily edit and tailor the material for specific purposes helped us to make presentations, knowledge sharing, and toolkit development, which formed part of the overall program collateral. While FlevyPro contains resource material that any consultancy, project or delivery firm must have, it is an essential part of a small firm or independent consultant's toolbox."

– Michael Duff, Managing Director at Change Strategy (UK)
"FlevyPro has been a brilliant resource for me, as an independent growth consultant, to access a vast knowledge bank of presentations to support my work with clients. In terms of RoI, the value I received from the very first presentation I downloaded paid for my subscription many times over! The quality of the decks available allows me to punch way above my weight – it's like having the resources of a Big 4 consultancy at your fingertips at a microscopic fraction of the overhead."

– Roderick Cameron, Founding Partner at SGFE Ltd
"Several times a month, I browse FlevyPro for presentations relevant to the job challenge I have (I am a consultant). When the subject requires it, I explore further and buy from the Flevy Marketplace. On all occasions, I read them, analyze them. I take the most relevant and applicable ideas for my work; and, of course, all this translates to my and my clients' benefits."

– Omar Hernán Montes Parra, CEO at Quantum SFE