Editor's Note: Vishnu Rayapeddi is a recognized pioneer of Lean Management and founder of Productivity Solutions.  He is the author of the popular Supply Chain Fundamentals 5-modules series on Flevy.   You can view all of his Supply Chain and Lean training materials on Flevy here.
* * * *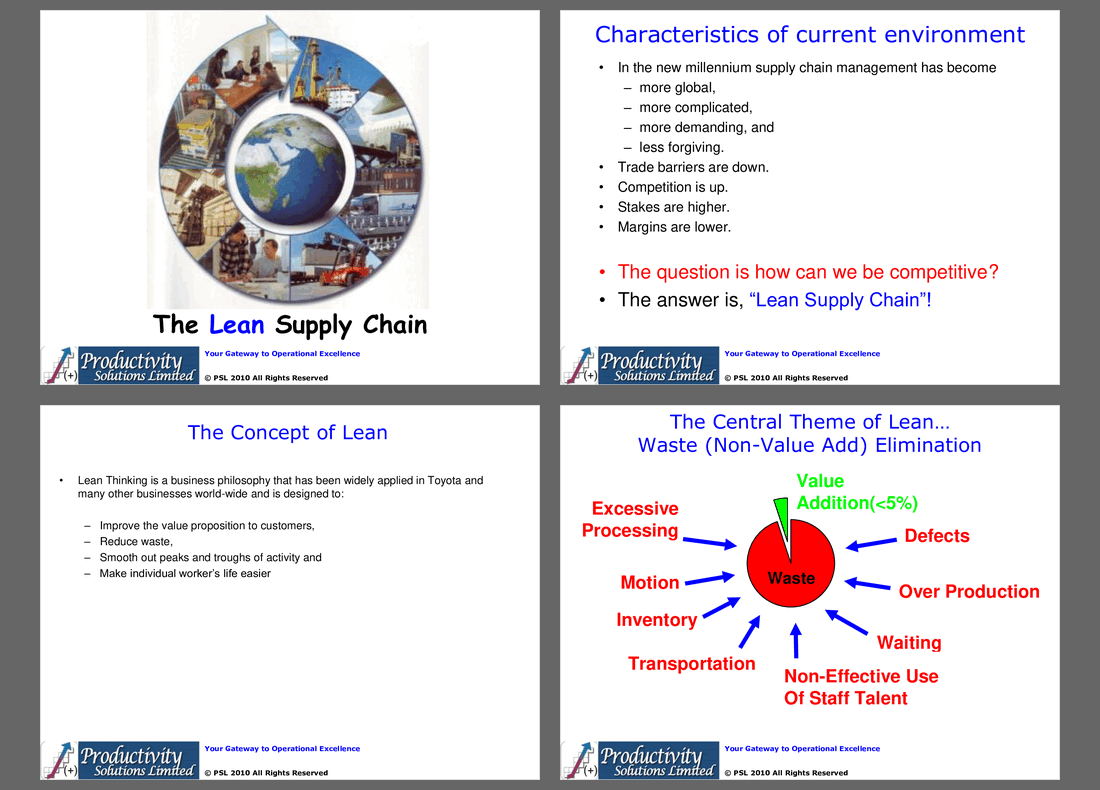 In my previous article, I briefly introduced the concept of Lean as part of the definition of Supply Chain Excellence, which is "…while minimizing waste and being open to embrace change."
So, why is it important that we minimize waste?  In today's world, Supply Chain Management has become more global, more complicated, more demanding, and less forgiving. Also, the trade barriers are down, competition is up, stakes are higher and margins are lower.
Lean Thinking is a business philosophy that has been widely applied in Toyota and many other businesses and industries worldwide and is designed to improve the value proposition to customers, reduce waste, smooth out peaks and troughs of activity, and make individual's work life easier.  The benefits of a "Lean supply chain" are:
Speed and responsiveness to customers,
Reduced inventories,
Reduced Costs, and
Improved Customer Satisfaction.
 Lean Supply Chain in essence can act as a competitive weapon by enabling the member companies to align themselves with each other and to coordinate their continuous improvement efforts. This synthesis enables even small firms to participate in the results of lean efforts. Competitive advantage and leadership in the global marketplace can only be gained by applying lean principles to the supply chain. Thought, commitment, planning, collaboration, and a path forward are required.
Based on the SCOR model I mentioned in the previous article, we can say that every aspect of the  supply chain has to go through a "lean" transformation…
Supply Chain Strategy,
Lean Planning,
Lean Suppliers,
Lean Manufacturing,
Lean Warehousing,
Lean Transportation, and finally,
Lean Customers.
But, all along, we have another component called the "Lean Office." Please note that, Lean Thinking for the Office is important wherever there are administrative processes.
Path Forward to a Lean Supply Chain
Lean is a cooperative process for survival and for success. Supply chains that want to grow and continue to improve must adopt lean.
Lean concepts require an attitude of continuous improvement with a bias for action.
The concepts of lean apply to all elements of the supply chain, including support departments such as product development, quality, human resources, marketing, finance, purchasing, and distribution.
The challenge is to bring all of these areas out of their traditional silos and make them work together to reduce waste and create flow.
Duplication and a lack of appropriate and timely communication run rampant in these traditional organizations.
A lean supply chain is proactive and plans for the unexpected by positioning all resources for effectiveness.
Downturns in demand can be addressed without layoffs or significant productivity losses.
Lean Supply Chain Design
Follow these high level guidelines to for Lean Supply Chain design.
Lean it out! – Select or develop lean sources;
Eliminate Duplication! – Move from "buying" to allowing suppliers to manage delivery;
Let Demand Drive the Supply Chain! – Allow consumption not forecast drive the supply chain;
Optimize! – Eliminate waste in the supply chain, Outsource non-core competencies – Not core business, Compress – balance freight, cost of value, quality, Collaborate to reduce total costs;
Focus! – Focus on the customer;
Delivery Frequency! – Deliver only cost drivers more frequently.