For a Successful Market Entry, First We Must Remove Our Cognitive Biases
Featured Business Best Practice: One-Page Project Management Processes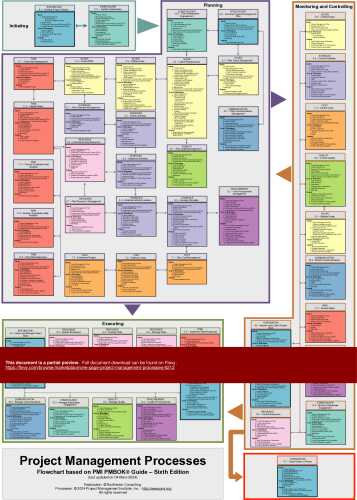 1-page PDF document
PMI did not change the definition of a project or project management in the PMBOK ® Guide - Seventh Edition (published in 2021), but they did change the focus from a process-oriented approach to a principle-centered approach. Unlike previous PMBOK ® Guide updates which replaced older
[read more]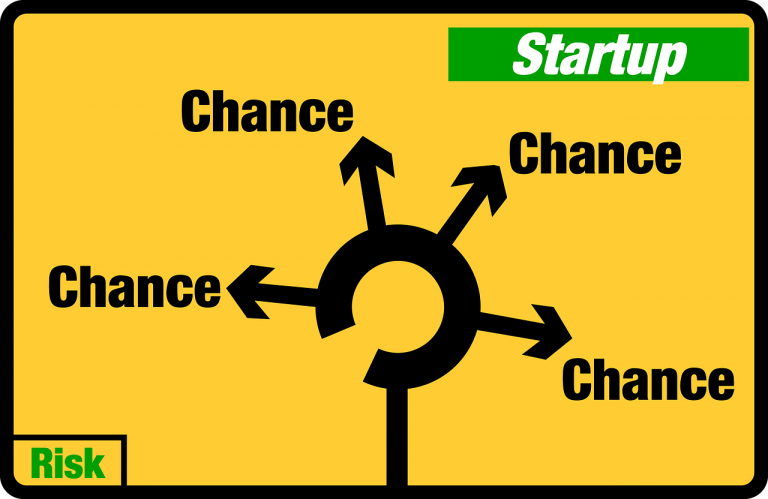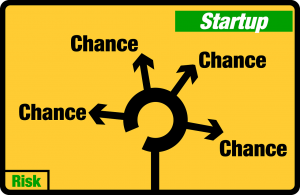 New market entry provides potential opportunities for organizations to grow.  But penetrating a market and establishing a new business is fraught with complications and failure.  Attempts at entering a new market often fail, in fact, research suggests that for every successful market entry about 4 fail.  The reasons for such high failure rates involve timing, scale, competition, capabilities, and predominantly irrational decision making.
The decision to successfully enter a market necessitates detailed analysis.  These critical decisions often get flawed by Cognitive Biases—the systematic errors in the way people process information—resulting in huge financial implications.
Cognitive biases distort executives' perception regarding their firm's capabilities, potential market, and competition.  These biases trigger misleading beliefs in executives—such as, their existing capabilities are in line with what's required in the future, or that the market entry move will go unnoticed by the competitors.  Removing biases out of decision making is an arduous task, as not many executives are able to identify the biases that manipulate their planning and decision making processes.
Cognitive biases damage a firm's market entry planning and decision making processes.  Market entry analysis requires a robust methodology.  A 2-step methodical approach helps executives understand the Psychology of Market Entry Analysis and eliminate cognitive biases from their crucial market entry decisions.
Develop a Reference Class
Remove Bias from Decisions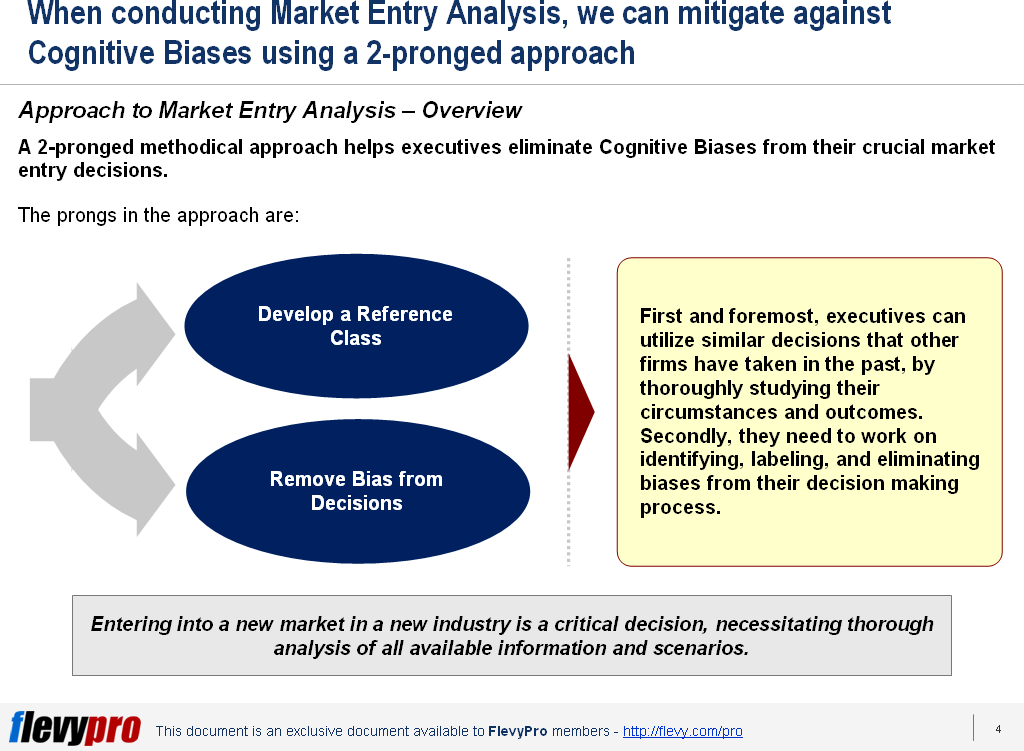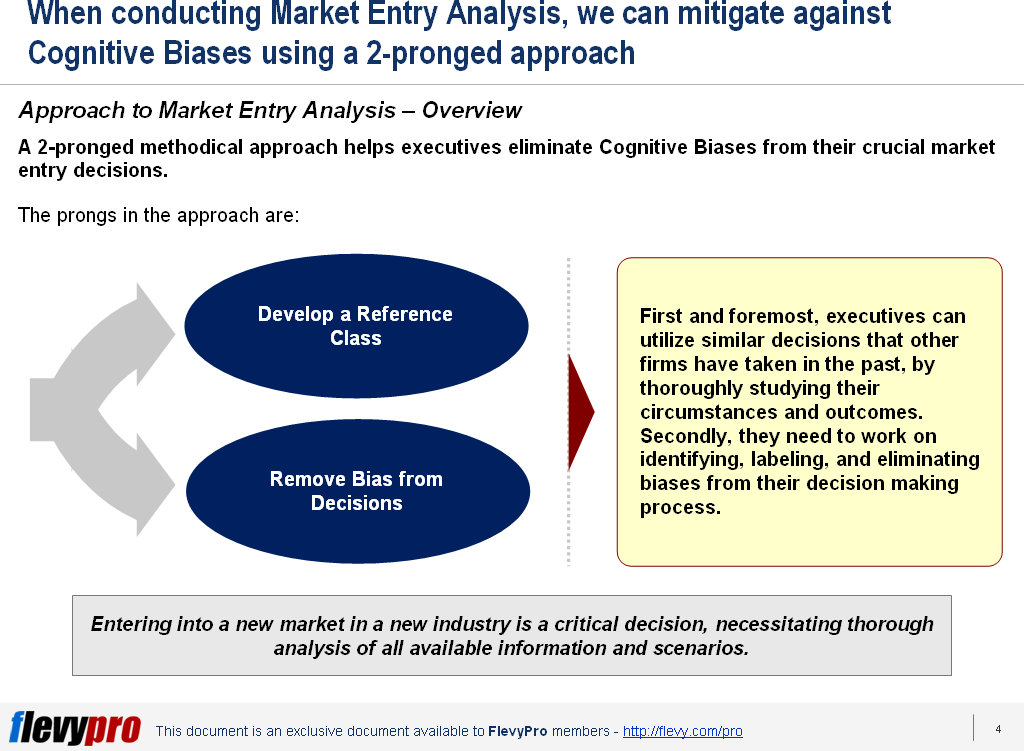 Develop a Reference Class
While making such critical decisions, most executives count on their gut and consider only their company's inside view.  This approach is misleading and prevents them from developing an outside perspective based on previous market entry experiences, and assessing opportunities against certain success parameters.
Executives can utilize a reference class—group of similar decisions that other firms have taken in the past that provide valuable benchmarks for decision making.  A reference class of should be thoroughly evaluated in terms of circumstances that warranted those decisions and the outcomes that those decisions leveraged, to generate empirical predictors of success.
The approach saves the decision makers from falling into the "confirmation trap," which urges them to seek information that confirms to their hypotheses only.  It also drives the analysts to explore more options and data.  Companies in various sectors understand the importance of drawing a reference class, while some don't consider looking at the experience of outside companies worthwhile and encounter failures as a result.
In preparing a reference class, executives need to explicitly review 6 key factors that serve as predictors of successful market entry.  These predictors of market entry success help the executives decide whether to go ahead or drop their entry decision.
Size of entry relative to minimum efficient scale
Relatedness of the market entered
Complementary assets
Order of entry
Industry lifecycle stage (more on this can be found here: Consolidation-Endgame Curve)
Degree of technological innovation
Remove Bias from Decisions
Biases in corporate decisions are a product of behavior, training, culture, and human nature.  These biases deviate the executives from thinking rationally, and prevent them from organizing and analyzing data properly.  Executives need to work on identifying, labeling, and eliminating biases from their decision making process.
Removing cognitive biases objectively leverages improved chances of success for the organizations; this entails targeting the following 5 core issues:
Market Size
Competition
Market Share and Revenue
Costs
Interested in learning more about removing Cognitive Biases in Market Entry Analysis?  You can learn more and download an editable PowerPoint about the Psychology of Market Entry Analysis here on the Flevy documents marketplace.
Do You Find Value in This Framework?
You can download in-depth presentations on this and hundreds of similar business frameworks from the FlevyPro Library. FlevyPro is trusted and utilized by 1000s of management consultants and corporate executives. Here's what some have to say:
"My FlevyPro subscription provides me with the most popular frameworks and decks in demand in today's market. They not only augment my existing consulting and coaching offerings and delivery, but also keep me abreast of the latest trends, inspire new products and service offerings for my practice, and educate me in a fraction of the time and money of other solutions. I strongly recommend FlevyPro to any consultant serious about success."

– Bill Branson, Founder at Strategic Business Architects
"As a niche strategic consulting firm, Flevy and FlevyPro frameworks and documents are an on-going reference to help us structure our findings and recommendations to our clients as well as improve their clarity, strength, and visual power. For us, it is an invaluable resource to increase our impact and value."

– David Coloma, Consulting Area Manager at Cynertia Consulting
"As a small business owner, the resource material available from FlevyPro has proven to be invaluable. The ability to search for material on demand based our project events and client requirements was great for me and proved very beneficial to my clients. Importantly, being able to easily edit and tailor the material for specific purposes helped us to make presentations, knowledge sharing, and toolkit development, which formed part of the overall program collateral. While FlevyPro contains resource material that any consultancy, project or delivery firm must have, it is an essential part of a small firm or independent consultant's toolbox."

– Michael Duff, Managing Director at Change Strategy (UK)
"FlevyPro has been a brilliant resource for me, as an independent growth consultant, to access a vast knowledge bank of presentations to support my work with clients. In terms of RoI, the value I received from the very first presentation I downloaded paid for my subscription many times over! The quality of the decks available allows me to punch way above my weight – it's like having the resources of a Big 4 consultancy at your fingertips at a microscopic fraction of the overhead."

– Roderick Cameron, Founding Partner at SGFE Ltd
"Several times a month, I browse FlevyPro for presentations relevant to the job challenge I have (I am a consultant). When the subject requires it, I explore further and buy from the Flevy Marketplace. On all occasions, I read them, analyze them. I take the most relevant and applicable ideas for my work; and, of course, all this translates to my and my clients' benefits."

– Omar Hernán Montes Parra, CEO at Quantum SFE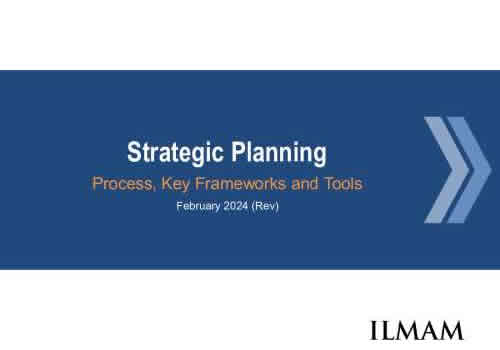 79-slide PowerPoint presentation
This document provides a holistic approach for undertaking strategic planning. While covering the traditional strategic planning approach, the document touches on adaptations that may be used in an unpredictable environment. Contents: 1. Strategic Planning Overview - Key questions and
[read more]
Readers of This Article Are Interested in These Resources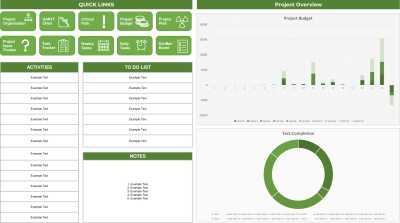 Excel workbook
///////////////////////// Project Management PMO Excel Toolkit / Workbook ///////////////////////// Attention all Project Management Office (PMO) professionals! Are you looking for a world-class solution to streamline your project management processes and enhance your productivity?
[read more]
103-slide PowerPoint presentation

Excel workbook
About Mark Bridges
Mark Bridges is a Senior Director of Strategy at Flevy. Flevy is your go-to resource for best practices in business management, covering management topics from
Strategic Planning
to
Operational Excellence
to
Digital Transformation
(
view full list here
). Learn how the Fortune 100 and global consulting firms do it. Improve the growth and efficiency of your organization by leveraging Flevy's library of best practice methodologies and templates. Prior to Flevy, Mark worked as an Associate at McKinsey & Co. and holds an MBA from the Booth School of Business at the University of Chicago. You can
connect with Mark on LinkedIn here.
Top 10 Recommended Documents
1-page PDF document
79-slide PowerPoint presentation
Excel workbook
103-slide PowerPoint presentation
Excel workbook
1-page PDF document
Excel workbook
3-page PDF document
407-slide PowerPoint presentation
51-slide PowerPoint presentation