Combine Customers' Online and In-store Shopping Experience for Sales
Featured Best Practice on Retail Strategy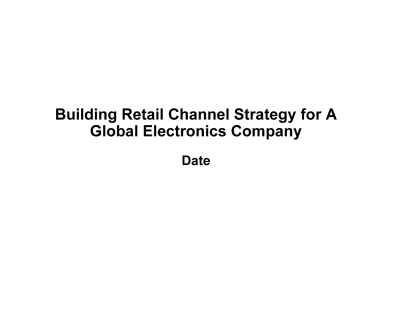 103-slide PowerPoint presentation
This presentation is a report for a global electronics firm which was executing a digital growth strategy in the US. Although it had great products and a rejuvenated brand, the firm lacked a good understanding of the retail channel and thus lacked a channel strategy and relevant capabilities to
[read more]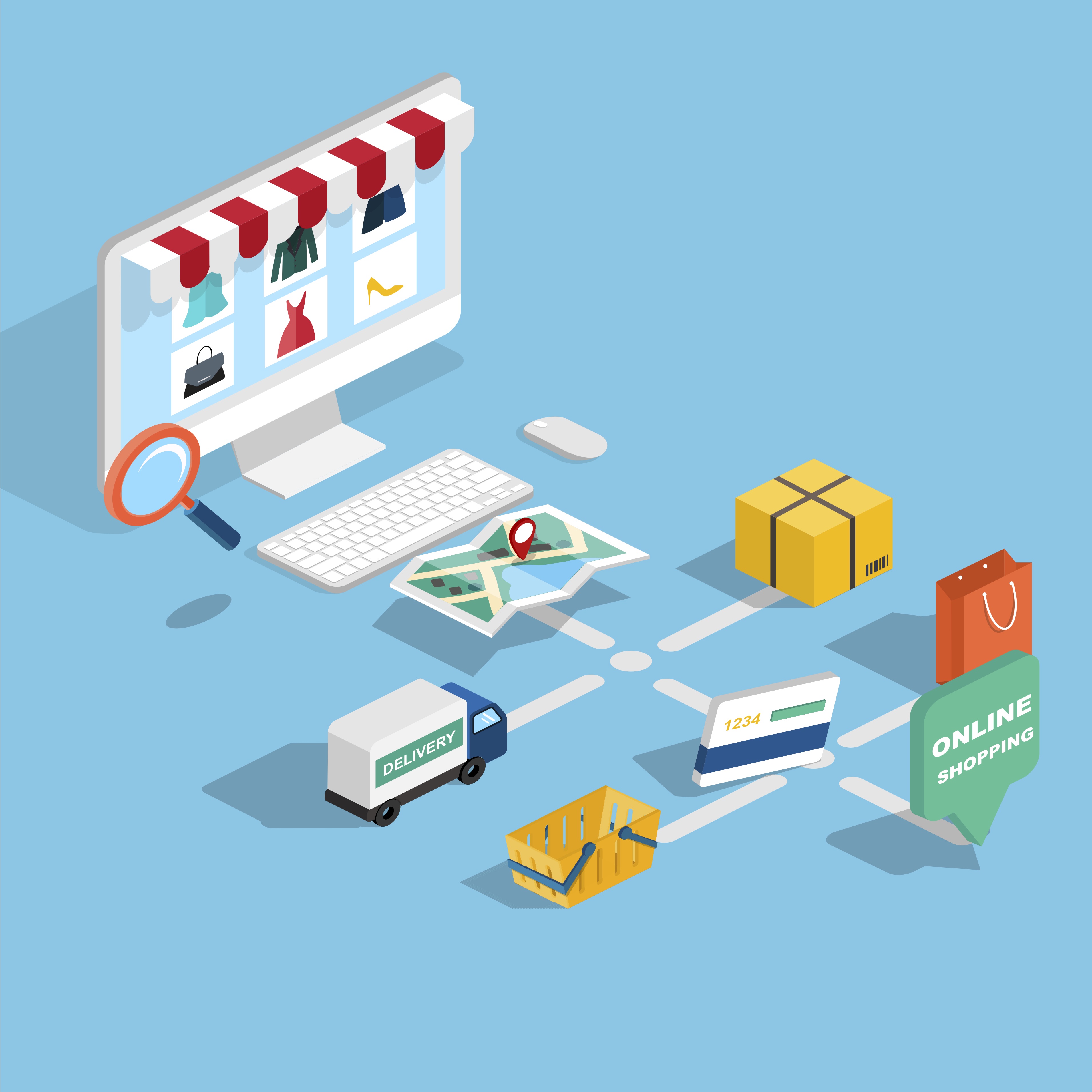 Fifty percent of smartphone owners compare prices online while in a store, a phenomenon known as "showrooming," according to Wiser. One third of these then go on to purchase from competitors. Meanwhile, 69 percent of smartphone users "webroom" by researching products online and then visiting a local store to purchase them, reports a Merchant Warehouse study. As a retailer, this means a seamless integration of your online and in-store experience maximizes your odds of making a sale. Here are a few ways to boost your bottom line both online and in your store:
Turn Your Online Profiles Into E-commerce Platforms
Buy buttons are popping up all over social media. This year YouTube, Instagram, Pinterest, Facebook and Twitter all added buy button features to their platforms. As a retailer, this solves the problem of consumers abandoning online shopping carts due to frustration with entering credit card numbers by hand on mobile devices. While consumers are still getting used to these new features, usage will undoubtedly grow as mobile payments grow more popular. If you take advantage of these features, you can expect to make more sales. Make sure your website and social media properties aren't just showrooms where consumers can window shop, but also function as cash registers where customers can buy what they want.
Have Payment Options Both In-store and Online
With Apple, Samsung, Google and PayPal all entering the mobile wallet space, Business Intelligence Insider projects that mobile payments will reach $37 billion this year and surge to $808 billion by 2019, representing 65 percent of all consumers. Furthermore, it predicts that 90 percent of forthcoming smartphones will come with mobile wallets preinstalled. This means that if you aren't ready to accept in-store mobile payments, you will be at a disadvantage. Payment tools, such as Sage Payment Solutions, enable you to combine both virtual and physical payment options. This tool accepts debit and credit cards, electronic checks and mobile payments, giving you the best means to accept both online and in-store payments from mobile shoppers.
Offer Shipping Options and Keep Your Inventory Stocked
A few of the reasons consumers said they showroom are because they receive free shipping from e-commerce retailers (such as Amazon), they have a preference for having goods delivered to their homes and stores were out of stock of the product they wanted, according to the same Wiser report. To appeal to both online and in-store shoppers, you must be prepared both to offer shipping options and to keep your in-store inventory stocked.
To help small businesses offer the same type of speedy shipping provided by Amazon and other giants, FedEx offers a SameDay service. Other companies have also started providing same-day shipping for small businesses, including Uber with its UberRUSH on-demand delivery service. To keep inventory stocked, many retailers are turning to just-in-time (JIT) inventory strategies modeled on those used by companies such as Toyota and Walmart. Using JIT successfully requires maintaining strong relationships with key suppliers who are willing to deliver frequently, says business writer Don Sadler.
Use Online Data to Support In-store Service
Smartphone shoppers are carrying their phones with them whether or not they're in your store, a fact that has given rise to location analytics, also known as beacon technology. As Harvard Business Review explains, location analytics tools, such as Euclid, let you use customers' mobile phones to let you know who's in your store, where they are and what they're looking for. By combining information about shopper's location in your store with information about their past purchases and online shopping behavior, you can equip your in-store representatives to better serve buyers. You can also deploy customized sales offers to shoppers on their smartphones. Grocery chains, such as Woodman's Foods in Wisconsin andNiemann Foods in Illinois, are rapidly adopting beacon technologies to deliver customized in-store offers to customers.
As mobile payments and online shopping become more and more prominent, you must be prepared to provide your customers with the payment options they want. These are just a few of the current solutions, but your business must stay on top of all the technological trends to come.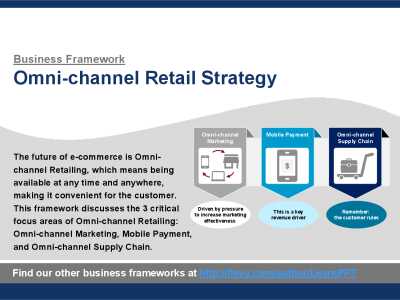 44-slide PowerPoint presentation
The e-commerce market continues to grow exponentially. More consumers are opting for the convenience of online shopping. This trend has been accelerated by COVID-19. The future of e-commerce is Omni-channel Retailing. A single channel is no longer enough. The challenge is to find a seamless
[read more]
Do You Want to Implement Business Best Practices?
You can download in-depth presentations on Retail Strategy and 100s of management topics from the FlevyPro Library. FlevyPro is trusted and utilized by 1000s of management consultants and corporate executives.
For even more best practices available on Flevy, have a look at our top 100 lists:
These best practices are of the same as those leveraged by top-tier management consulting firms, like McKinsey, BCG, Bain, and Accenture. Improve the growth and efficiency of your organization by utilizing these best practice frameworks, templates, and tools. Most were developed by seasoned executives and consultants with over 20+ years of experience.
Readers of This Article Are Interested in These Resources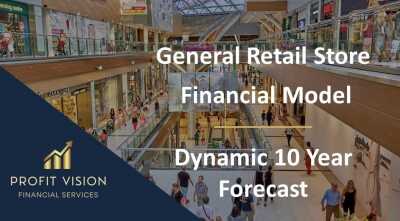 Excel workbook
Highly-sophisticated Financial Model providing advanced financial planning & analysis for a Retail Store. Suitable for any type of Retail Store and all operating stages (startup, early, mature stage), the model is a flexible tool for Retail Store owners to calculate financial and
[read more]
Excel workbook

18-slide PowerPoint presentation
About Shane Avron
Shane Avron is a freelance writer, specializing in business, general management, enterprise software, and digital technologies. In addition to Flevy, Shane's articles have appeared in Huffington Post, Forbes Magazine, among other business journals.
Top 10 Recommended Documents on Retail Strategy
103-slide PowerPoint presentation
44-slide PowerPoint presentation
Excel workbook
Excel workbook
18-slide PowerPoint presentation
This presentation discusses profit recovery for retailers. Profit recovery includes improving shrink along the entire enterprise and supply chain--e.g. inventory loss, damages, shipping errors, credit/debit card loss, coupon abuse, other store discounting, etc.
13-slide PowerPoint presentation
This is a sales presentation example for Consumer Driven Replenishment (CDR) project work. CDR is an analytical approach to supply chain integration between a consumer goods supplier and its customers.
25-slide PowerPoint presentation
23-slide PowerPoint presentation
21-slide PowerPoint presentation
22-slide PowerPoint presentation

» View more resources Retail Strategy here.
» View the Top 100 Best Practices on Flevy.