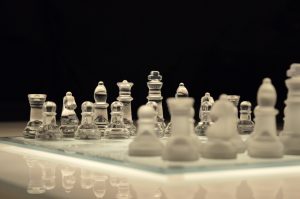 One of the major necessities of this information age involves developing leadership that is capable of guiding organizations through challenging times.  A vast majority of executives at most organizations are exceptional in handling routine operations; however, finding leaders proficient in transforming the ways of doing business and tackling unique problems is not easy.
The paucity of leaders in-house triggers hiring of external talent, which does not help in transformation, as successful change dictates leading from within.  This scarcity of leaders often goes under the radar, which further aggravates the situation, as it is difficult to distinguish strategic inadequacies in an organization's senior leadership.  It comes to light only in case of a major setback when the organization realizes the inadequacies of the current leadership.
Strategic leadership capabilities can be developed, but this merits revamping the management, cultural, employee development, and promotion practices.  The 10 Principles to Strategic Leadership involve a combination of organizational systems and individual capabilities that when implemented collectively facilitate in attracting, developing, and retaining strategic leaders.
The 10 Principles of Strategic Leadership fall under 3 distinct groups.  The first group includes approaches to decision making, transparency, and innovation.  The second group encompasses unconventional ways of thinking about assessments, hiring, and training.  The last group comprises of principles designed for the potential strategic leaders themselves.
Systems and Structures
Distribute responsibility
Make information open and accessible
Promote innovative thinking
People, Policies, and Practices
Develop a culture that accepts failure
Foster collaboration among strategists
Promote experience-based learning
Hire for Transformation
Self Improvement
Bring your whole self to work
Dedicate time for self reflection
Know Leadership developing is ongoing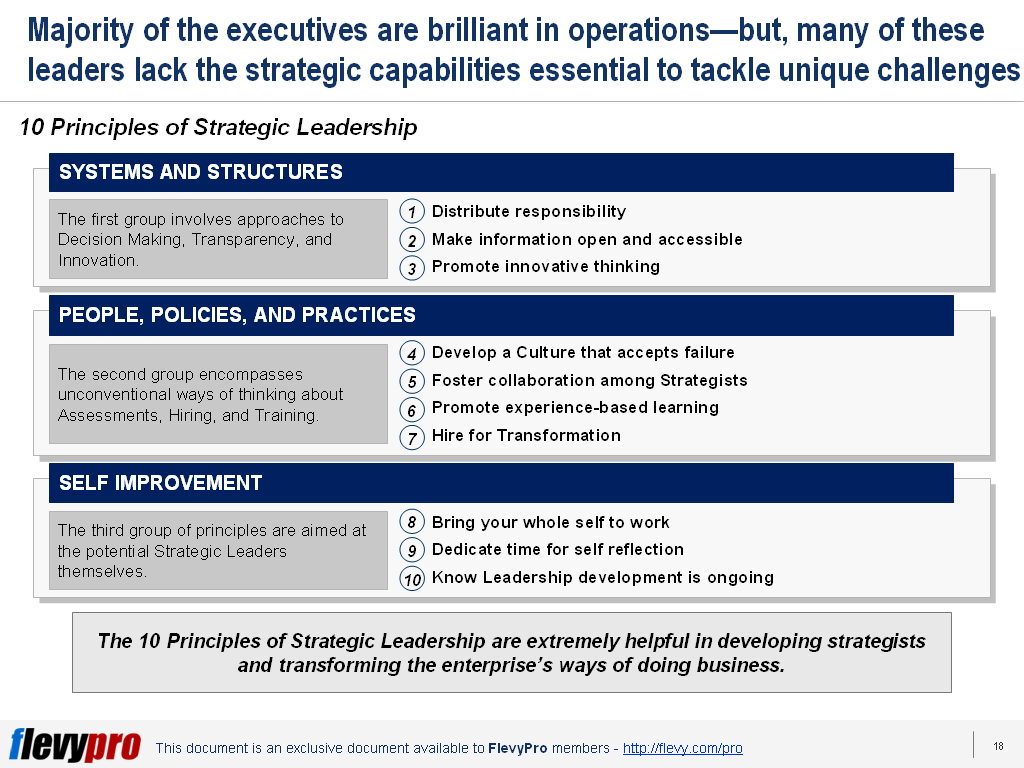 Now, let's take a deeper dive into the first 3 principles of Strategic Leadership related to Systems and Structures.
1. Distribute Responsibility
Strategic leadership capability can be built through practice and a bit of authority.  It is important for the top management to delegate authority and empower employees across the organization to take risks and make decisions.  Often, there are people in the lower ranks that are of immense help in finding viable solutions to intricate problems, if only they are given the opportunity to shine by delegating responsibility and showing confidence in them.
2. Make Information Open and Accessible
Transparency and organized sharing of information is critical for inculcating strategic leadership.  The traditional management structure has been derived from the military, which intrinsically limits the flow of information and makes it available to certain people only when needed.  This limited flow of information leaves the executives to make decisions without sufficient data—relying on conjecture only—and precludes them from sharing creative ideas that clash with that of their superiors.
3. Promote Innovative Thinking
At traditional organizations, managers decide the fate of any new idea by their teams—appreciating its value or suppressing it from being analyzed.  Suppressing the idea also quashes the innovator's excitement.  The ability to generate and share creative ideas is essential for strategic leaders.  Organizations need to encourage innovation by allowing employees to email the leadership directly and by holding weekly meetings for employees of all ranks to approach leaders openly.
Interested in knowing more about the principles of strategic leadership and the essential traits of strategists?  You can learn more and download an editable PowerPoint on the 10 Principles of Strategic Leadership here on the Flevy documents marketplace.
Do You Find Value in This Framework?
You can download in-depth presentations on this and hundreds of similar business frameworks from the FlevyPro Library. FlevyPro is trusted and utilized by 1000s of management consultants and corporate executives. Here's what some have to say:
"My FlevyPro subscription provides me with the most popular frameworks and decks in demand in today's market. They not only augment my existing consulting and coaching offerings and delivery, but also keep me abreast of the latest trends, inspire new products and service offerings for my practice, and educate me in a fraction of the time and money of other solutions. I strongly recommend FlevyPro to any consultant serious about success."

– Bill Branson, Founder at Strategic Business Architects
"As a niche strategic consulting firm, Flevy and FlevyPro frameworks and documents are an on-going reference to help us structure our findings and recommendations to our clients as well as improve their clarity, strength, and visual power. For us, it is an invaluable resource to increase our impact and value."

– David Coloma, Consulting Area Manager at Cynertia Consulting
"As a small business owner, the resource material available from FlevyPro has proven to be invaluable. The ability to search for material on demand based our project events and client requirements was great for me and proved very beneficial to my clients. Importantly, being able to easily edit and tailor the material for specific purposes helped us to make presentations, knowledge sharing, and toolkit development, which formed part of the overall program collateral. While FlevyPro contains resource material that any consultancy, project or delivery firm must have, it is an essential part of a small firm or independent consultant's toolbox."

– Michael Duff, Managing Director at Change Strategy (UK)
"FlevyPro has been a brilliant resource for me, as an independent growth consultant, to access a vast knowledge bank of presentations to support my work with clients. In terms of RoI, the value I received from the very first presentation I downloaded paid for my subscription many times over! The quality of the decks available allows me to punch way above my weight – it's like having the resources of a Big 4 consultancy at your fingertips at a microscopic fraction of the overhead."

– Roderick Cameron, Founding Partner at SGFE Ltd
"Several times a month, I browse FlevyPro for presentations relevant to the job challenge I have (I am a consultant). When the subject requires it, I explore further and buy from the Flevy Marketplace. On all occasions, I read them, analyze them. I take the most relevant and applicable ideas for my work; and, of course, all this translates to my and my clients' benefits."

– Omar Hernán Montes Parra, CEO at Quantum SFE