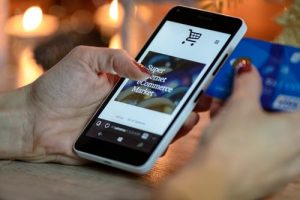 1. Colorful pop-up windows.
Pop-ups are a great tool to keep a passive customer on the page. Especially if your emails are not effective.
The main task is to draw the client's attention. Write a phrase that contains a call to action or humor. At least the buyer will pay attention to this, and at most, feel that he is losing something more by leaving the site.
Motivate your customers. Name them a weighty argument: sales, free returns, gifts, etc.
Take the opportunity to make a personalized pop-up window when the customer directly "puts" the goods basket.
2. Remarketing of lost customers.
How to get customers to return to the site with the help of marketing tools? For example, commercials that show products left in the cart serve as a reminder of your site.
Conduct remarketing campaigns before potential customers can buy from your competitors.
How do you ensure an effective remarketing campaign?
Segment those who left a basket for the products they chose.
Do time equivalent tests of different styles of design, advertising texts, and other marketing tools. Once you have collected the statistics, you can choose the style you want.
3. Use emails that sell.
In many cases, classic email marketing works better than content marketing, SEO or social media.
The truth is, these tools don't work separately today. Prepare a really powerful letter and use content marketing and SEO. A client who has been to your website is likely to open a letter from you, so the content should be really fun.
There are quite positive statistics on trolleys restored when people were reminded to come back. The main idea is to act in real-time and send emails as quickly as possible.
A series of well-designed emails will increase the chances that your customers will notice you and raise awareness of your business.
What are the signs of a good selling letter?
This segmentation will help you to personalize your message.
Common design and theme. You need to represent an impressive brand, not a one-off, random transaction.
Adaptability to the mobile version.
Contain a call to action.
Add contact information for support.
4. Improved visibility of the trolley
Just a simple way that many people forget: highlight the trolley icon on the interface panel. Especially if it already has goods in it, because it should not be lost sight of.
After all, a lot of customers, putting the goods in the cart, study the site further. At this point in time, the client is one step away from making a purchase and he should not in any way forget that he put the goods already.
5. Adding web notifications
Web push notifications also help to change the customer's opinion in real-time. This method is quite popular on mobile devices, but when it comes to the Internet, not many companies use push notifications, because most users reject them (this feature is available in most popular browsers).
6. Minimize unexpected surprises
Think in advance of the possible reasons why people refuse to bring the purchase of the dock to an end. Is it possible that these are unexpected costs that were not included in the original cost? Or hasn't VAT been included?
Store Locator & In-store Pickup may also help. For those customers who do not want to overpay for the delivery.
7. Accelerating the ordering process
Unnecessary processes and the useless interface will only make a lazy customer leave your site faster. Time is money and in this case, take it literally. Make the buying process as simple as possible. Less clicks and more sense.
8. Let people easily contact you
Even if you have the most understandable and convenient system of ordering, there will always be customers who will be pleased that at all stages of the transaction they are accompanied by a personal manager. Do not exclude the human factor.
9. Diversify payment methods
Give them your clients a choice. Some people prefer to pay with a bank card, while others prefer to pay with PayPal. The customer can leave if he or she is not given a choice. Monitor your payment statistics and offer the most popular option initially. But don't forget to offer alternatives.