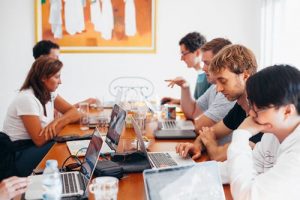 As a manager or high-level executive, you will be all too familiar with the day to day challenges of keeping your team working together harmoniously. From unmotivated staff to personality clashes to the dreaded annual team-building event, keep reading to discover the most effective ways to deal with the most common corporate team challenges that you may face on a daily basis.
Navigating a Team-Building Exercise
Team building events can be extremely useful and effective if they are carried out appropriately, encouraging your team to support each other, improving their collaboration skills and inspiring empathy among colleagues. However, all too often, they can go completely wrong and end up having the opposite effect on your team. Leadership Alliance, a top business consultancy firm, can help you to unify your team and improve your team-building strategies, both in the short and long term.
Other ways in which you can make your team building events more effective include:
Setting clear goals for the event
Focusing on actively engaging your most challenging members of staff
Being aware of your team's schedule and planning your event accordingly
Embracing the outdoors
Pushing people outside of their comfort zones – including you!
Learning something new
Always asking for feedback from your team afterward
Holding an Effective Meeting
Meetings are part and parcel of the corporate world, with many businesses carrying out multiple meetings a day. However, let's be honest; you can leave many meetings feeling like you've just wasted a precious hour of your day and not actually achieved anything. If you, as a manager, feel like that, then just imagine how unmotivated your employees must feel.
Luckily, there are ways to ensure that your much-needed meetings are carried out more effectively:
Plan ahead. Set an agenda and stick to it. You are then much more likely to accomplish what you set out to achieve.
Don't waste time. Make sure everyone is up to speed and informed before they attend a meeting. You don't want to waste everyone's time while an individual plays catch up.
Have breaks if needed. You may be tempted just to plow ahead, but regular breaks are vital if you want people to stay focused and productive.
Assign clear responsibilities. Once the meeting is over, make sure that all your team know what is required of them moving forward.
Dealing with Personality Clashes
If you hired a varied and diverse team, as you should, then you are likely to encounter clashing personalities. Possibly two members of your team are very similar and therefore, they are locking heads trying to ensure that they are heard above the other. Although it is equally possible that two employees are clashing because their views are polar opposites. Whatever the reason for a personality clash within your team, it can be hard to deal with and can have a seriously detrimental effect on your other employees.
Ensure that you don't fall into a pattern of blame and instead focus on creating an effective and positive working environment for all parties involved by:
Explaining what behaviors you will not tolerate.
Encouraging teamwork, as well as each person dealing with their own issues.
Reviewing the situation regularly.